Brunch is good, brunch is filling, brunch is magic. Here are some of the best brunch spots in Budapest to put on your go-to list.
1065 Budapest, Hajós utca 26/b 
Being one of Budapest's most charming eateries, Café Brunch Budapest is located at Hajós utca, between the Opera House and St. Stephen's Basilica. Its tranquil atmosphere – complete with a tiny green oasis and a cosy fountain – makes it the perfect place to get yourself back up to speed in the morning with a cup of freshly roasted specialty coffee (100% Arabica blend), or spend your lunch or dinner time at. Considering the restaurant's wide array of delicious food listed on the menu, it is simply impossible not to find something that would attract the eye. Opt for a healthy & light brunch or dinner, choose granola with fresh fruits and yoghurt, a tasty porridge or tapioca pudding prepared with coconut milk and mango pure, or a flavourful soup. But only if you can resist ordering Café Brunch's signature Hungarian scrambled eggs with side salad and fresh, home-baked bread.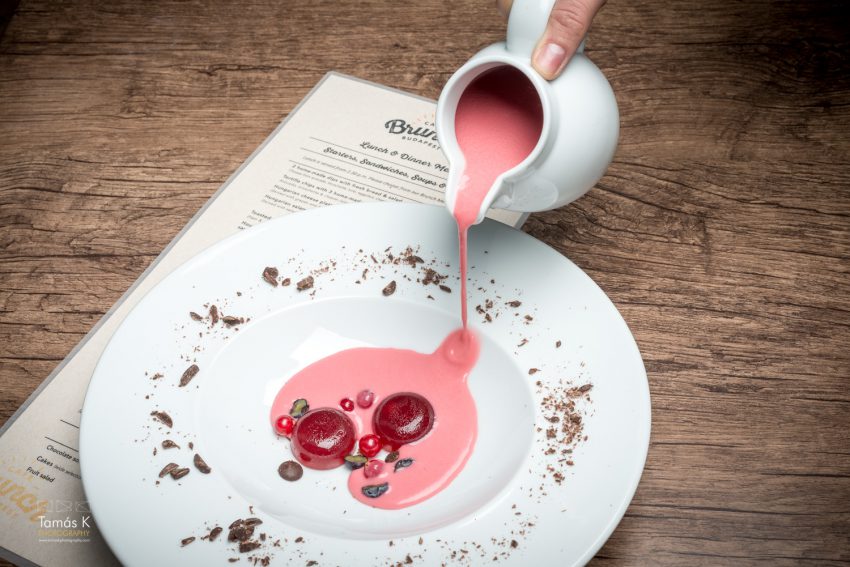 1065 Budapest, Bajcsy-Zsilinszky út 19/b 
As the newest addition to the capital city's classy brunch eateries, Brunch Bistro proves that those mouth-watering food compositions that we see on Pinterest do exist in reality. Located in the heart of Budapest, on Bajcsy-Zsilinszky utca, with a large outside terrace overlooking St. Stephen's Basilica, it is the big sister of Café Brunch Budapest which is actually just a 5-minute walk away. Breakfast and brunch are both served at the eatery every day between 8 AM and 3 PM, offering delicious Hungarian and international food, while dinner (we highly recommend the 6-course tasting menu) is available from 5 PM. As a day starter, try the savoury version of the French toast that we call bundáskenyér (egg fried bread) in Hungarian, dip your fork in a pretty pancake (served with your choice of topping), or order a full English breakfast with Hungarian sausage. Book your reservation online.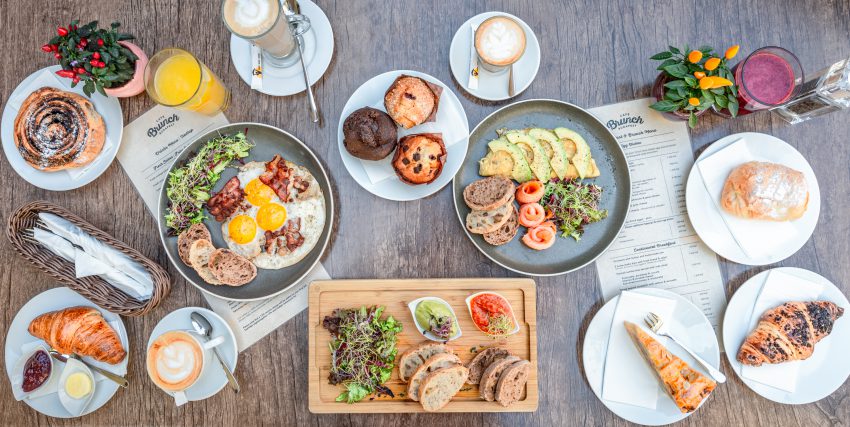 1055 Budapest, Kossuth tér 13-15. 
Located in an enchanting and grand part of the city, Elysée Bistro is the proud successor of Elysée Café, a once legendary coffee house founded in 1931 by the Gönczi brothers. The restaurant offers tasty meals and a great view of the Hungarian Parliament building at Kossuth tér which you can enjoy sitting and relaxing at a sunny terrace, whenever the weather allows. Elysée's kitchen serves a mouth-watering combination of authentic Hungarian dishes and French bistro meals, using the freshest ingredients available every day. The homey restaurant is open every day from 9 AM until 11 PM, serving croissants, smoothies, scrambled eggs, Goppion coffee specialties (Irish and Mexican wonders, ristretto, macchiato, latte and cappuccino, with vegan milk too, if requested), accompanied by live swing & jazz music. Kick start your day with a mood boosting brunch, enjoy a lovely lunch, or have dinner at Elysée!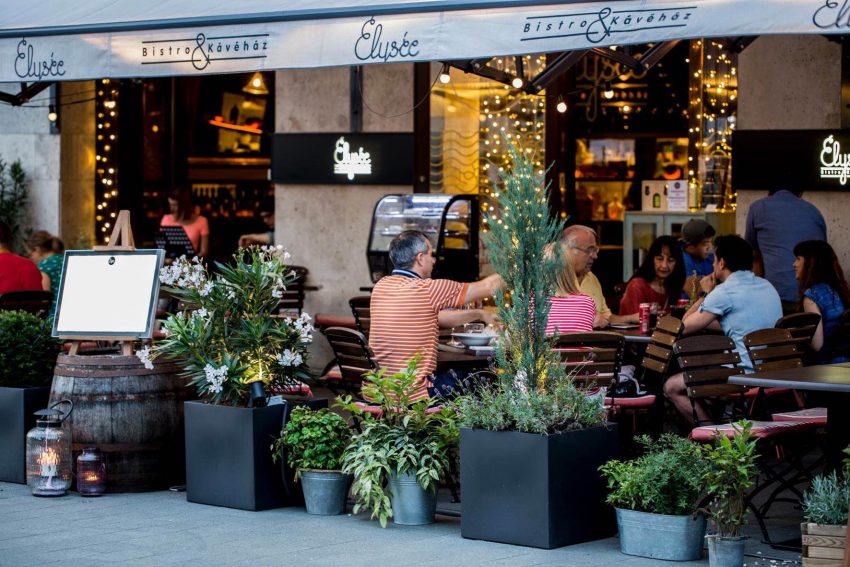 Sparkling Sunday – Classic Hungarian Sunday lunch with a contemporary flair
1146 Budapest, Gundel Károly út 4. 
Spoil your spouse, your date or best friends with a Sparkling Sunday at Gundel's. Enjoy the flavors of classic Hungarian home-cooking or have a hearty dish from the ever-evolving menu created by our executive chef, Zsolt Litauszki. Come and enjoy a lunch accompanied by lovely Tokaj sparkling wines by Sauska every Sunday! Cold appetizers and desserts are displayed on the buffet table, while hot appetizer, soup and the main course of your choice are served at the table, classic Gundel-style. Invite your partner and friends, enjoy the unparalleled ambiance, the great food and escape for a moment from your busy life and pamper yourself.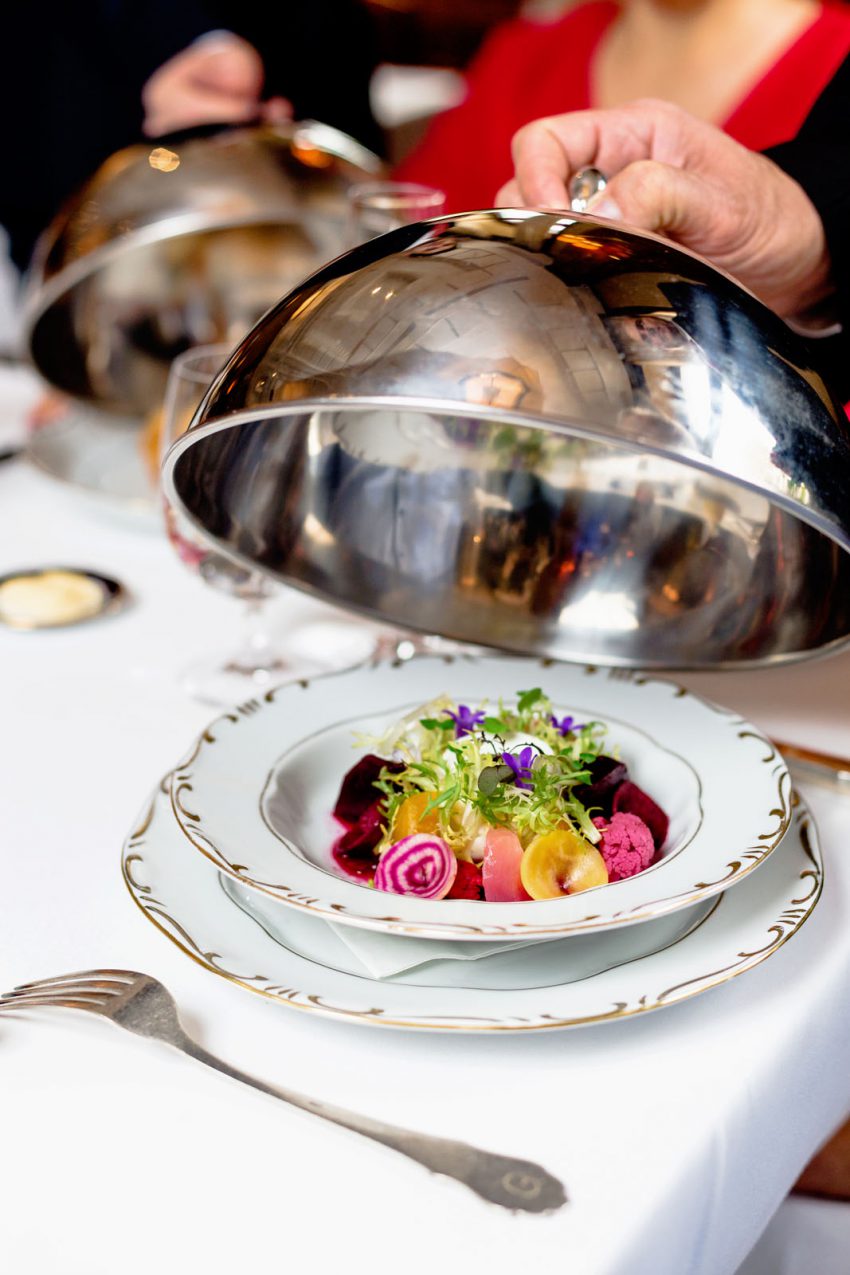 1114 Budapest, Szent Gellért tér 2. 
The Panorama Restaurant's head-chef, Gábor Müncz creates colourful and tasty meals all of which smell mouth-watering and irresistible. The cozy venue offers flavourful brunch specialties – not only to hotel guests – every Sunday from noon to 3 PM, serving Hungarian and international dishes prepared with fresh herbs. Eat all you can for 7,400 HUF/person (+ 10% service fee) including unlimited food and drink consumption (sparkling wine, wine, beer, coffee, soft drinks). Bring along your kids too, because experienced animators will take care of their entertainment. You can purchase tickets online conveniently at the hotel's webshop, or book a table in advance by sending an email to gellert.restaurant@danubiushotels.com.
1051 Budapest, Apáczai Csere János u. 12-14. 
After a busy week don't you deserve some rest and a little culinary pampering? That is exactly what you will get at Corso Restaurant & Terrace's Sunday brunches. This fine-dining restaurant serves you over 80 different dishes changing every week (complete with a vegetarian and healthy selection), created by Executive Chef Gergő Gullner. The incomparable view to Budapest's world famous sights is the cherry on top. Three hours of gastronomical pleasure is ahead of you and your family (bring the little ones along and they will enjoy the kids' corner with experienced animators) with all the above included in the price. Mention the word FUNZINE when booking your table till the end of April, and the restaurant will upgrade you to their gourmet package.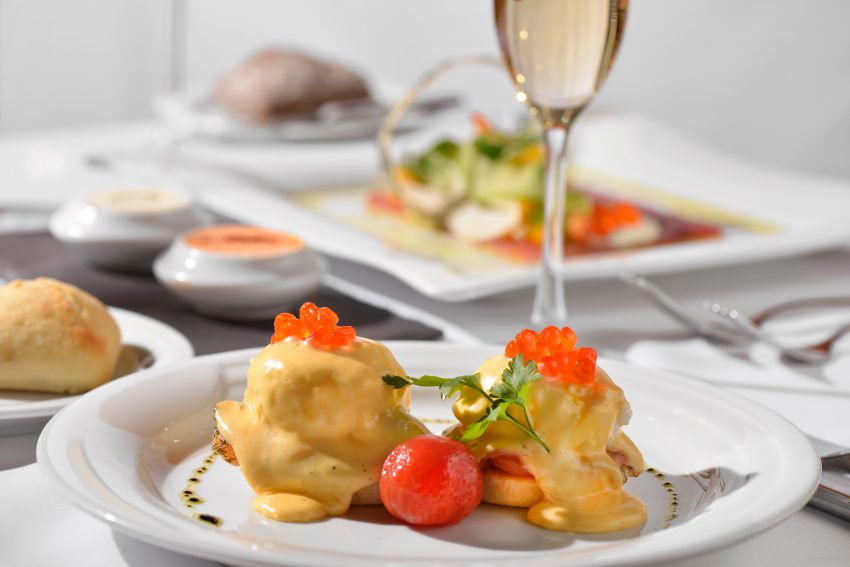 1114 Budapest, Bartók Béla út 23.
Not only is BÉLA a Hungarian male given name, it's also the abbreviation of four words referring to its main functions: bar, eatery, loft, and arboretum. As Bartók Béla utca's magical, multi-faceted venue, BÉLA – literally an oasis with many plants – is distinguishing itself with amazing food, service and ambience. The eatery opens its door every day at 11 AM to people hungry for something special, let it be a hot craft tea, freshly brewed coffee, a flavoursome omelette (with green herbs, cheese, dried tomato or spare ribs), a seasonal soup, tapas, or a colourful salad. Ask for the daily New York Times, and let the sacred morning coffee and newspaper ritual kick you out of your slumber. The gift of time will help you unlock your potential.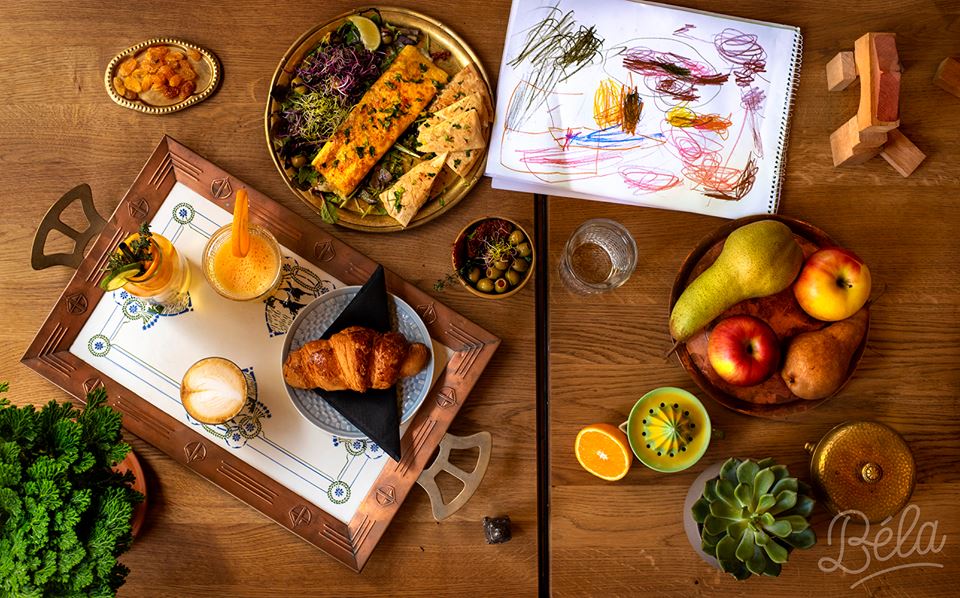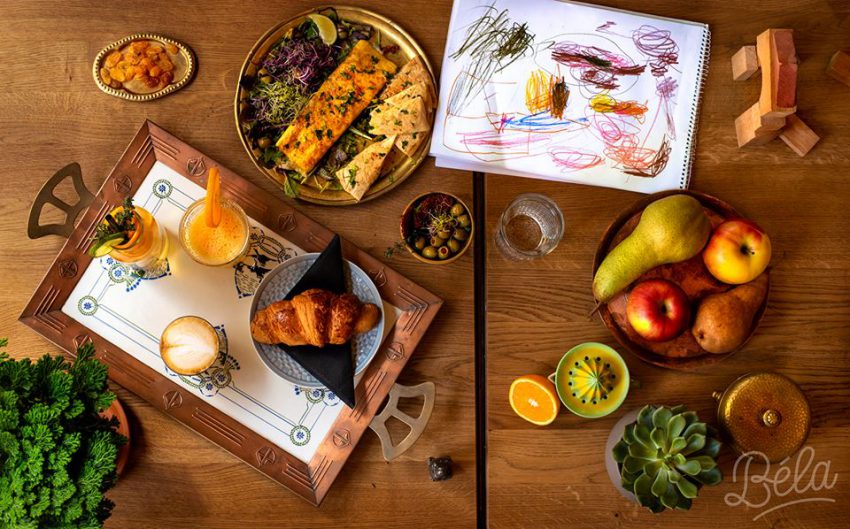 1075 Budapest, Király utca 15. 
Downtown Budapest's super approachable bar, BB'z might be located in the party district, but believe us when we say it's a truly relaxing place until there's still light outside. Go see it for yourself on Sundays, for instance, when this chill place becomes your dream brunch destination. BB'z buffet tables are filled with every earthly blessings, including delicious snacks and kickass drinks, vegan friendly breakfast alternatives, an omelette station, salads, and mini burgers. Don't leave without trying beerpong or table tennis! The Király utca venue is one of the best possible choices if you are looking for a great pup-friendly place too, as the bar provides their four-legged guests with comfy dog beds, treats, fresh water, and a welcoming atmosphere.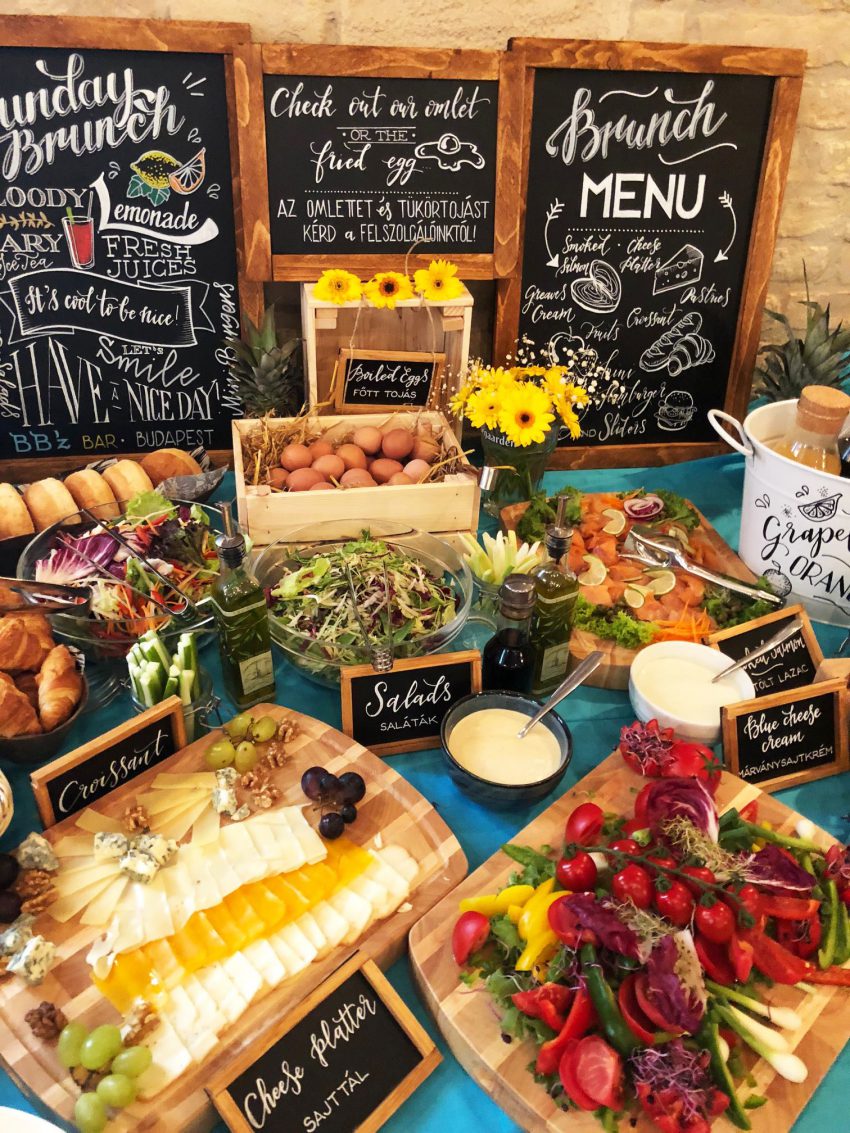 1077 Budapest, Wesselényi utca 25.
Budapest is the unofficial city of gastronomy full of lovely eateries representing nearly every variety of international cuisine. In a scene like this, Wesselényi utca's dog-friendly Anyám szerint, which literally translates to 'according to my mom', is quite an oddball, in the best possible meaning of the word. Other than offering awesome breakfast options (from a full English breakfast to savoury French toast, salad, pancake, strudels on Wednesdays, cheesecake and everything-free cookies), quality tea, and Illy coffee are also available. But the real specialty of theirs lies in the cozy ambience. The interior is colourful with a familial touch that will surely brighten up your day. Make sure to book a table in the backyard in advance.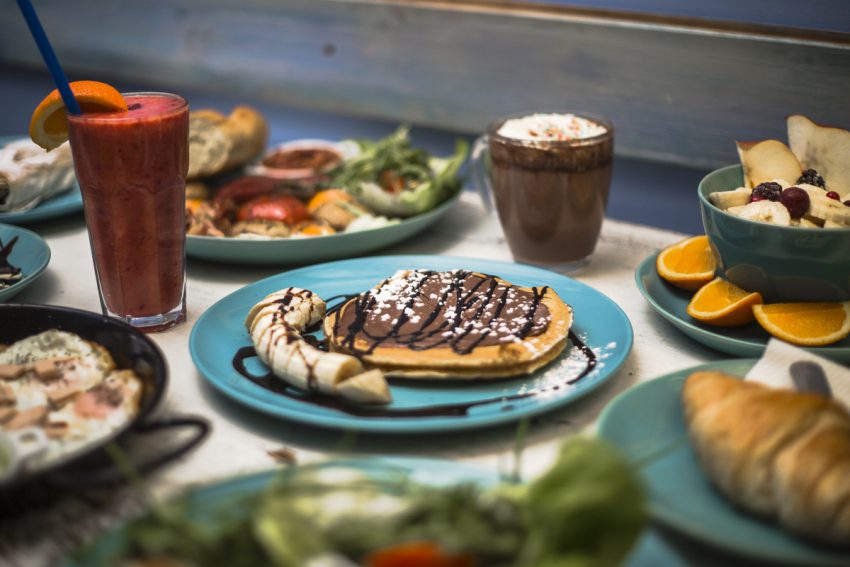 1126 Budapest, Németvölgyi út 17.
Being a place where every detail reflects outstanding quality, comfortable elegance, attention to detail, and a homely environment, Villa Bagatelle is a café, a salon, a bistro, and a pastry shop. Its delicious artisan food creations, homemade breads and other baked goods, desserts, and quality coffee (and the special ambience) make it an absolute customer favourite among the best breakfast-all-day venues in the city. Among Villa Bagatelle's wide range of dishes, you can choose from a simple but mouth-watering scrambled eggs to a fancy champagne breakfast, while light, healthy snacks (including Hungarian, German, and French delicacies) are also available. Words fail us to praise the food quality, the freshness, and the warm welcome.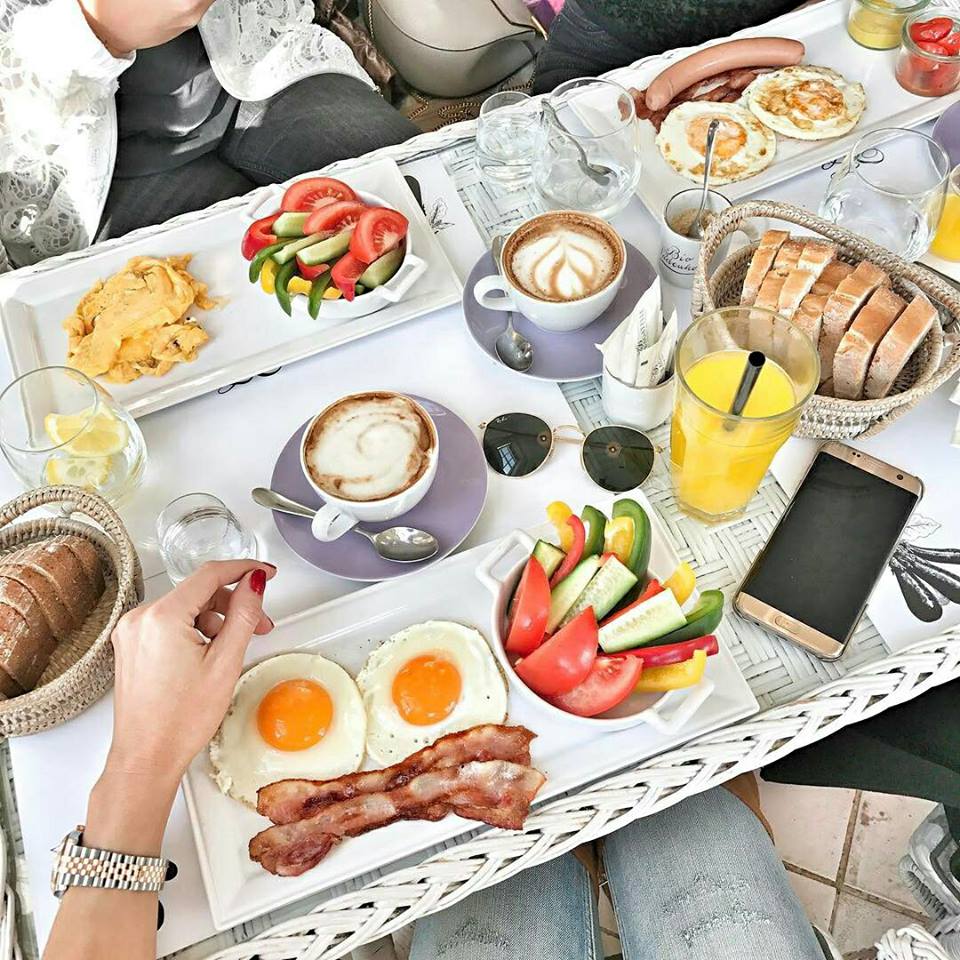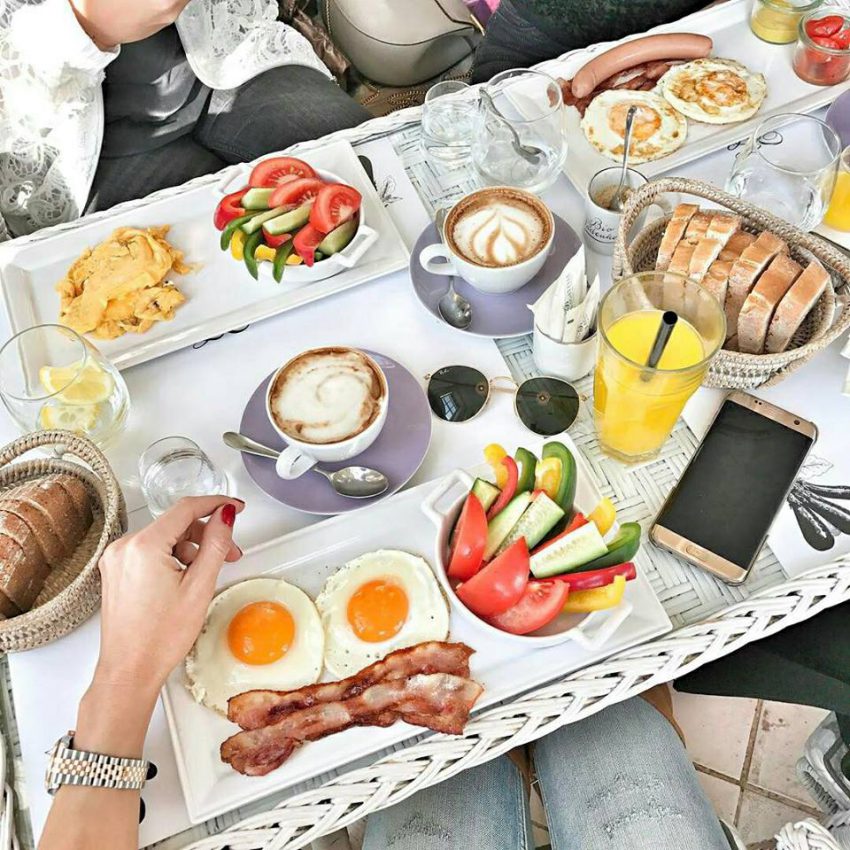 1013 Budapest, Krisztina tér 3. 
Déryné has a special vibe to it, no wonder why it attracts international movie stars. Beeing the Sunday brunch capital of the Buda hills, the chic bistro takes brunch to an artform. It is considered more than just a boosted breakfast: it's a lifestyle. The cosmopolitan, yet utterly local bistro's warm brunch offers (including chicken soup and chicken paprikash), divine omelette, avocado toast, caviar, great selection of oysters and seafood, and other insanely delicious dishes are available from 9 AM to 4 PM, you can take your time and relax in bed, not having to worry about missing out on the new "most important meal of the day". Top it off with a glass of prosecco or sparkling wine, and enjoy the live, soft gipsy music followed by a decadent DJ Party till sunset on Sundays.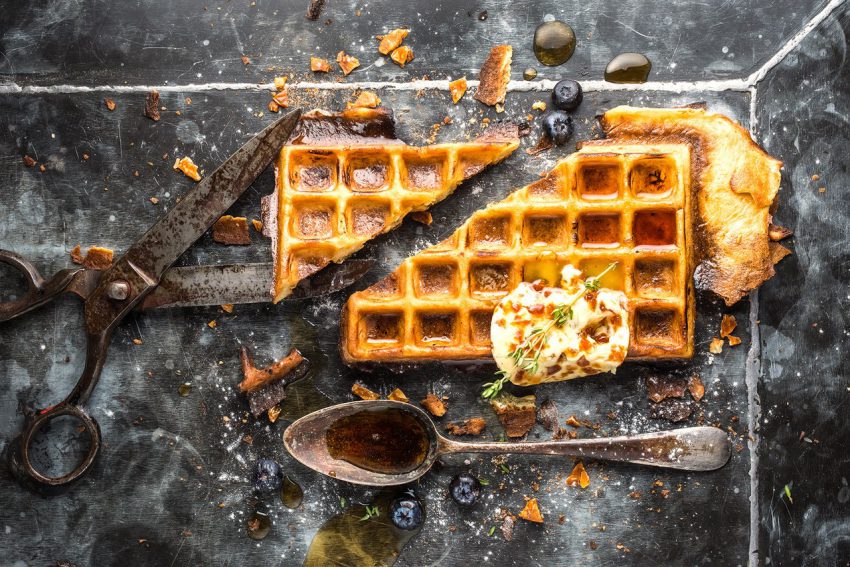 1074 Budapest, Dob utca 15. 
Sweet and savoury, light and hearty meals are served all day long at Spinoza, the always lively hangout spot with bar-ish interior, presenting a delicate balance between theatre and restaurant. Their recipes profoundly follow the tradition of our grandmothers, and they use an arsenal of natural ingredients, and no artificial products. Spinoza's full breakfast – eggs, cream cheese bagel, pancakes, and many more –  is available every day from 8 AM to 11.30 AM for only 6 (€), but if you wish, you can have brunch there any part of the day. During lunchtime on Fridays, Saturdays and Sundays (and every evening) the cozy dining experience is accompanied by live piano music. Service is attentive, Spinoza's friendly staff communicates well in English.