Who is ready for a heart-warming meal outside? Here are the top terraces in town!

1052 Budapest, Apáczai Csere János u. 4.
The soft, warm rays of the summer sunshine have already arrived, so it's time to rediscover the city! Don't forget to take pleasure in Budapest's gorgeous landscape and lovely buildings while you are walking around. Treat yourself with a delicious meal in a relaxing environment, sit down on the comfy chairs of Peppers! Mediterranean Grill and enjoy the downtown restaurant's exceptional panorama from the gourmet terrace. Peppers! offers light Mediterranean and Hungarian meals that you can enjoy at a chilled-out atmosphere. You can quench your thirst with colourful cocktail creations at the cozy Aqva Bar, where tasty snacks are also available. The terrace is open from Monday to Sunday, don't hesitate to hop in any day of the week. Make the most of your day, visit Peppers!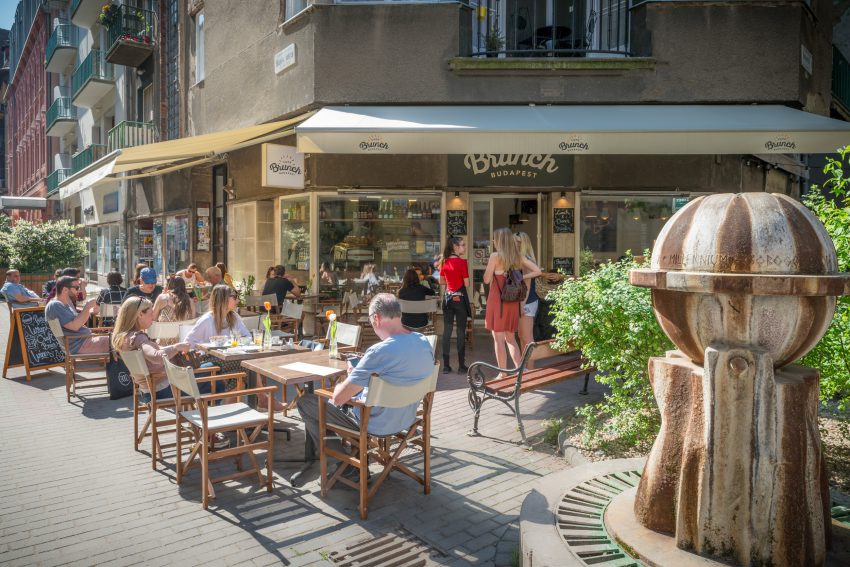 1065 Budapest, Hajós utca 26/b
Finally we have the chance to enjoy our day starter brunch in the open air, why wouldn't we do it at one of Budapest's nicest eateries? Hajós utca's Café Brunch restaurant offers delicious breakfast creations (such as freshly baked pastries, smoothies and sumptuous egg dishes) which we can munch on by the cozy fountain from 8 AM to 2 PM. The tranquil atmosphere is the perfect place to bring yourself up to speed in the morning or to spend your lunch/dinner at. Try a cup of freshly roasted specialty coffee and order one of the artistically served, delicious meals complemented by quality Hungarian wine or local craft beer. Café Brunch is open until 10 PM every day.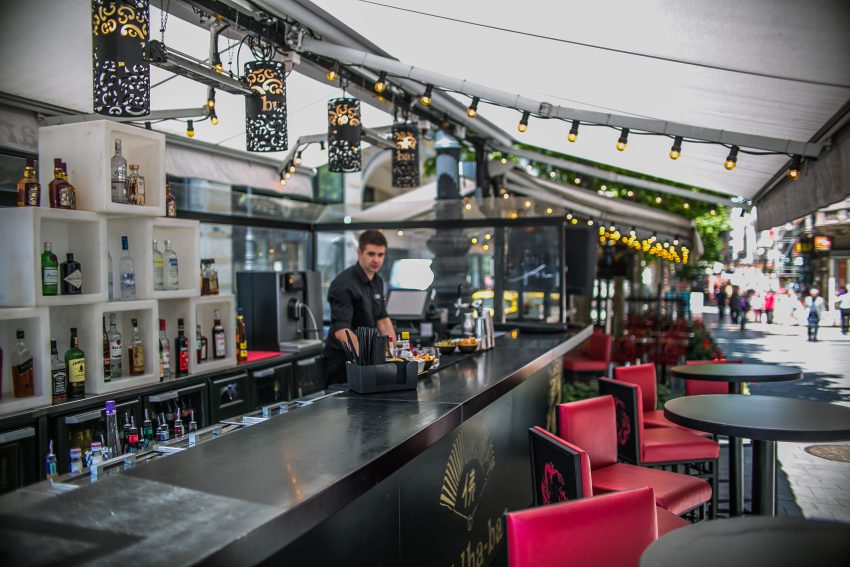 1052 Budapest, Váci u. 34.
The sun is shining, the birds are singing, and Buddha-Bar's summer terrace is awaiting you to enjoy your mornings and nights in the fresh air with a tasty meal in front of you. Accompany yourself with your dearest friends and choose from a wide range of seasonal selections, Bento boxes, Pan-Asian delicacies, an awesome sushi selection and the á la carte menu's delicious meals prepared by executive chef Osama Kutaini. Buddha-Bar's Asian fusion cuisine takes you on a culinary journey with the finest flavours and treats, and they also serve you with refreshing, ice cold drinks and unique cocktail creations when the temperature rises unprecedented high. The terrace is open from 12 AM to 11 PM every day.
1088 Budapest, Rákóczi út 19.
1095 Budapest, Mester utca 46.
Black Cab offers an incomparable experience with a heavenly flavour fusion that guarantees love at first bite. Tame your hunger monster while relaxing at the gourmet burger restaurant's terrace with juicy salads, fantastic hot dogs and full chocolate, homemade brownies! When you get thirsty, choose from the decent list of English soft drinks, ales, and Hungarian fruit juices. The eatery's creative make your own burger concept means that guests can build their desired burger from top to bottom, but there are house specials too. Black Cab's insanely delicious monthly offer, Smoky Ranger Burger (prime beef, bacon, cheddar cheese, fried onion and fresh vegetables) is a must-try, and you will simply love it!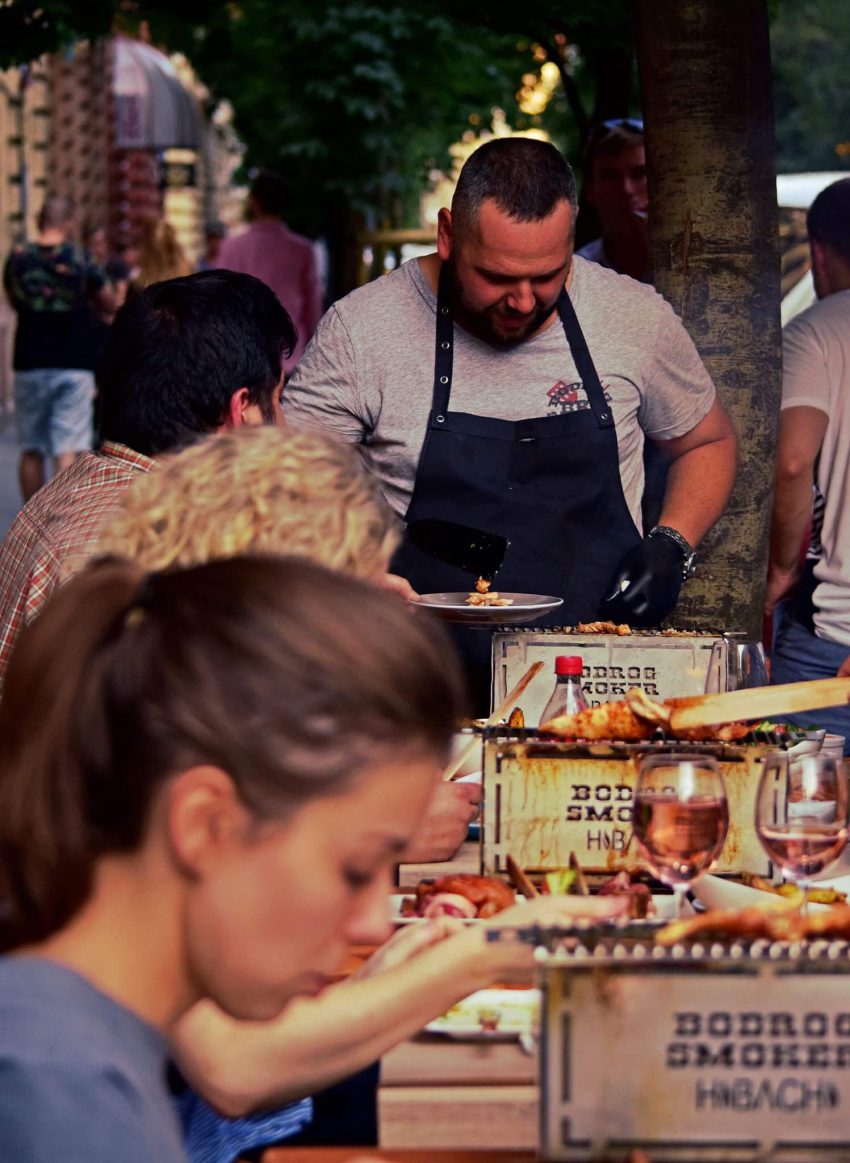 1027 Budapest, Frankel Leó út 11.
MiniZso's "big brother" KicsiZso redefines the meaning of a quality breakfast. Prepare to bow your head in respect because their newest addition, a great bagel creation named "The King" (the ingredients include Tom's bagel, olive oil, dried tomato, pesto-filled camembert rolled in bacon stripes, and basil salsa) is a masterpiece. The friendly eatery is ready to impress your taste buds with its weekly lunch menu too, offering classic staples and exceptional food creations with a creative twist all day long. KicsiZso's terrace is the perfect place to tune out for a while and relax under the sun. Leave the hustle and bustle of the city behind and enjoy the flavourful experience!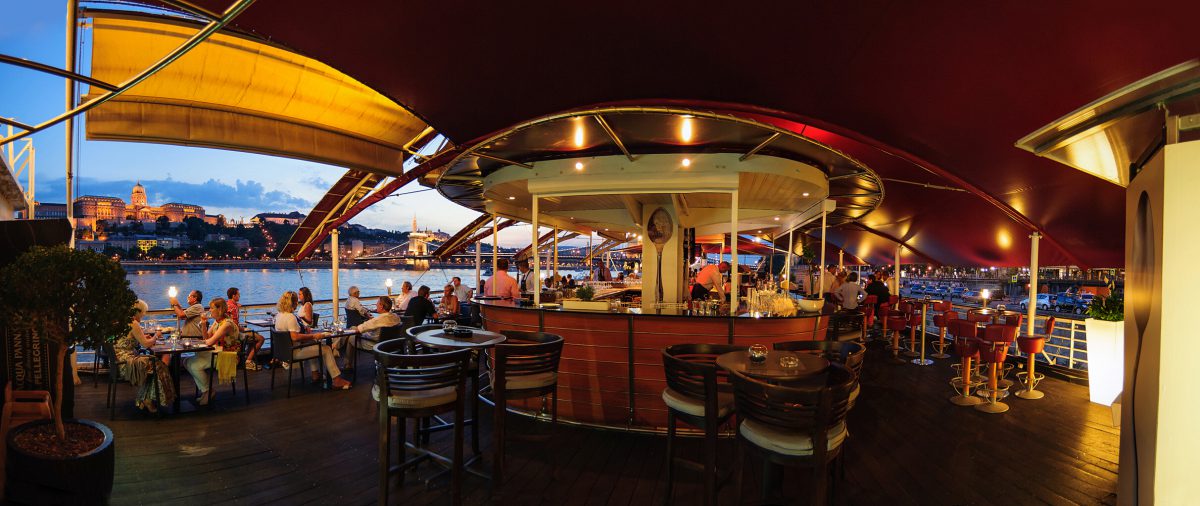 1052 Budapest, Vigadó tér 3. kikötő
A little bird told us that Spoon's new summer menu is in the making, and it is going to be awesome! Not that we've expected any different: the restaurant's chef team (chef Robert Szűcs, souschef Ádám Kriskovics, confectionery chef Ferenc Lisztis) is incredible, and we are already tempted to try some of their tasty meals. Other than its high quality food offers, the peacefully bouncing boat restaurant is known for its spectacular view to Budapest's world-famous sights that we can enjoy from its open-air deck nowadays, thanks to the lovely weather. No matter if it is breakfast, lunch or dinner, time will be well spent at Spoon. Funzine's hint: sunsets are gorgeous there, go and see for yourself!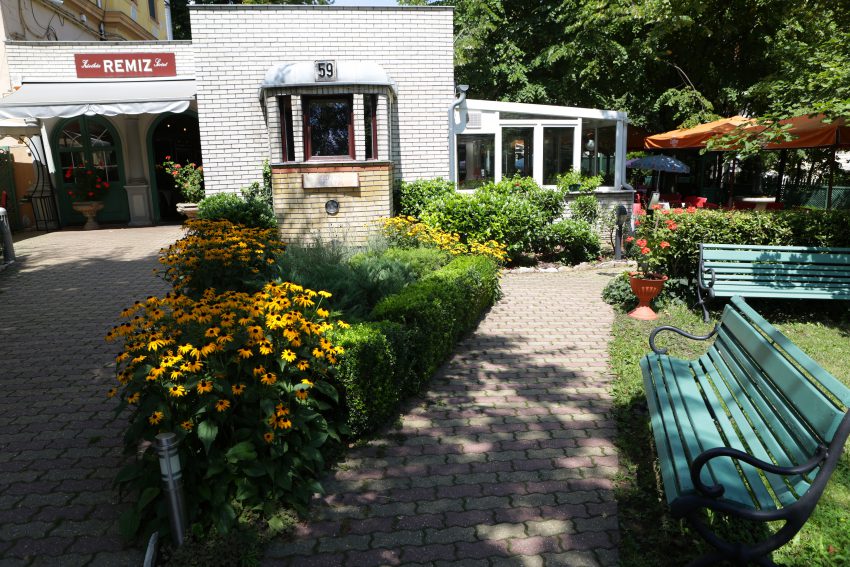 1021 Budapest, Budakeszi út 5.
Combining the finest compilations of traditional Hungarian flavours with international trends, presenting both real classics and modern favourites in an ageless ambience, Remiz is a peaceful oasis of the always busy capital. Located in the picturesque green scenery of Buda, far from all the hustle and bustle, the restaurant awaits guests with mouthwatering specialties roasted on tufa stones, unique desserts and an enthralling atmosphere. Lay back, slow down and let the emerald of the Buda side amaze you: enjoy the sunbeams in the company of an attentive service and exquisite meals at Remiz.