Summer travels without chilling at local terraces are not even worth talking about. If there's one thing you can't leave our beautiful capital without is the ultimate experience of terrace-ing in Budapest. From riverside hubs to trendy bars, here's a handy guide to take notes from!
UnoMas Tapas&Bar
Ever since its opening last summer, UnoMas has held a special place in the heart of foodies who admire Mediterranean cuisine, especially its legendary tapas. This nonchalant hub of Iberian flavours brings the authentic vibes of La Rambla to Budapest's Pozsonyi Street. Made with carefully selected ingredients, all-time favourite tapas dishes and rare delicacies (only available in UnoMas) go hand in hand with signature cocktails. Regulars and newbies, locals and foreigners will equally love this special joint, even if they come for its weekly changing lunch offers or a light dinner accompanied by music.
1137 Budapest, Pozsonyi út 14. | Website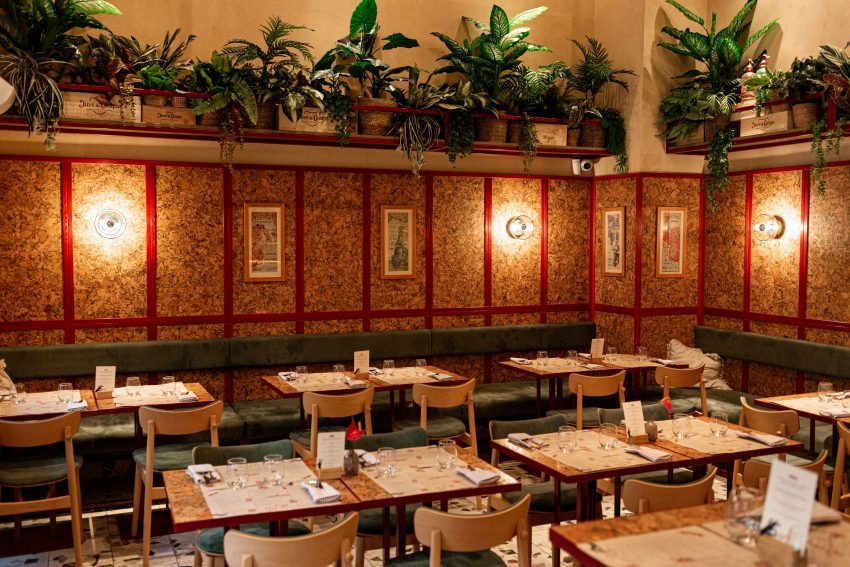 Madhouse Budapest Bistro & Craft Beer Bar
Longing for an unforgettable gastro experience in the heart of Budapest? Make time to visit Madhouse Budapest, a delightful joint in the city centre with the loveliest team of workers. At this special place, you will have everything for a perfect night, including Hungarian craft beer brand Mad Scientist's latest drops. Every week, 2-3 new beers debut at Madhouse, which makes it an unparalleled haven for beer lovers. The 24 beer taps, however, are not the only thing people love about this venue: many come for executive chef Norbert Piszkor's sustainable, ethical bistro kitchen that boasts local, seasonal ingredients.
1061 Budapest, Anker köz 1-3. | Website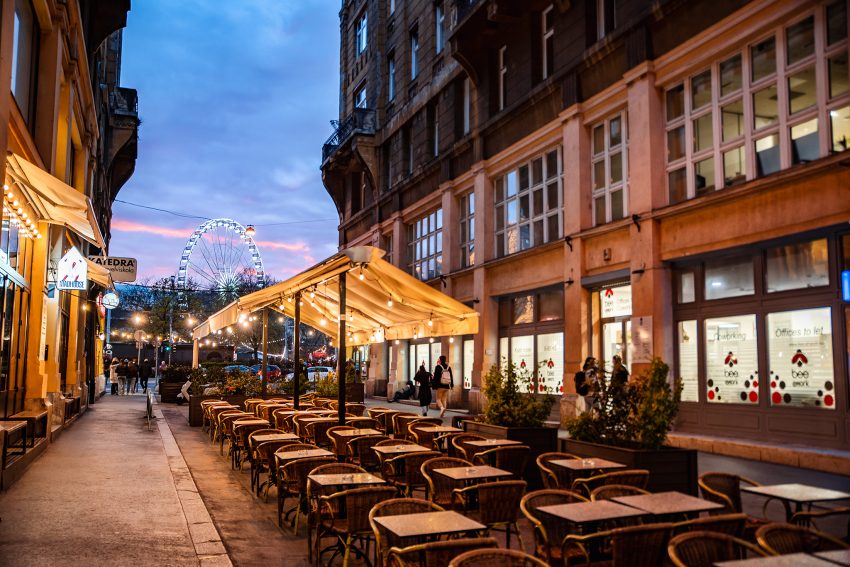 ÉS Bisztró
Celebrating its ten-year anniversary in 2023, ÉS Bisztró prides itself on playing a part in Budapest's gastronomic revolution that made high-end hotel restaurants attractive to a wider, younger audience. With its nonchalant atmosphere, this centrally located venue specialises in Viennese-Hungarian courses, such as the all-time favourite Tafelspitz. The bistro is also famous for its regularly changing seasonal blackboard offers, as well as delicious hamburgers and steaks. Perfect for people-watching on Fashion Street, the ÉS terrace is spacious enough to seat big families and groups of friends.
1052 Budapest, Deák Ferenc utca 12. | Website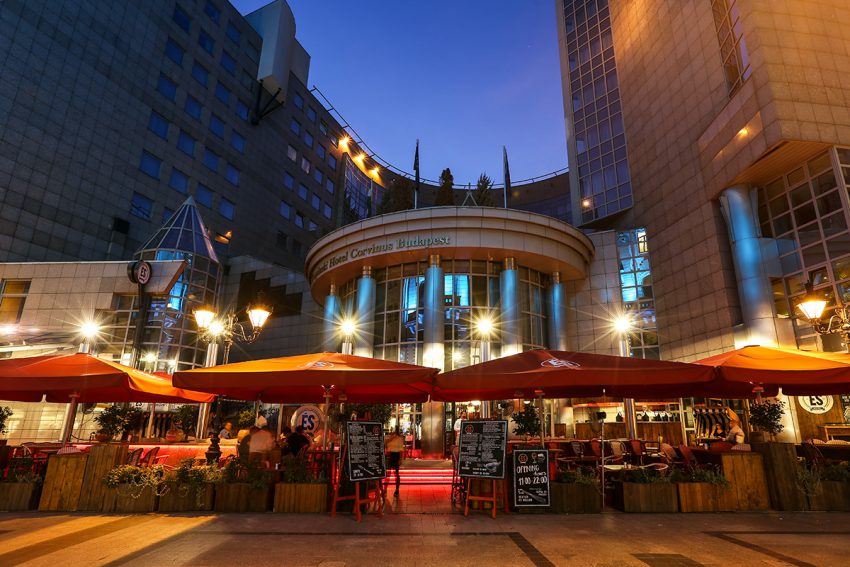 Flava Kitchen & More
Inspired by the world's most popular gastronomic cultures, Flava Kitchen & More is a metropolitan oasis, located just a stone's throw away from Liberty Square. The stylish restaurant's menu has something to suit every guest's taste, providing an unforgettable culinary experience. The concept of 'sharing is caring' is at the core of this unique jungle-themed joint. In addition to traditional dishes, North African, Latin American, and Middle Eastern delicacies complete the repertoire that also embraces excellent drink offers, ranging from fine wines and champagnes to exciting cocktails – the perfect ingredients for a relaxing night-out on the inviting terrace!
1051 Budapest, Október 6. utca 26. | Website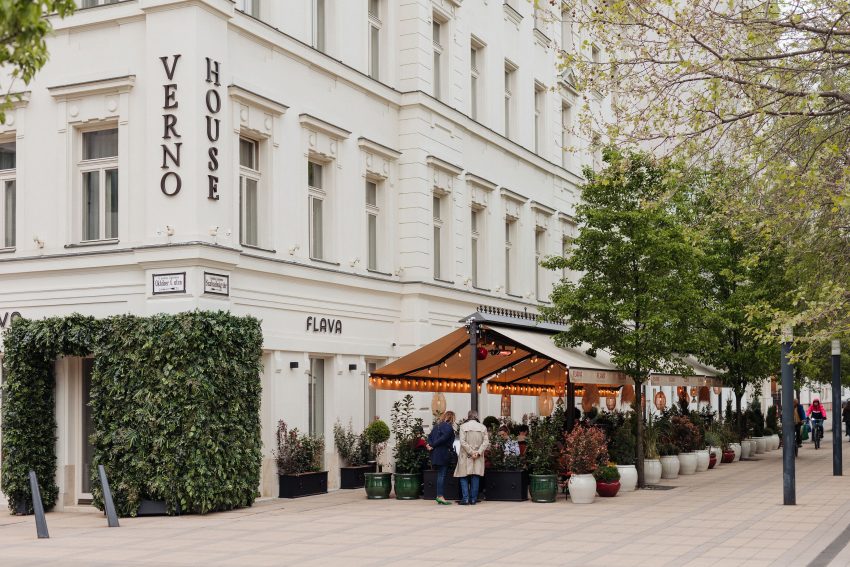 Tapas Fino
Tapas Fino is the latest opening from Continental Group. The restaurant is located on the UNESCO world heritage Danube Bank, offering an upscale selection of tapas dishes, Cavas and the bests from the Spanish vineyards. Led by executive chef András Sipos, the menu is inspired by Spanish cuisine, with fantastic meals cooked to perfection with a Hungarian touch. The cosy space with its modern decor and the floor-to-ceiling windows brings authentic Mediterranean vibes to the heart of Budapest. Thinking of finishing your day with a sunset cocktail by the Danube? Tapas Fino's summer terrace is your place to be!
1056 Budapest, Belgrád rakpart 24. | Website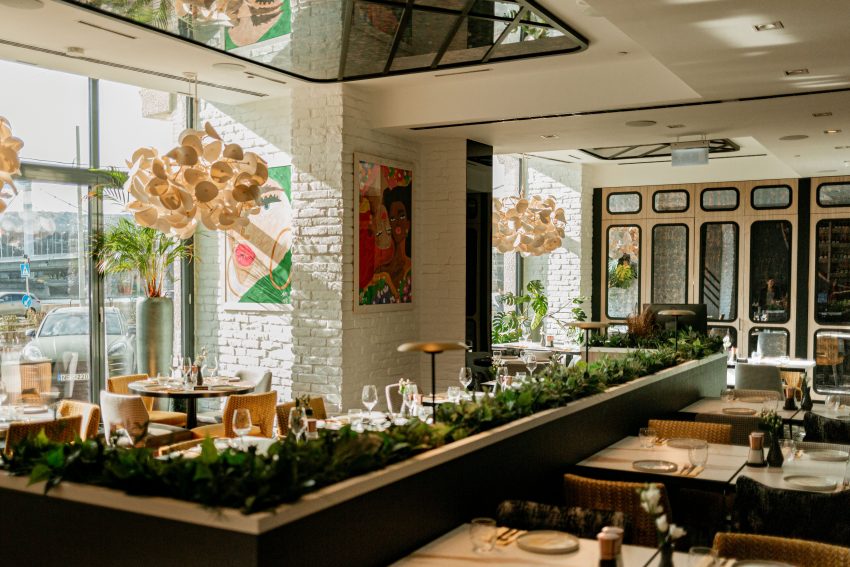 Sophisto Restaurant, Brunch Spot & Champagne Bar
The very chic and modern Sophisto is situated right next to St. Stephen's Basilica, the venerable Budapest landmark that is on everyone's bucket list, so chances are you will be glad to find a place to wind down in the area. The champagne bar-turned-restaurant only opened a year ago, but it has already become a lavish locale with exceptional culinary treats. Matching diverse moods, diets, and day periods, Sophisto's renewed menu embraces palatable breakfast and lunch courses, but the real deal is the gorgeous dinner experience that features such delicacies as oysters, rabbit saddle with liver and corn, vegan cassoulet, and truffle mille feuille.
1051 Budapest, Szent István tér 2. | Website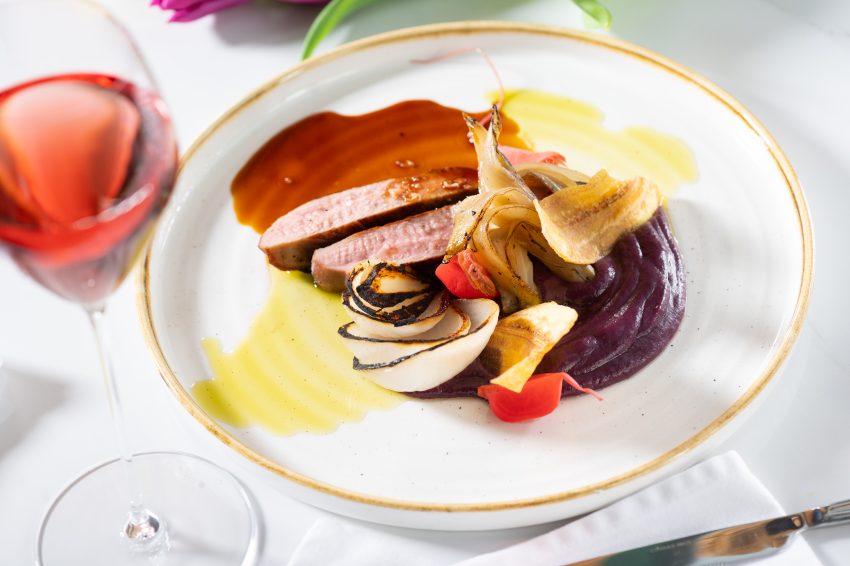 Jardinette
Located away from the noisy city centre, Jardinette's charming terrace has been Budapest's favourite green oasis for 20 years. Boasting a wonderful conservatory all year, the beautiful garden attracts locals and tourists alike from spring to autumn. There is nothing like tucking into Jardinette's monthly changing, seasonal meals under the sweet chestnut trees. This year, the restaurant has launched a brand-new gin bar, with an extensive gin assortment and other fresh, fruity and spicy cocktails to choose from. The juicy street food coming from the smoker is another novelty that brings us succulent pork ribs and hot chicken wings.
1112 Budapest, Németvölgyi út 136. | Website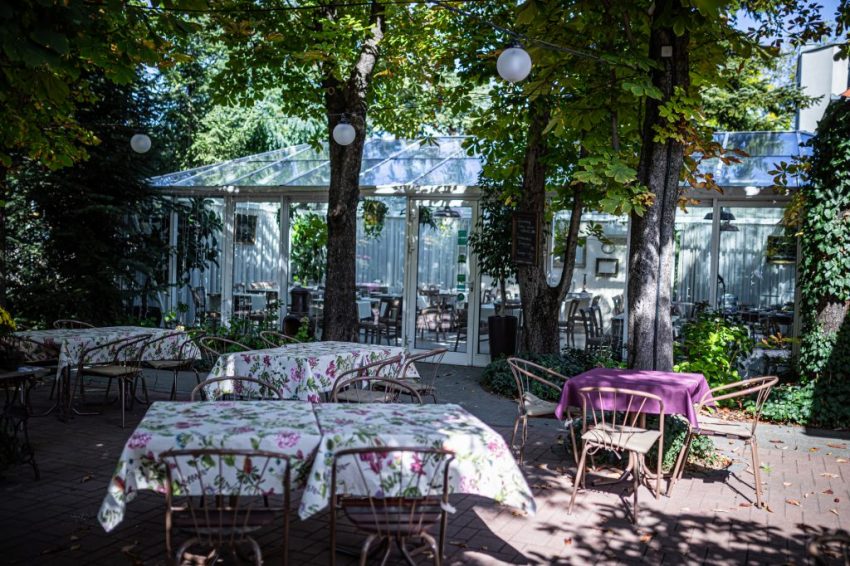 Szerecsen Aperitivo
Fusing the Parisienne atmosphere with Hungarian and Mediterranean flavours, Pest's iconic Két Szerecsen (Two Saracens) restaurant has recently opened a new spinoff bistro right next door. Figuratively and literally, Aperitivo is the hall to Két Szerecsen, a place to hop in for all-day breakfast (until 5 PM), lightsome meals and good-humoured conversations. Alongside tapped prosecco, cocktails, and coffee, fresh antipasti, delicious cheeses, cold cuts, dips, and a few of Két Szerecsen's signature dishes will sweep you off your feet. Get cosy in a homely corner inside, or enjoy la dolce vita at the lovely terrace!
1065 Budapest, Nagymező utca 14. | Facebook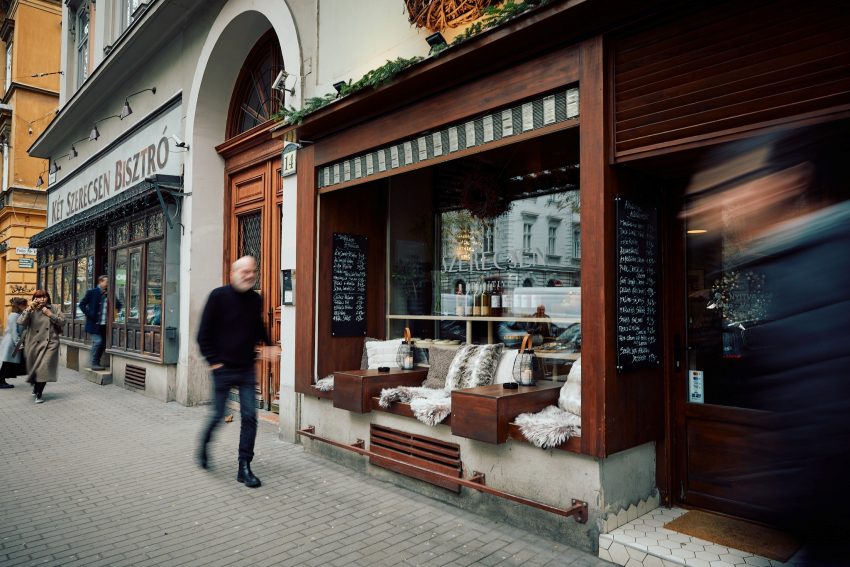 VAJ
There is a bakery-brunch spot hybrid close to Rákóczi Square you just can't pass by without having a look inside. The buzzing terrace of VAJ attracts both locals and tourists, and so does the cool interior design. But wait until you taste the heavenly smelling pastries and cakes, along with the pleasing scent of light roast coffee. Come any time of the day, you will surely find something to match your mood, even if it's homemade kombucha to start your day off right, stuffed empanada in your lunch break, or tea and a scrumptious tart on a Sunday afternoon. Just a little something to tease your brain: to be continued in Buda…
1085 Budapest, József körút 30-32. | Facebook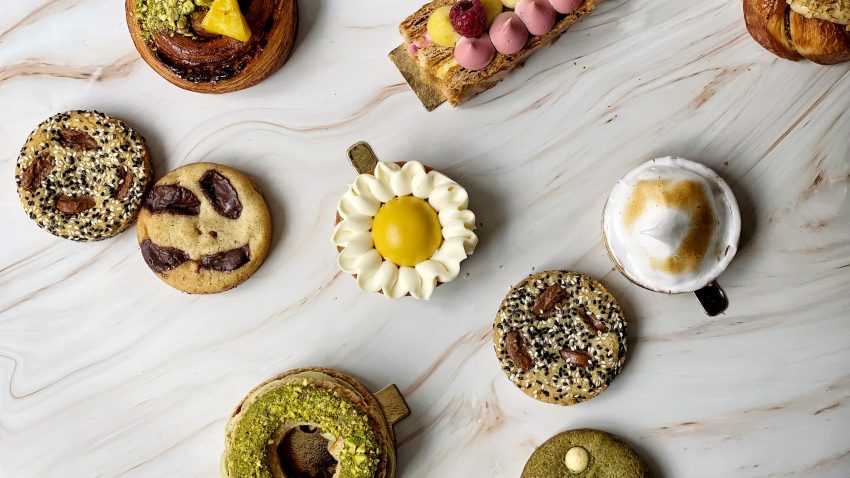 Gléda Restaurant
Reinventing turn-of the-century style hospitality and cosmopolitan atmosphere, Gléda offers classic, Hungarian home-style dishes paired with modern kitchen technology. This unpretentious, family-friendly restaurant features an easy-going milieu, but also ensures that every meal is made with utmost precision and attention-to-detail. Enjoy the art deco style interior, or choose the spacious and quiet terrace for a refreshing cocktail before tucking in the delicious meals (including vegan options) Gléda offers. On Thursday evenings, live music by jazz guitarist Gergely Pálinkás sets the tone for a special night.
1037 Budapest, Mikoviny utca 2-4. | Website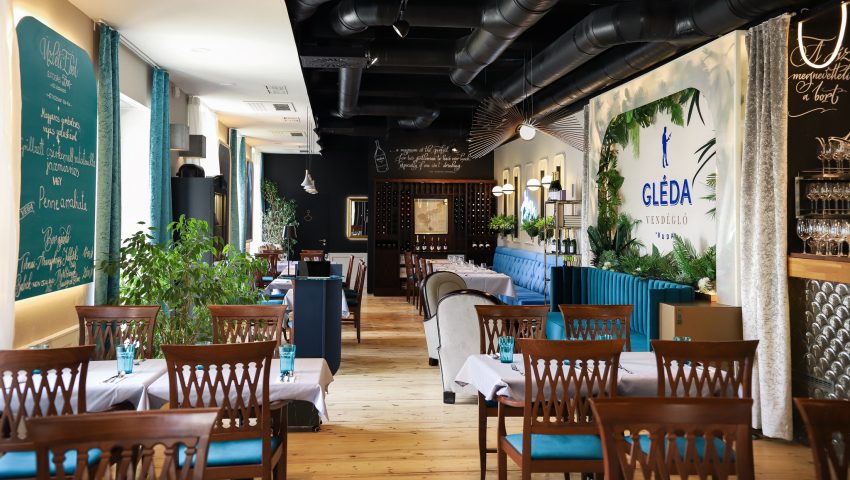 FIRST Local Craft Beer & Kitchen
Nestled in buzzing Madách Square, Local belongs to the clan of beloved Hungarian brewery FIRST Craft Beer. Offering 32 types of beers on tap, this cool joint has even more reasons for you to visit: its open-concept kitchen provides diners with delicious dishes made from fresh, local ingredients, as well as classic street food items, and regularly organized live music acts take the gastro experience to new heights. Are you up for a personalized brewery tour and beer tasting? Sign up to one of FIRST's exclusive programs (held in their main location outside of the city centre) and learn all about craft beers!
1075 Budapest, Madách Imre tér 3. | Website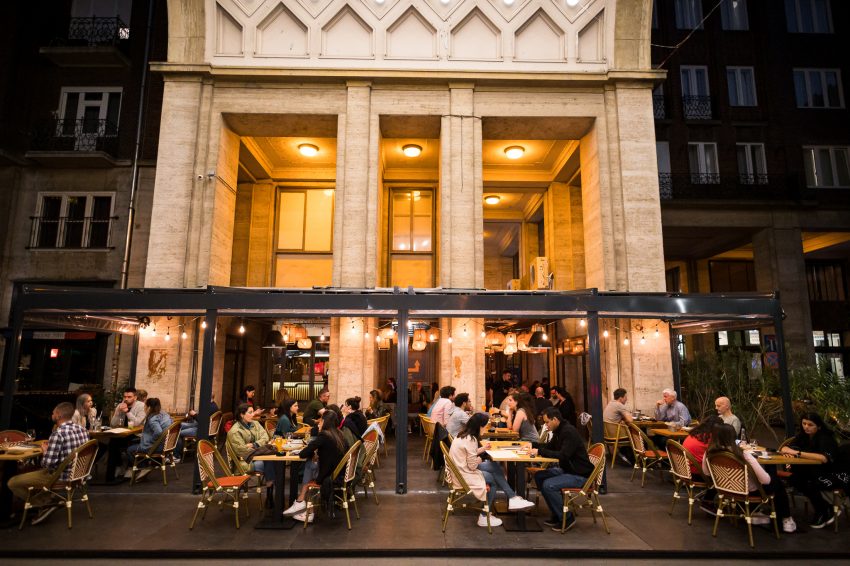 Geraldine
Did you know that the beautiful garden surrounding Hungarian National Museum gives home to a lovely confectionary? Wandering under the evergreen trees, a garden house-turned-café will shortly catch your eye. This elegant building houses Geraldine, the latest member of the famous Hungarian Auguszt confectionaries that date back to 1870. We highly recommend you stopping by and tasting their gorgeous cakes made from age-old recipes, fine coffee, and invigorating ice cream. Other than the delicious treats, the tranquil environment with outdoor tables around the little fountain will leave you enchanted.
1088 Budapest, Múzeum krt. 14-16. | Website