The capital city wouldn't be the same without its famous ruin bars; once you are in Budapest, you have to experience their incomparable atmosphere. So, what are you waiting for? Follow your hippy heart and visit the below pubs!
Looking for the hippest spot in Budapest where all the rad faces of the city chill in their skinniest jeans and wayfarer-style shades while sipping cool and colourful cocktails? You don't have to go any further then Paulay Ede utca's Anker't to dive into the chic Hungarian ruin pub atmosphere. Just order a drink or two at the 8-meters long bar and lay back in the 800 square meters outdoor area, or bring your friends with you and shake it at the indoor disco at the venue's regular queer-friendly parties. If you feel like grabbing a bite, don't miss out on their hearty hot-dogs or homemade beef burgers, both as delicious as they are enormous. In case you want something meat-free, go for the vegan pizzas of vegazzi, the city's best plant-based Neapolitan pizzeria.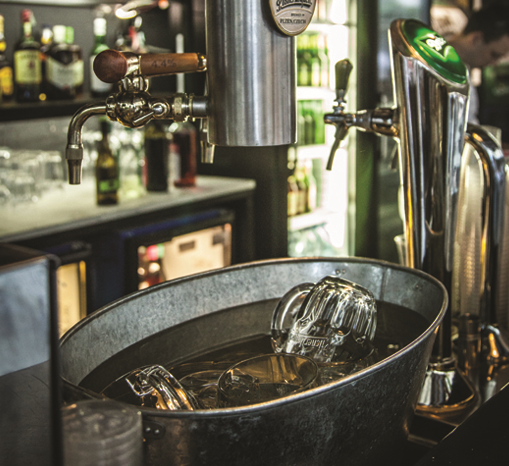 Located on one of the main streets of downtown Budapest's party district, housed inside a decrepit apartment building from the late 19th century, Klauzál utca's Füge Udvar has been a key player in the local ruin bar scene since its inception in 2012. Being the cheapest ruin pub of the city, with a smoking yard centered around the eponymous fig tree, a ping pong table, an extensive drink menu and lot of yummy burgers, it's the site of an unforgettable Friday night. Complete with an escape room and a pinball area, Füge Udvar promises you a fun time even if you plan on staying sober for the whole night.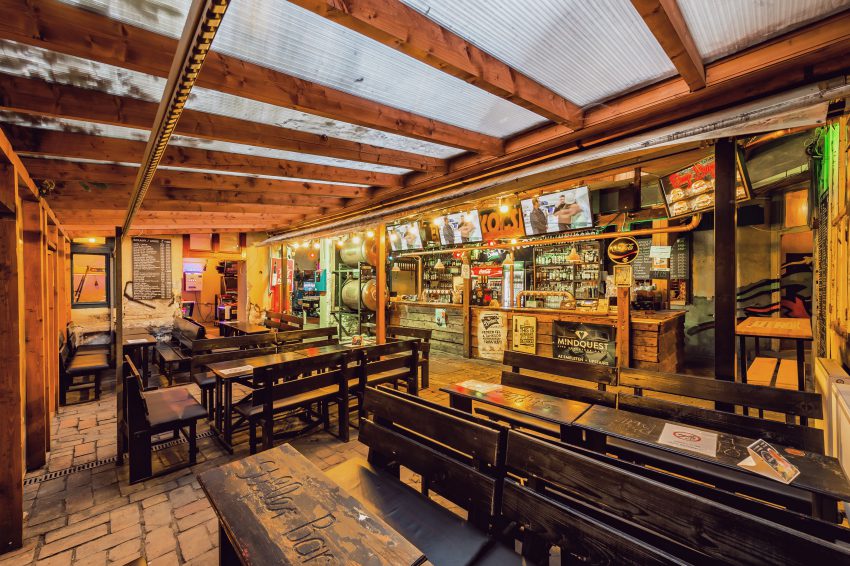 As one of the most popular pubs of its own franchise (a brand of uniformized pubs located near various stops of tram lines 4 and 6, the city's main tramways), 4-es 6-os earned its spot in our compilation thanks to its ruin pub-ish vibes. The Wesselényi utca establishment was opened as the third of its kind, in the stead of a retro underwear shop, on the corner of one of the main arteries of the Jewish district and the Grand Boulevard, to the joy of low-budget socialites all over Budapest. Open every day of the week, all day long, the friendly pub boasts a cheerful clientele of locals and foreigners, generous drink deals, and more importantly, a quick and easy access to the night service of the Budapest public transport!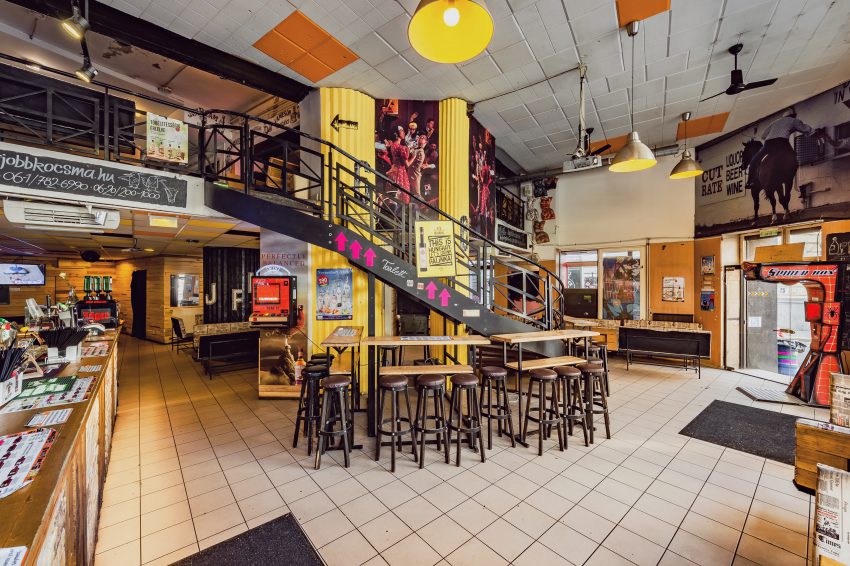 Only one corner away from Astoria, Csendes Létterem has been the number one dwelling place of local university students, artsy people, hipster couples as well as foreigners looking for a unique bar experience since its 2008 foundation. Close to the lovely and lush garden of Károlyi kert, the interior of Csendes boasts a bohemian mish-mash of vintage and historic, instantly pulling you into its crazy, romantic world. Whether you drop in during the day to do some work on your laptop while making sure that you meet your daily caffeine intake, or sit down with your buddies at one of the ancient-looking tables in the evening, drinking delicious wines and getting inspired by all the quirky contemporary art pieces surrounding you, you'll have a great time at Csendes.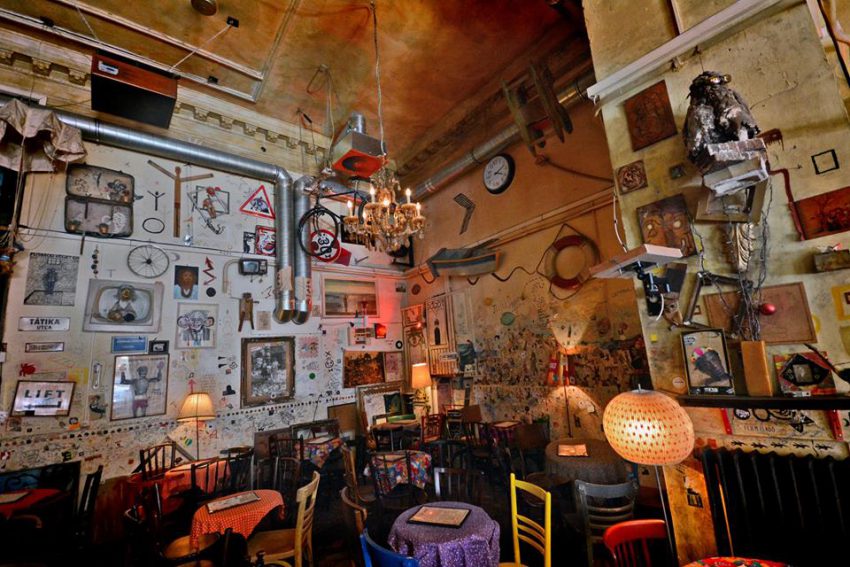 Industreal interiors, an awesome selection of craft beers, spacious inner courtyards – what's not to love? Élesztőház, located a couple of minutes' walk away from Corvin-negyed, is a boutique hotel, an apartment restaurant, a specialty café, a cocktail bar, a homebrew school where you can make your own beer, a sausage place, and the city's absolute best artisanal beer ruin pub. Celebrating its fifth anniversary this year, Élesztőház is the Budapest base of the Hungarian craft beer revolution, where you can choose from 25 different beers on 30 taps, all of them distinctly delicious, all of them worth a try. Sampling the whole range of Élesztő's brews is a hard task, but one that you will relish even if you fail.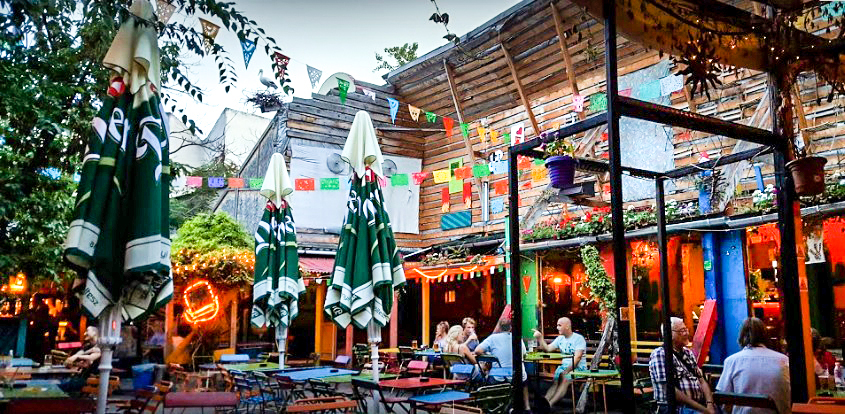 Situated next to the always buzzing Gozsdu Udvar, Ellátó Kert awaits you with a large open courtyard, authentic ruin pub vibes, a colourful array of drinks to pick and choose from (ranging from Hungarian spirits and Slovakian Tatratea to Ellátó Kert's signature pink grapefruit-vodka shot called pinky), and a number of Mexican dishes to help your body soak up the alcohol. Even though the place is almost always packed, the service is swift and friendly, ensuring that you won't have to wait for what seems like an eternity for a glass of margarita. The bike-friendly venue is open every day from 5PM, closing at 2AM during the weekdays, and 4AM on the weekends.
After a long night in the ruin bars, the best idea is to visit these brunch spots: