Located in the gorgeous building of the late Stock Exchange Palace, the legendary Hard Rock Cafe (HRC) needs no introduction. Not only is it an incredibly successful, world-famous café and restaurant concept, HRC also serves as a museum, owning the largest private collection of Rock & Roll memorabilia in the world. With Jimi Hendrix's poncho and Paul McCartney's signed acoustic guitar displayed within reach, guests are always in for an incomparable dining experience.
My companion and I were thrilled to visit the upbeat, modern style café to take our taste buds on an international culinary journey, all thanks to Hard Rock's World Burger Tour featuring Hard Rock Local Legendary© Burgers from different worldwide locations of the chain. We were honored to be the very first guests to taste June's 4 extraordinary burger creations before they make their debut on the restaurant's limited-time menu.

When we crossed Hard Rock Cafe's doorstep, we found ourselves right in the middle of the Rock Shop, surrounded by collectible and fashion merchandise including the classic, white logo tees. Thanks to the attentive staff, we easily found our table in the cozy bar, where comfortable golden seats were awaiting us. The bar's metal-colored walls are decorated with pieces from the amazing, priceless collection of music memorabilia, which Hard Rock makes available to the public for free! We took a seat near the vintage gold velvet cape that Grace Slick (Jefferson Airplanes' singer) wore on tour in the '70s, as well as Eric Clapton's signed August album cover right next to us in a fancy frame.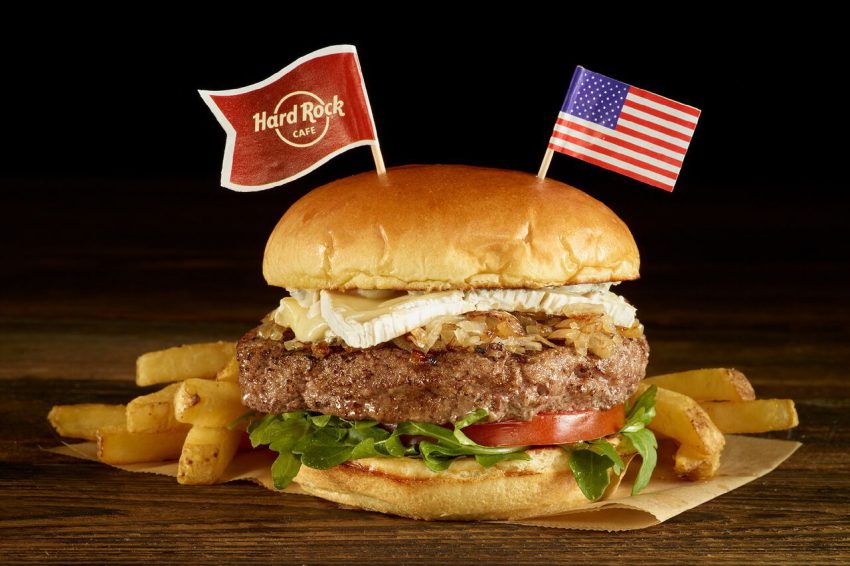 Our curiosity then turned towards the exciting culinary experience ahead of us, when just a few minutes after our arrival the tasty burgers and seasoned artisan fries (plus refreshing strawberry-mint lemonade and limited edition, alcohol-free cocktail specialties with passion fruit, mint and watermelon in Hurricane glasses), got served to our table with sauces that complement the different character of each burger. First, we tasted the Hollywood Burger which is obviously from the home of the U.S. film industry. Without going to the extremes, melty Brie cheese and caramelized shallots get it evolve into a true star, accompanied by fresh arugula, garlic aioli, tomato in a toasted bun, and a mildly spicy dip made of mayonnaise and chili.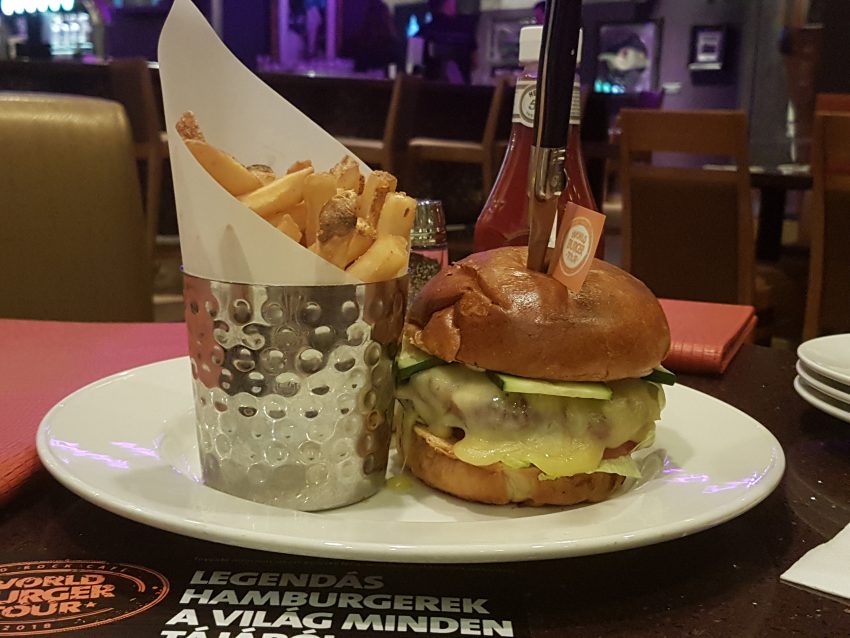 Our next 'contestant' came to Budapest from Mumbai, India, and blew our taste buds away with its awesome Middle Eastern spices. It was something we have never experienced before at any hamburger joints: imagine iceberg lettuce, Monterey Jack cheese and crisp cucumber planks placed over a tandoori spiced chicken burger, topped with an incredibly delicious mint-mayo dip.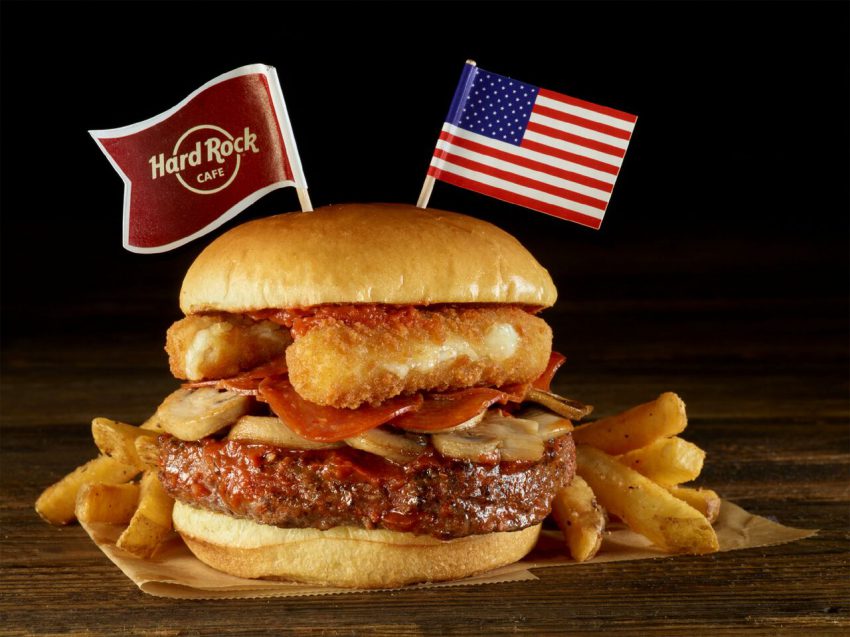 After this mouth-watering burger, we wanted to return to something less exotic but just as creative: the Big Little Italy Burger from New York. As its name suggests, this burger creation was inspired by the gastronomic capital of the world, Italy, and its well-known traditional dish, pizza. Have you ever seen (and tasted) fried mozzarella cheese, pizza sauce, tasty pepperoni salami and sautéed mushrooms in the same bun? Now you have the opportunity, thanks to the New York joint of Hard Rock Cafe that came up with the idea. It's an undoubtedly filling burger that meat lovers will definitely adore. Last but not least, an Italian burger composition called When in Rome Burger landed in front of us, straight from Rome. This gourmet burger is true to its nation: crispy pancetta, garlic aioli, crisp arugula and ricotta cheese make it an outstanding delicacy that we highly recommend.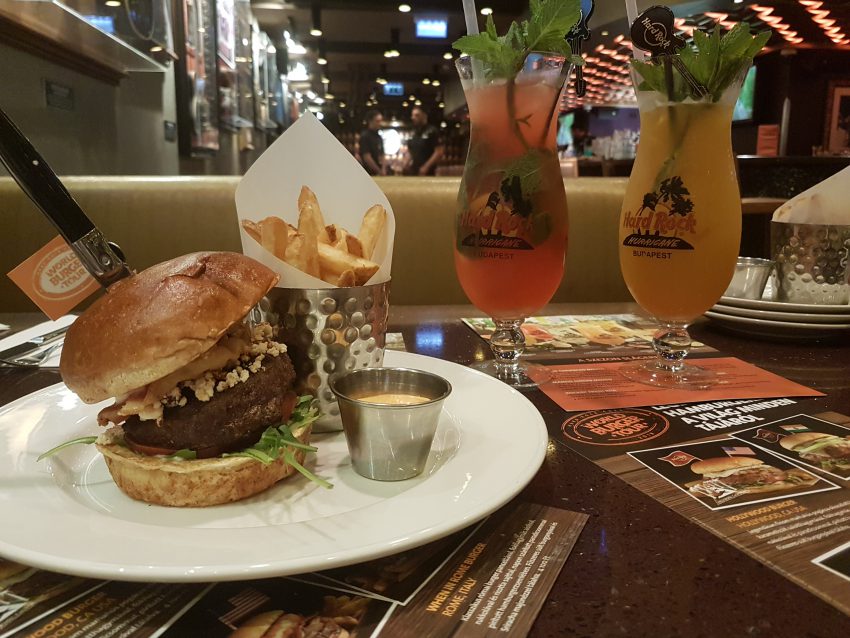 Without a doubt, it's always a great experience to spend some time at Hard Rock Cafe. Don't miss out on its summer specialties, ask for a gluten-free menu and taste the hit cocktails of the season!
 Price range: 3800-4200 HUF