The festive season is upon us, and if you're spending your winter getaway in Budapest, you are in the right place! We've put together the ultimate Christmas bucket list, featuring everything from sipping warm mulled wine at enchanting markets to fun adventures and spectacular views!
Advent Feast at the Basilica
Right next to the famous St. Stephen's Basilica in Budapest, you'll find the Advent Feast from 17 November – it's where all the holiday magic happens! Imagine a Christmas fair brimming with incredible goodies and scrumptious food that'll tempt even the Grinch. And let's not forget the star of the show: mulled wine that warms your soul. As you wander through the festive stalls, you can soak in the joyful holiday vibes with the grandeur of St. Stephen's Basilica as your backdrop. It's the perfect place to kickstart your jolly season and fill your heart (and belly) with cheer.
Budapest, Szent István tér 1, 1051 | Website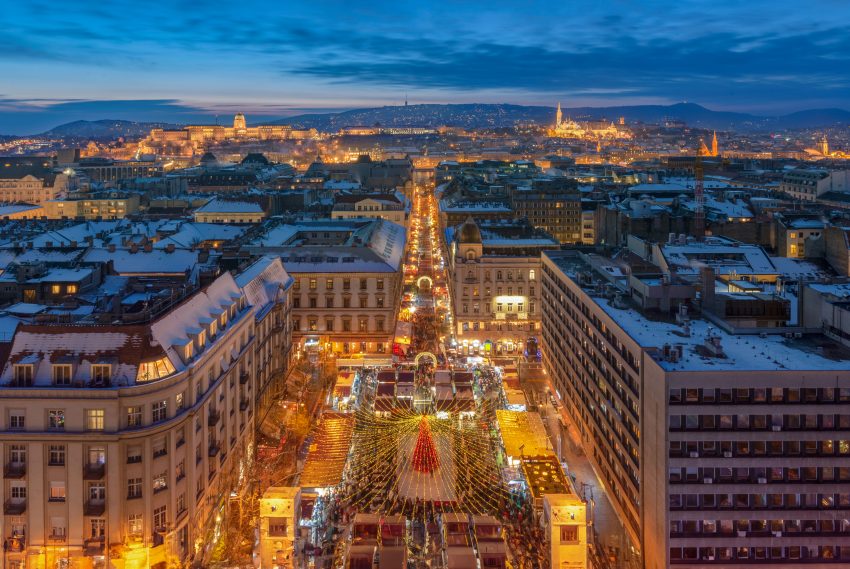 City Park Ice Rink
One of the main attractions of wintertime Budapest is the huge ice rink found at the entrance of City Park, situated behind the impressive Skating Hall, a masterpiece of Hungarian Neo-Baroque architecture. Announced to open on 17 November this year, this classic rink adored by young and old alike has been welcoming skate lovers since 1869. They also got a whole bunch of awesome events lined up in 2023: think Santa's shindig, skating through the holiday season, Ugly Sweater Day, epic Be Massive parties, Ice Rinks Night, and more! It's recommended to buy your ticket online in advance, so that you can skip the queue!
1146 Budapest, Olof Palme stny. 5. | Website
Advent festivities in Óbuda
'Tis the season to soak in the festive vibes at the Christmas fair right in the heart of beautiful Óbuda! Picture enchanting stalls, twinkling lights, and the aroma of roasting chestnuts filling the air. What's even better? A hearty dose of free concerts to keep your spirits high! Glide across the ice rink or dive into a world of diverse family activities. Whether you're sipping mulled wine, hunting for unique gifts, or dancing to the tunes, the Advent fair in Óbuda has all the ingredients for a perfect Christmas celebration.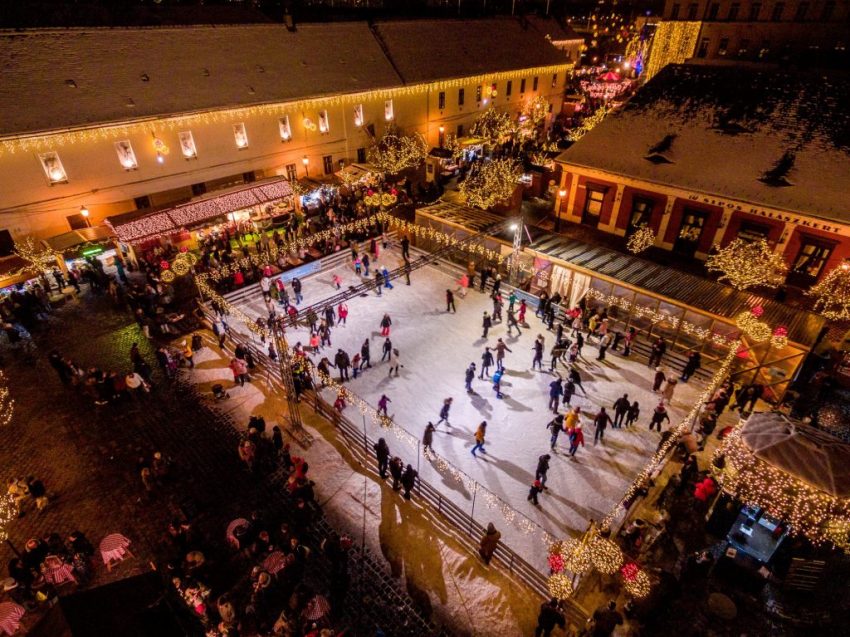 Festive rides
When the holiday season rolls in, you absolutely can't skip the Christmas-tinged means of transportation. Why? Because with your regular BKV tickets, you can hop aboard the dazzling Festive Tram and the jolly Santa Claus Trolley. Riding these festively bedecked, regularly scheduled routes guarantees you a journey filled with merry, joyous, and utterly festive vibes!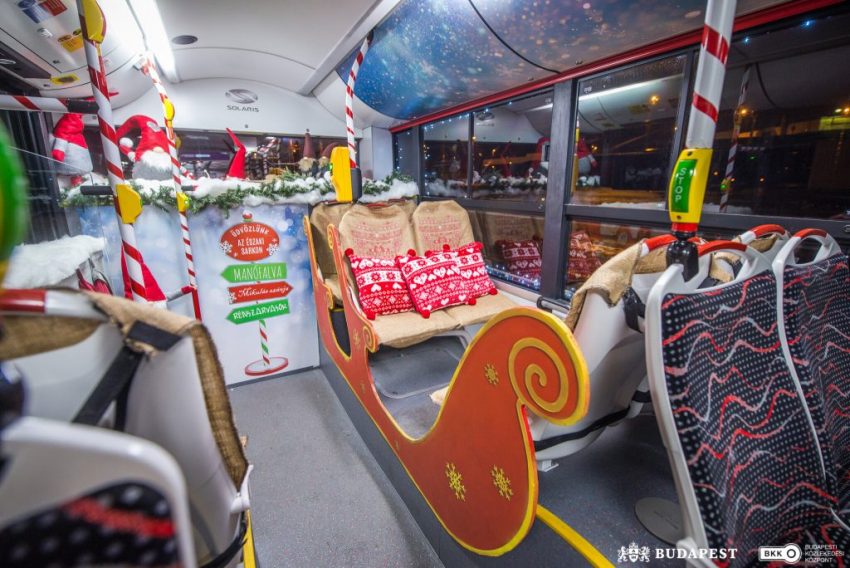 Christmas ride on the Children's Railway
During the Advent season, the Children's Railway decks out a special carriage fit for a holiday journey. This time around, they've rolled out a snazzy blue nostalgia car to greet all the merry wanderers. It's not just any old train car; it's a 92-year-old gem, a lovingly restored relic from the golden age of railways. This festive ride is all set to spread holiday cheer as it chugs along. It's part of the regular passenger trains, departing from Hűvösvölgy at the even hour and from Széchenyihegy at the odd hour. So, hop aboard and let the holiday spirit carry you away!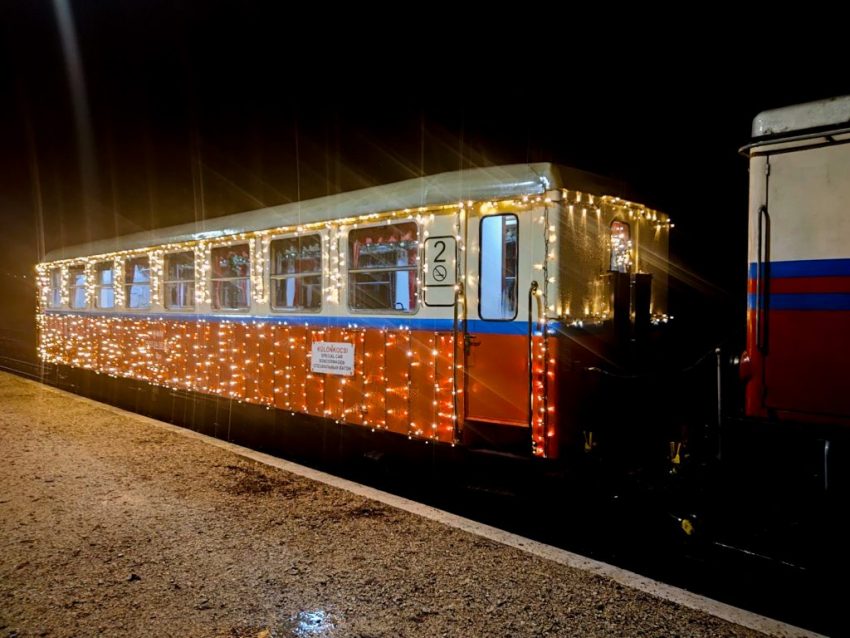 Lumina Park
There's an absolutely fantastic spot at Margaret Island's Palatinus Bath in winter: Lumina Park. It's open every day until 9 PM, except for 12 and 24 December. You can take an enchanting stroll through this mesmerizing, magical world with fantastic, jaw-dropping light installations and some seriously cool sounds. They've got energy-saving, eco-friendly LED lights, and the winter wonderland party goes on until 15 February 2024. Everyone's invited for a dazzling, unforgettable experience!
1003 Budapest, Soó Rezső stny. 1, 1003 | Website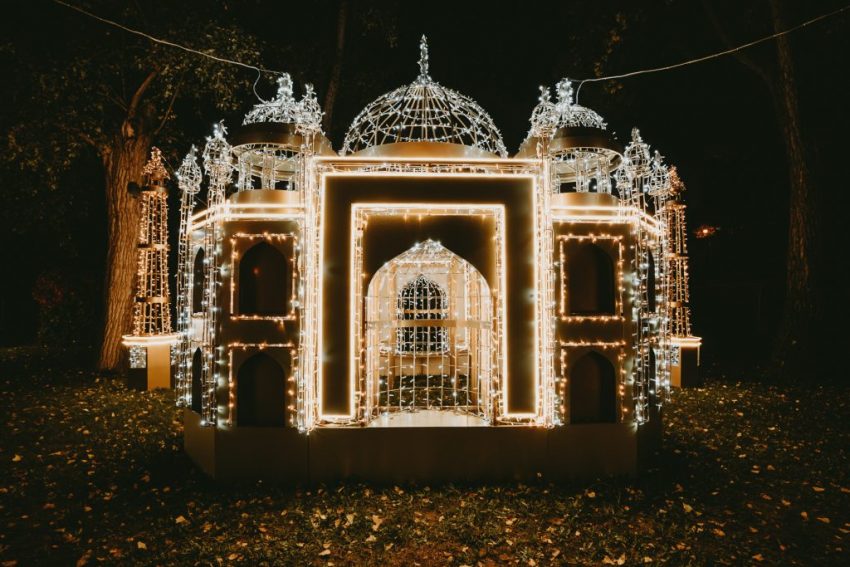 Westend Winter Wonderland
Westend Roofgarden is the ultimate hangout for anyone in search of some serious festive fun between 17 November – 31 December. Picture this: an awesome winter wonderland high above the city, completed with an ice rink, a magical carousel, food trucks that'll rock your taste buds, and a cozy heated tent to keep you toasty. Oh, and they've got all your classic winter treats covered too! Plus, you can munch on them before or after you dive into all the cool stuff they've got lined up – think concerts and artsy crafty workshops. Entrance is free for the venue and programmes, except for the ice rink. In return for the ticket purchased, you get a Westend gift card that you can redeem for your Christmas shopping in Westend. So, who's up for some rooftop winter magic?
1062 Budapest, Váci út 1-3. | Website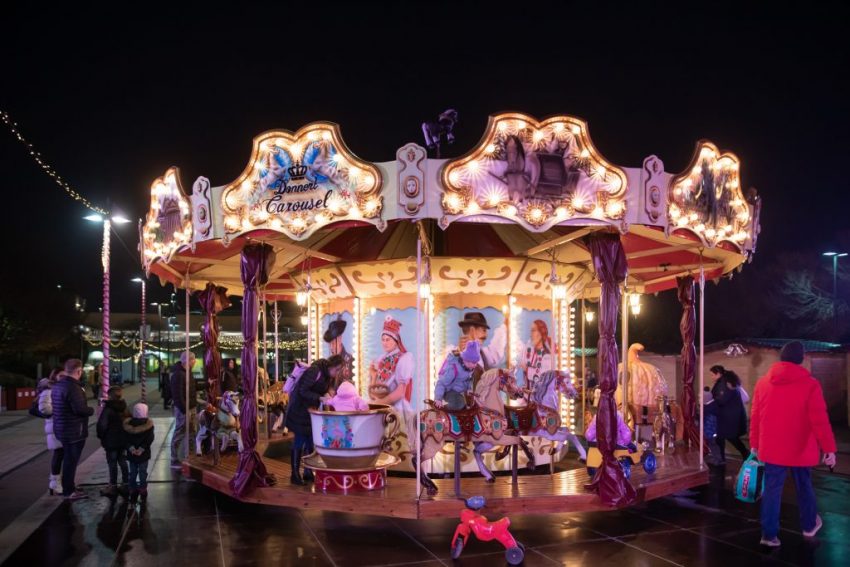 The Christmas Tree of Hungary
Every year, Hungary's big Christmas Tree takes centre stage at Kossuth Square, right behind the grand Parliament building. The tree arriving from different parts of the city each year, is decked out with 2,500 meters of twinkly fairy lights and 16,000 vibrant LED bulbs – this 18-meter giant totally owns the Christmas scene in the city. And here's the kicker: from the first Advent Sunday till Epiphany, you can check out a life-size nativity scene with wooden figures. It's like the North Pole, but with a touch of Hungarian flair!
1055 Budapest, Kossuth Lajos tér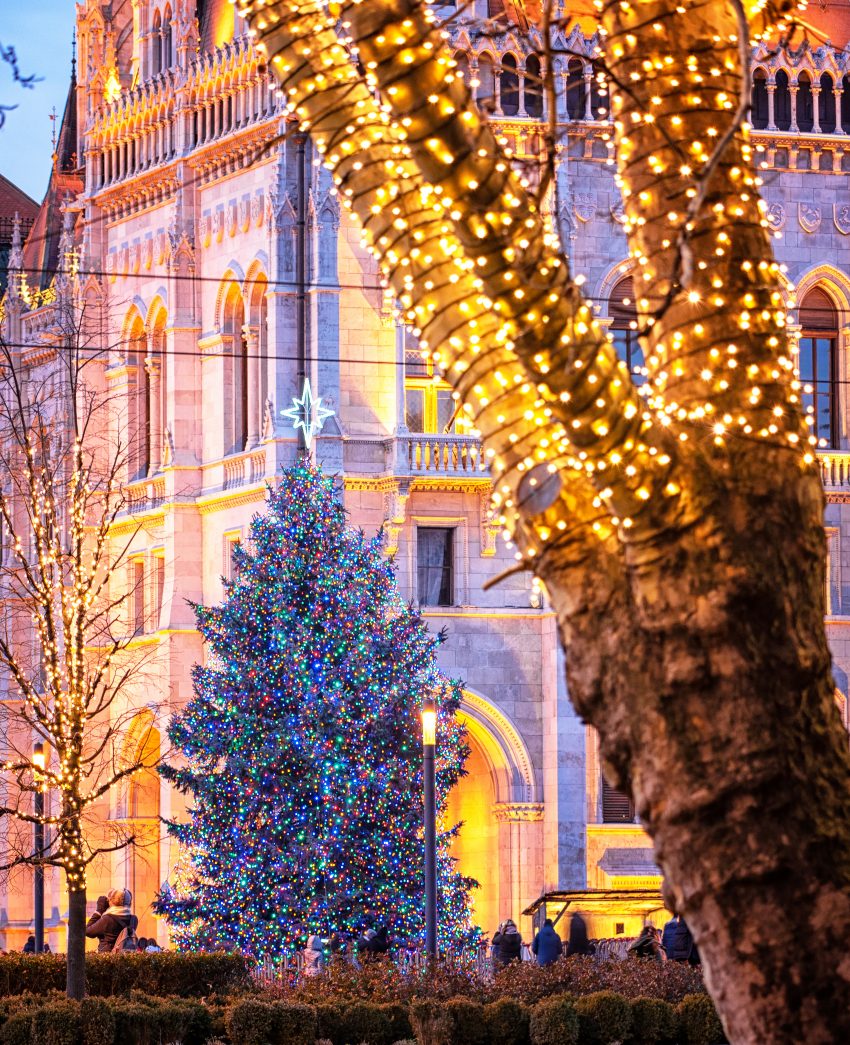 New York Café
The New York Café, often hailed as the world's fanciest coffee spot, threw open its doors back in 1894. This place is a real showstopper, with a fancy fountain at the entrance, ceiling paintings (they call 'em pannos), super posh Venetian chandeliers, and those famous twisty columns. The story goes that during the big grand opening, famous Hungarian writer Ferenc Molnár got so pumped that he snatched the café's key, sprinted all the way to the Danube with his buddies, and chucked it into the river to make sure this café never close. 'Tis the season to cozy up by the Christmas tree with a steaming cup of something delicious or a sweet treat. New York Café's got that warm and festive vibe, so grab your cup, find a comfy spot, and savour the holiday magic!
1073 Budapest, Erzsébet krt. 9-11. | Website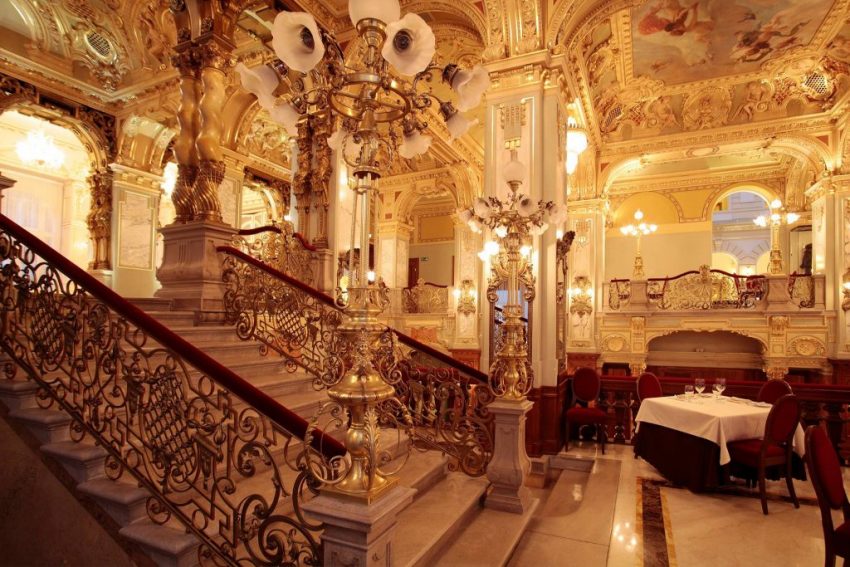 360 Bar Igloo
If you're looking for a one-of-a-kind winter experience in Budapest, you've got to check out this rooftop bar. Have you ever seen an igloo up there? Well, we've got something special for you this season. The nine giant heated igloos are the perfect place to enjoy a warm cocktail while taking in the stunning panoramic views of Budapest. Plus, these igloos are Instagram-worthy, making them a fantastic spot for capturing beautiful photos of the city. So, don't miss out on the chance to try the Igloo Garden feeling – it's a unique and unforgettable experience!
1061 Budapest, Andrássy út 39. | Website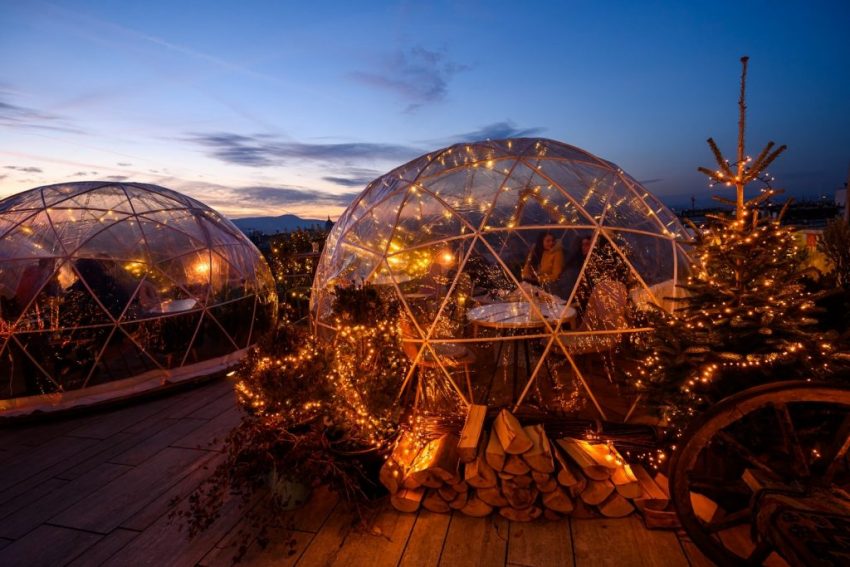 Gozsdu Weekend Market
For nearly a decade, the Gozsdu Weekend Market has been the Party District's trusty anchor, drawing in hordes of deal-seekers to the 220-meter-long Gozsdu Udvar passage. If you're into all things retro, you'll have a blast sifting through the cool stuff they've handpicked. You can also check out stalls loaded with modern art and design treasures. But it's not just about buying things – soak up the vibrant atmosphere and catch some fun extras like workshops and live performances while you're at it. During the holiday season, between December 8 and 24, the passage is decked out in holiday cheer, with tons of handmade goodies and fun events lined up to keep you entertained.
1075 Budapest, Király utca 13. – Dob utca 16. |Website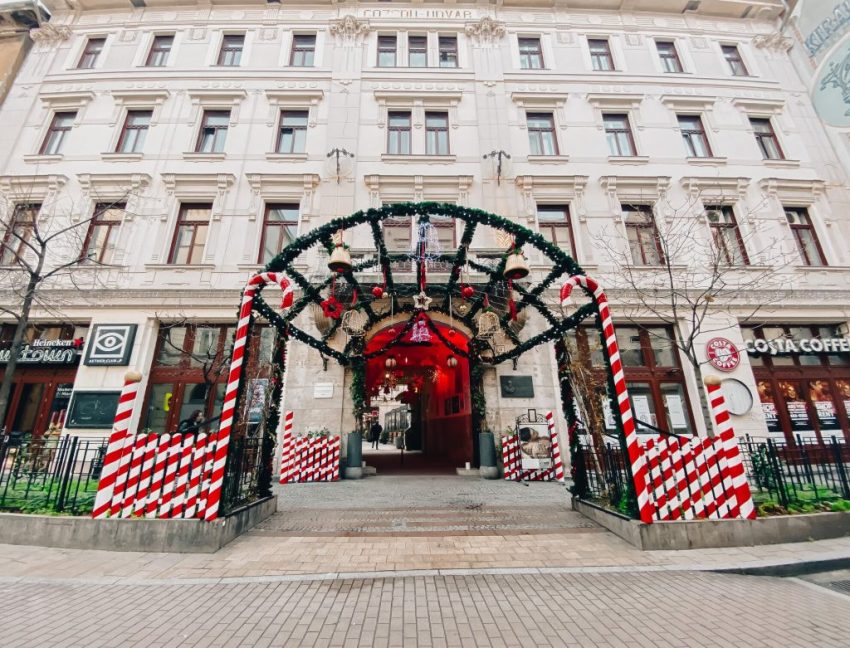 Auntie Kató's Delicacies
Kató néni's chimney cakes are an absolute must-have at the Christmas markets in the city. There's nothing quite like grandma's pastries – those sweet smells and tastes are like a blast from the past. The peeps who started Kató Néni Finomságai (Auntie Kató's Delicacies) wanted to take us on a trip down memory lane with those old-school Hungarian recipes everyone loves. In addition to keeping traditions alive, the Kató Néni Downtown crew is all about staying hip with the times and keeping up with what the customers want. They've even given the classic chimney cake a modern twist, shaping it into a cone and stuffing it with ice cream or mousse. So, if you're down to get nostalgic and get a taste of authentic Hungarian traditions, or if you're just the curious type who's all about trying new stuff, make sure hit up their booth at the Basilica Advent Fair! That hot chimney cake is gonna warm your heart and get you into the real Christmas vibe!
1051 Budapest, Október 6. utca 6. | Website | Facebook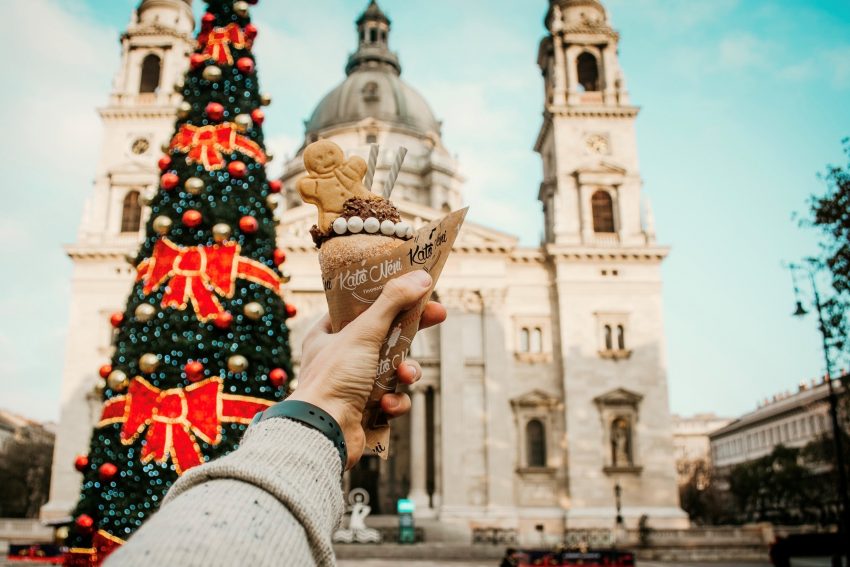 Organ Concerts in St. Stephen's Basilica
If you find yourself near St. Stephen's Basilica, don't miss the chance to experience the magical organ concerts in the magnificient building. The concerts feature talented musicians playing traditional Christmas tunes and classical masterpieces and they sometimes even invite special guests!  The combination of the awe-inspiring church and the soul-stirring music creates an utterly unforgettable atmosphere.
1051 Budapest, Szent István tér 1. | Website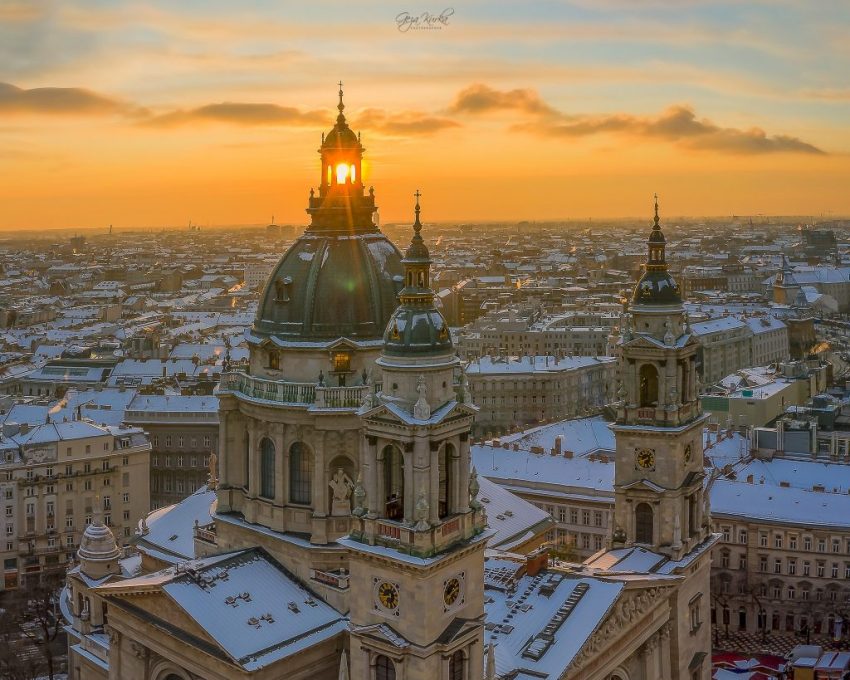 +1: Szentendre Christmas Museum
Just a hop, skip, and a jump from Szentendre's Main Square, this house is an absolute must-see during the Advent season. You won't believe your eyes! They've got this free exhibit and a cool shop that'll transport you straight into a Christmas wonderland. Visiting here feels like stepping into a time machine – from old-school retro Christmas decorations to stuff dating all the way back to the 1830s when they started making them in bulk. And the shop? It's like a Christmas treasure trove, with everything under the holiday sun – from nutcrackers and angels, both fancy and funky, to unique, one-of-a-kind goodies that'll knock your stockings off!
2000 Szentendre, Bogdányi út | Website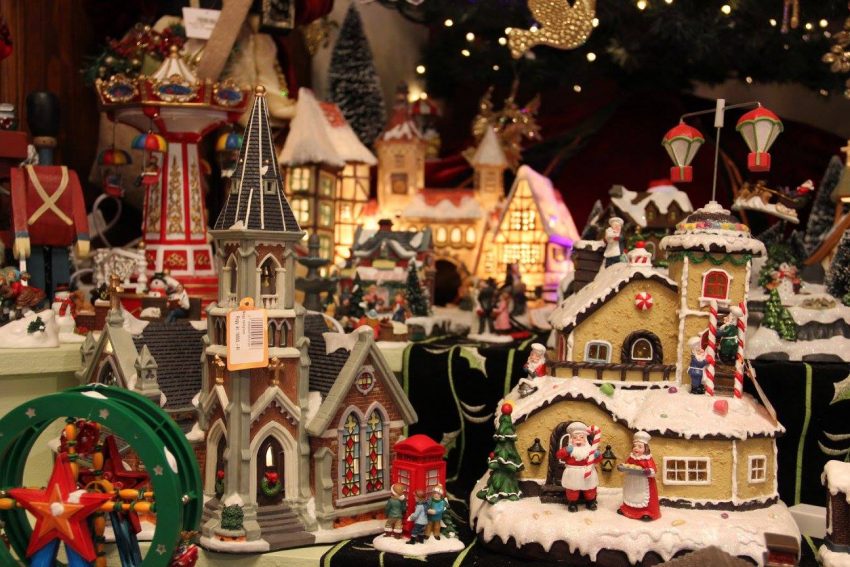 If you fancy a quick bite: