The time has come to celebrate the rebirth of the year and bid farewell to 2018. Are you wondering about where you should spend the last evening of the year? You'll probably find the answer below.
Say good-bye to 2018 and welcome the New Year with a special Studio 54 themed dinner experience at Deák St. Kitchen, located in The Ritz-Carlton, Budapest. Celebrate the most sparkling day of the year in great atmosphere with a lavish fivecourse dinner crafted by the restaurant's chefs from unique ingredients. Enjoy such exciting and tasteful dishes as the oak wood smoked trout, the deer tenderloin or the matcha tea & white chocolate mousse accompanied by live jazz tunes.
You can reserve a table in two seating options; from 6 PM or 9 PM. Live jazz music will play from 8 PM to 11 PM and the DJ set from 11 PM will evoke the fun spirit of the late 1970's, the peak of disco music and the most renowned nightclub era. The price of the five-course dinner is HUF 29,500 per person including a glass of welcome sparkling wine. Price is subject to 12% service charge. Have yourself a very happy New Year! Table reservation: +36 1 429-5757.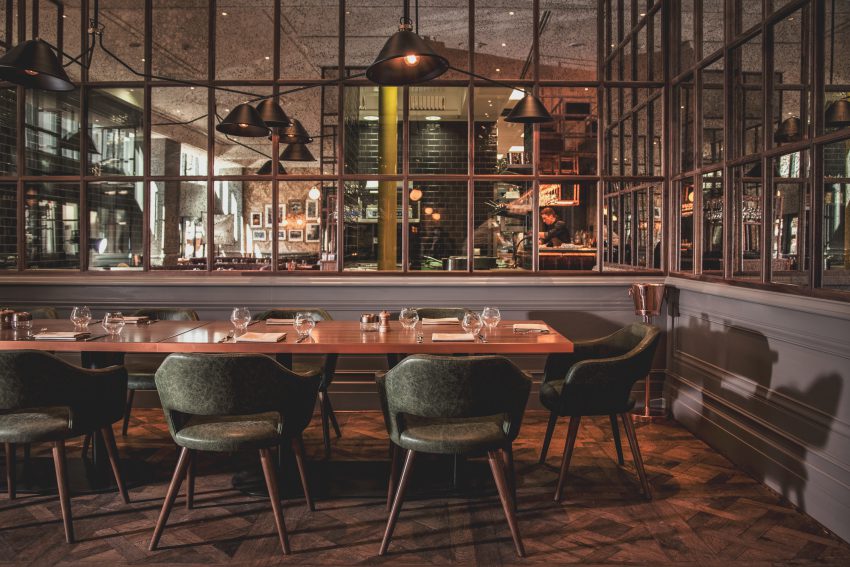 With Buda Castle in a few minutes walking distance, and a gorgeous view on the Danube and Budapest's world-famous sites, Halászbástya Restaurant is situated in a wonderful spot, at Fisherman's Bastion. The lavish venue sports a stylish interior, and it's simply impossible not to fall for the breathtaking inner spaces. As far as food is concerned, your taste receptors will show nothing but appreciation. On 31 December, a special New Year's Eve set menu will be served, with the restaurant's renowned gypsy band responsible for contributing to the pleasant atmosphere.
Before rushing headlong into the New Year, say farewell to 2018 in a worthy manner: celebrate at Halászbástya, where a sommelier guarantees the best food-wine pairings. You can take a seat either at the restaurant or under the arcades. For details, do not hesitate to contact the restaurant.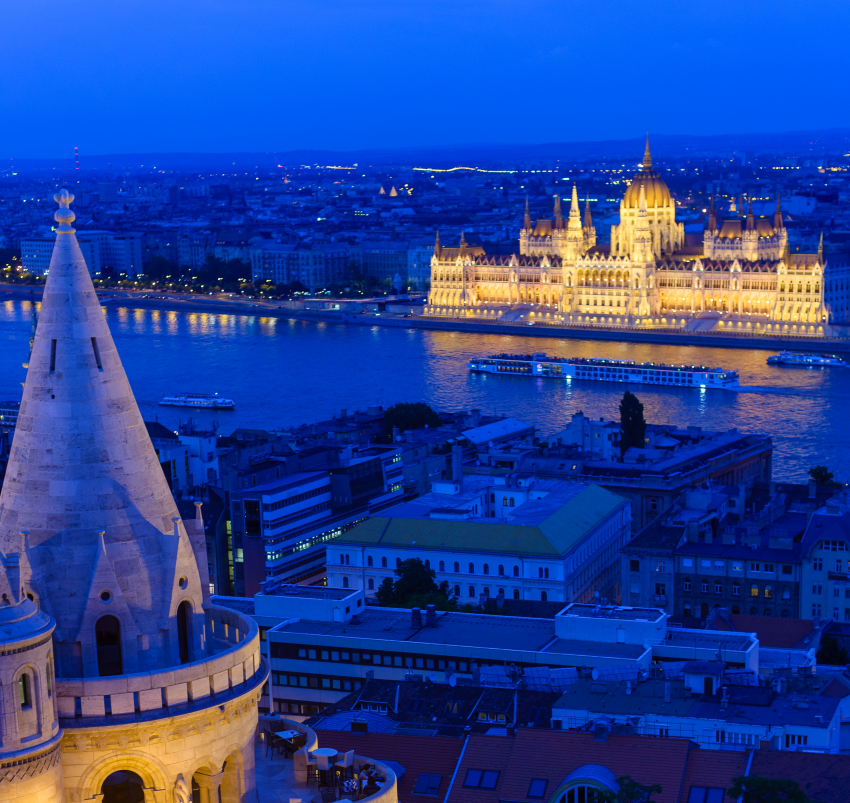 Music and gastronomy are excellent companions that bring our senses to life no matter the occasion. But when it comes to New Year's Eve, the celebration is simply unimaginable without this incredible duo. On 31 December 90.9 Jazzy Radio organizes a "farewell to the Old Year" event at Kempinski Hotel Corvinus Budapest, in two ball rooms and two music styles. If relaxing piano music is what you would enjoy, chose the Infinity room, or dance like nobody is watching until dawn at the spacious Grand Room where live concerts (Garami Funky Staff, Gergő Pálinkás jazz-guitarist, Much Éva Duo and László Jazzkovács) guarantee your entertainment.
Premium venue, 5-star catering, delicious bites, and the touch of jazz: what else could we ask for? Go to jegy.hu for ticket information, or visit Kempinski Hotel's reception, where you can purchase tickets every Saturday between noon and 4 PM.

Located in Kempinski Hotel Corvinus, Nobu Budapest is the first Central European member of the avant-garde Japanese restaurant chain started by chef Nobu Matsuhisa and actor Robert De Niro. Head chef Gábor Schreiner is in charge of presenting Japanese-Peruvian flavours in Nobu-style including mind-blowing seafood creations, Nobu's classic meals, and world-famous signature dishes.
The restaurant's numerous thematic events are all worth a visit: On 31 December, for instance, they are inviting you to an incredible New Year's Eve dinner party with a 7-course Omakase menu, a Cuban dance show, and uplifting Latin rhythms brought to you by Mai Rumba from 9 PM. Nobu has a reputation for traditionally throwing a great New Year's Eve party, put it to the test!
Located in the heart of the city, Király utca's Trófea Grill restaurant prepares for New Year's Eve in style. The city's favourite all you can eat spot is waiting for you from 8 PM to 4 AM with a sensational party on 31 December. You can choose from a list of hearty holiday meals including goose liver terrine, red onion jam, salmon tartare, whole roast pig, tenderloin and grill specialties.
The celebration wouldn't be complete without a glass of Törley sparkling wine, but other drinks are also included in the price, such as beer, Hilltop wine, mineral water and bottled Coca-Cola products. To find out more about Trófea's irresistible New Year's Eve offers, ask for information at the restaurant's reception.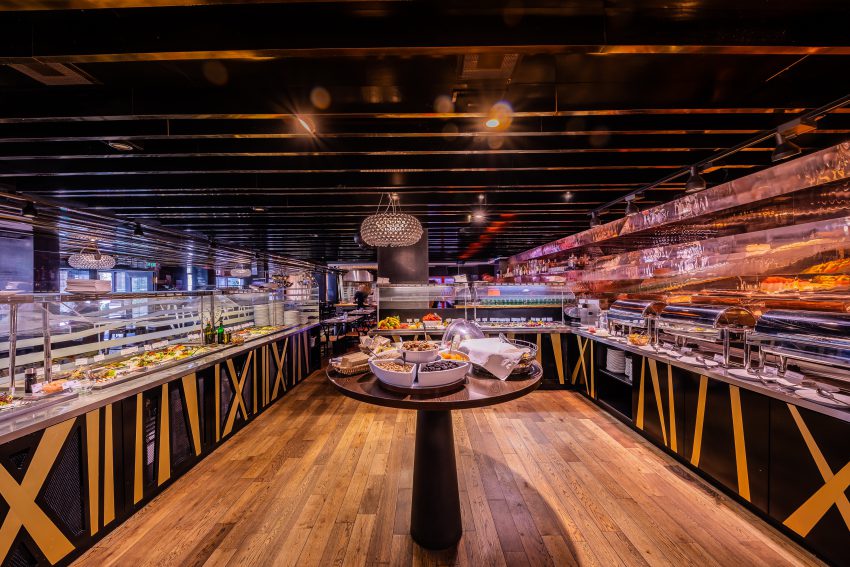 Close your eyes and imagine a lavish venue for your New Year's Eve celebration. Envision a stylish Taittinger champagne reception, an elegant 5-course gala dinner, and a sensational party. Impossible? No. Buddha-Bar Budapest's "One Night Around the World" themed event will make all your dreams come true. Not only does it guarantee an international culinary journey, but also makes sure to serve you with the hottest hits of dance music thanks to Buddha-Bar Budapest's resident, DJ MADA.
Pamper your senses, and spoil your taste buds with Asian-fusion specialties, taste sushi, sashimi and oyster, indulge in the perfect flavours of Kagoshima beef truffle, or chili glazed lobster with mango salad. Celebrate the arrival of the New Year in style, book a table!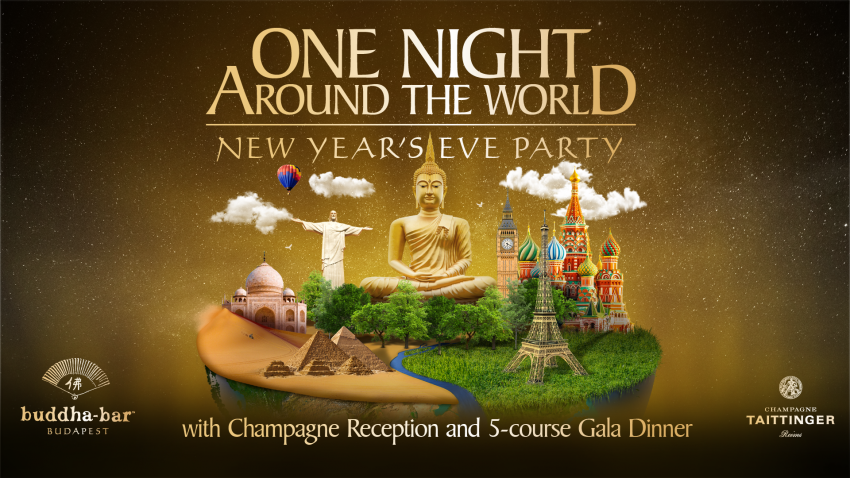 One of the most iconic gastronomic assets in the country is undoubtedly Gerbeaud Café, with a history of 160 years. The owners are dedicated to create quality, and believe that innovation and family spirit are key to success. Their philosophy focuses on using high quality fresh ingredients, and they put great emphasis on reviving products and the tastes of a traditional Hungarian confectionery.
On 31 December, a special New Year's Eve event is going to take place at the Gerbeaud Átrium event hall, where artists of the Hungarian State Opera House will perform Don Juan's love to entertain guests. During the evening a flavourful 5-course dinner will be served, and a DJ will play the best love hits later that night. Tickets are sold in pre-sale.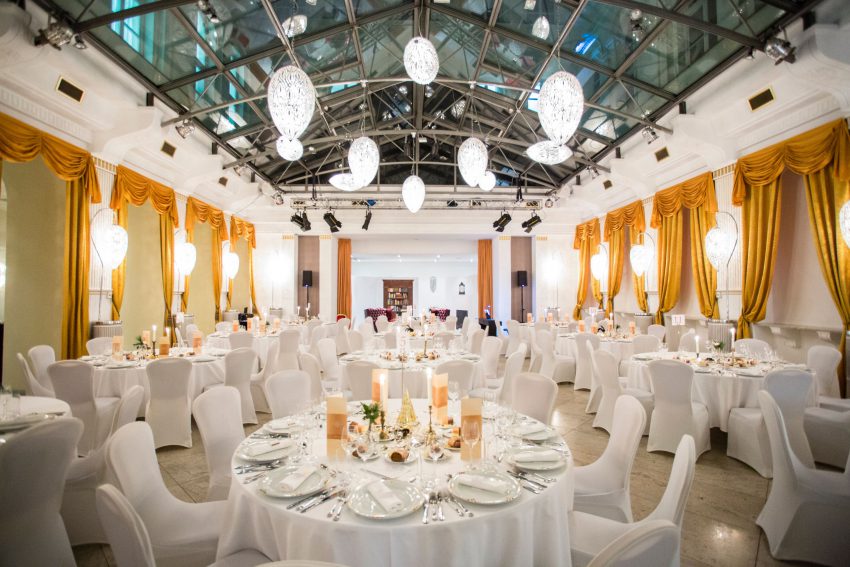 Would you like to celebrate the arrival of the New Year in an extraordinary setting? What about somewhere over the city? Opened in February 2018, TOPRUM is one of Budapest's hot spots. The incredible sky bar is located on top of a fun and vibrant design hotel, namely Hotel Rum which was created to appeal to modern urban explorers. Its exciting flavours and signature drinks are only the tip of the iceberg, there's an incredible panoramic view added to the culinary experience. Join the fun and spend the last night of the year at TOPRUM!
The 2-hour festive dinner (with great wine-pairings) includes goose liver ganache with buckthorn and Turkish hazel, pork consommé with Jerusalem artichoke, and saddle of venison with beetroot, chicory, and port jus.

On 31 December, Baalbek Lebanese Restaurant invites its guests on a culinary journey with traditional Levantine cuisine and the unmatched oriental atmosphere it is known and loved for. Enjoy the Middle Eastern vibes & soulful food (a 5-course dinner will be served to you) in an irresistible ambience, visit the restaurant that offers the finest Levantine cuisine and prepares all dishes halal, placing emphasis on traditional recipes, fresh, premium ingredients and last but not least, exquisite serving.
For the special occasion Baalbek offers mouthwatering meals such as kings prawn, eggplant baba ganoush, charcoal grilled lobster, angus tenderloin, and ruby fruits chocolate, just to mention a few tempting items featured on the festive menu.