In October, Hungary commemorates two national events: the execution of the 13 Martyrs of Arad on 6 October, and the start of the Revolution of 1956 on 23 October. On this occasion, we'll take you on a tour to some of Budapest's most striking monuments.
Memento Park
Situated a few kilometres to the south of Budapest, Memento Park offers visitors a glimpse of the urban-visual culture of Socialist Hungary through a huge collection of original statues and monuments that once dotted the streets of the Hungarian capital. Easily accessible by bus departing every 10-15th minutes from Kelenföld metro station, Memento Park is the best way to experience what life was like behind the Iron Curtain, except if you're in possession of a time machine. The symbolic pieces of art displayed here, including allegorical monuments to the Hungarian-Soviet Friendship, as well as statues of Lenin, Marx, Béla Kun, and the Liberation Army Soldier (a favourite with visitors) are stark reminders of the tyrannous regime. Besides taking selfies with the giant statues, you can also learn about the 1956 revolution and the fall of communism in 1989, and even sit behind the wheel of a classic Trabant.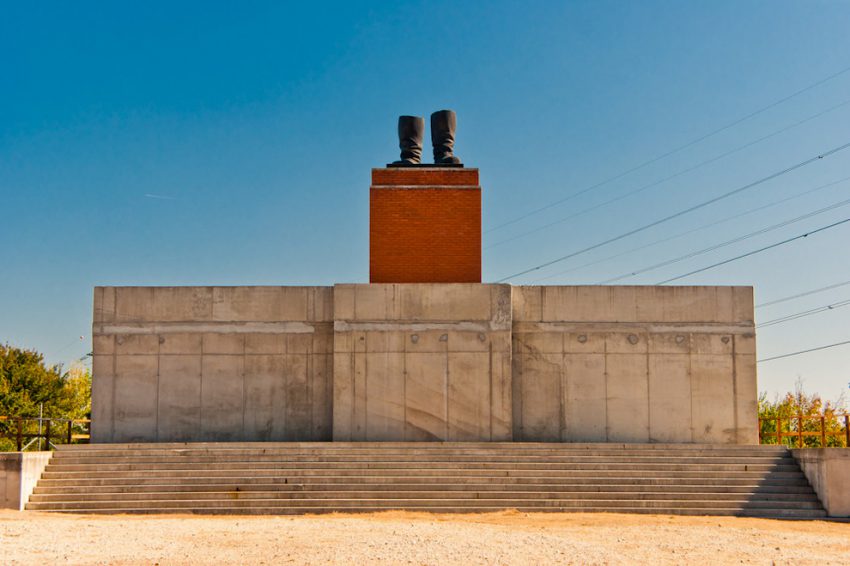 Batthyány Sanctuary Lamp
Located on the corner of Báthory and Hold utca near the grand Szabadság square, this monument commemorates the first Prime Minister of Hungary, Count Lajos Batthyány who was executed in this place on 6 October, 1849 by a firing squad. Batthyány's last words were: "Long live the motherland! Shoot, hunters!".The sanctuary lamp sits on the former location of the courtyard of the New Building, a sprawling fortress that eventually became a prison. It was designed by architect Móric Pogány as early as 1905, but due to the delays caused by the First World War, the unveiling was held two decades later, on 6 October 1926, in the presence of the last surviving soldier of the Revolution of 1848, István Lebó.
Liberty Statue
Proudly standing atop Gellért Hill, the Liberty Statue (nicknamed "Bottle Opener") is one of the most famous landmarks of Budapest. It was erected in 1947 in remembrance of the Soviet army which "liberated" Hungary from German occupation in front of the south-eastern bastion of the Citadel. The statue itself (designed by Zsigmond Kisfaludi Stróbl, depicting a woman holding a palm leaf over her head) is 14 meters tall, and comes with a 26 meters high pedestal overlooking the city from a total height of 275 meters. The original inscription on the base of the statue read "To the memory of the liberating Soviet heroes, erected by the grateful Hungarian people in 1945". This was changed after the Communist Era ended in 1989 to read as follows: "To the memory of all those who sacrificed their lives for the independence, freedom, and prosperity of Hungary".