Forget the dog park, our furry expert, Filkó knows the best pup-friendly places in town! You can stop for the pawfect pick-me-up in the following eateries.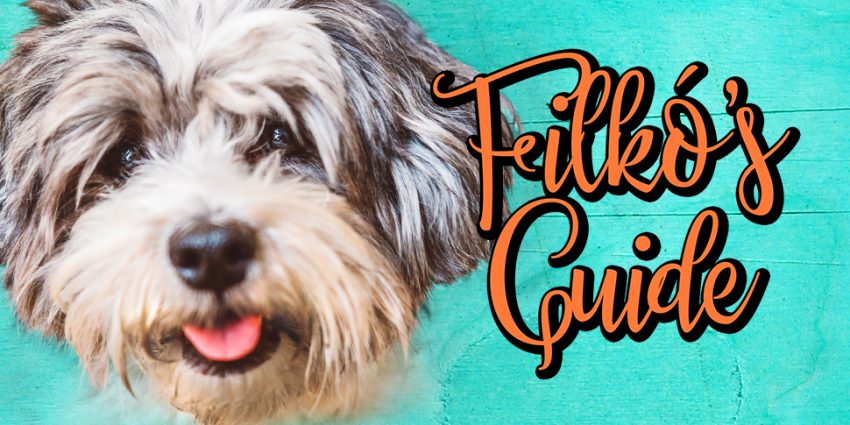 1078 Budapest, István utca 5. 
Just a stone throw away from the beautiful Rózsák tere, the István utca eatery is awaiting you with mouth-watering breakfast offers, an ever-changing lunch menu, delicious sandwiches, outstanding soups, desserts, coffee and tea specialties, and alternative caffeine sources. It's a place where everything is lactose free, and there are numerous vegan, vegetarian, diary and gluten free options on the menu to choose from. Bring your animals along, or order online! Find Food One has also joined "Take me home" Foundation's initiative supporting shelter dogs by creating a virtual menu. Add an extra virtual meal to your cart (it won't be delivered) to help homeless puppies. Find out more here: netpincer.hu.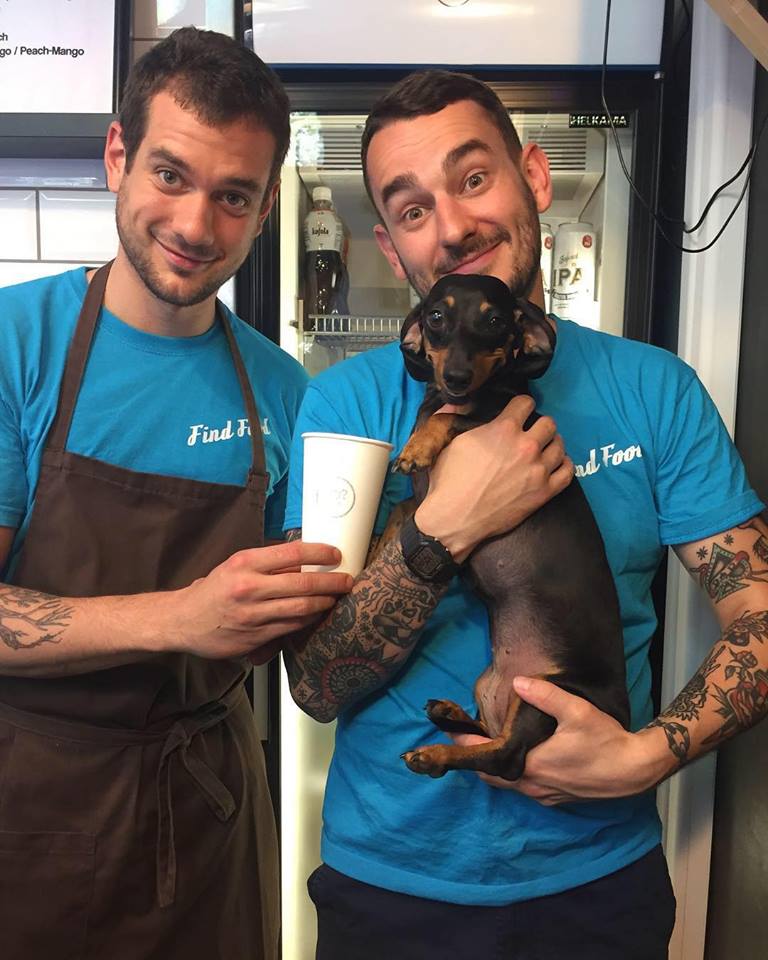 1075 Budapest, Síp utca 4. 
Located in Síp utca, Attaboy Street Food Bistro is awaiting you and your four-legged friend with special hamburgers, ever-changing limited offers, thin crust pizza, fresh salads and heavenly desserts. The homely eatery delivers the best, high-quality street food to your table reimagined with a special 'Attaboy' twist. From American classics to gourmet food creations, you'll find everything your taste buds desire. Are you vegetarian or you have special dietary needs? Don't worry, Attaboy supplies all your needs. Meat-free specialties and diet-friendly options are also available. Wait no more, head to Síp utca and put Attaboy's delicious meals to test! All pups are welcome!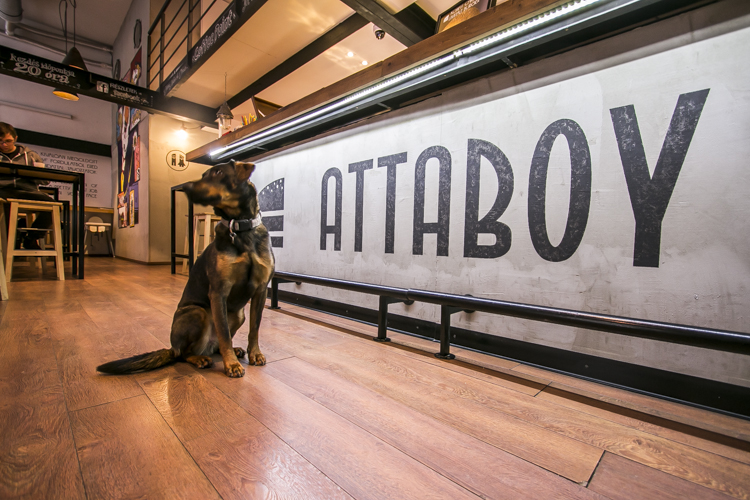 1061 Budapest, Paulay u 33.
Looking for the hippest spot in Budapest where all the rad faces of the city chill in their skinniest jeans and wayfarer-style shades while sipping cool and colourful cocktails? You don't have to go any further than Paulay Ede utca's Anker't to dive into the chic Hungarian ruin pub atmosphere. Just order a drink or two at the 8-meters long bar and lay back in the 800 square meters outdoor area, or if you feel like grabbing a bite, don't miss out on their hearty hot-dogs or homemade beef burgers, both as delicious as they are enormous. In case you want something meat-free, go for the vegan pizzas of vegazzi, the city's best plant-based Neapolitan pizzeria. Dogs are obviously allowed.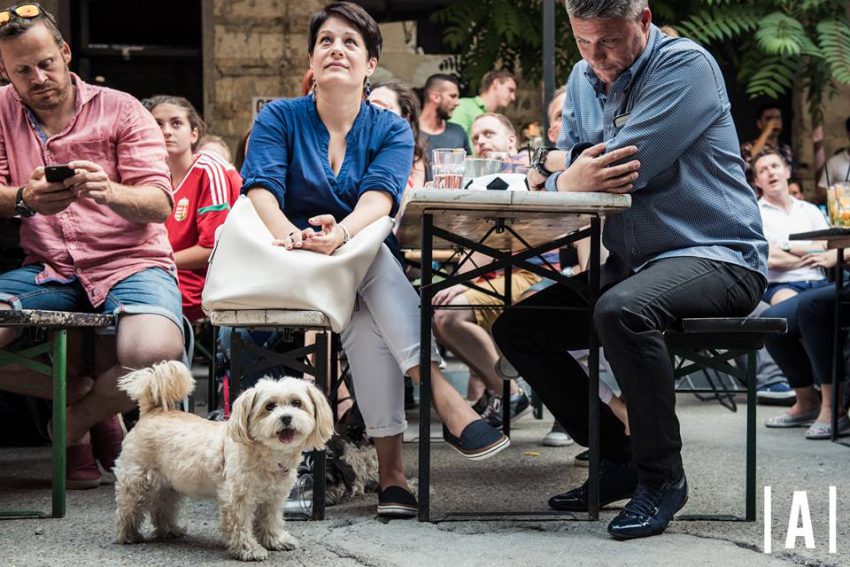 1075 Budapest, Király utca 15. 
Király utca's dog-friendly venue takes animal protection very seriously: BB'z Bar & Grill has already organized charity events in the past to support stray dogs, shelter pups and injured animals through fundraising. Guests can also get involved with these projects by ordering from the virtual dog menu, making it a 'two birds with one stone' situation: while feeding themselves on BB'z delicacies they are able to support a good cause. BB'z is one of the best possible choices if you are looking for a great pup-friendly place, as the bar provides their four-legged guests with comfy dog beds, treats, fresh water and a welcoming atmosphere. Visit BB'z Sunday Brunch and enjoy the DJ-show!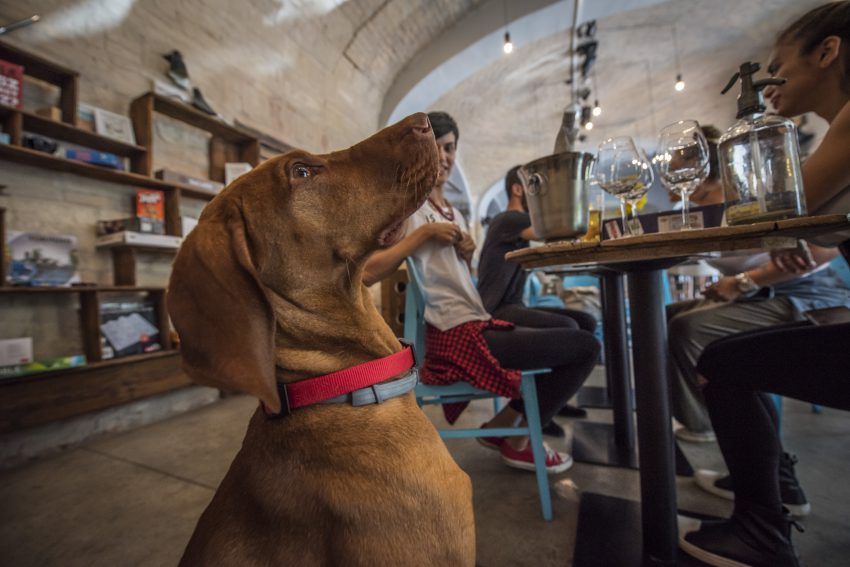 1061 Budapest, Andrássy út 8. 
Are you looking for a casual, friendly yet sophisticated place to spend a tasty lunch or a nice dinner at? There's a restaurant, where all the aforementioned factors come together. Bistro Fine's tempting menu offers a quick culinary trip around the world with flavourful Hungarian and international specialties, but a great selection of fine wine is also available. Their unique 'Enomatic' wine dispensing system allows you to taste numerous wine specialties. When creating their mouth-watering meals they don't forget about special dietary needs and aim at creating creative, colourful and delicious meals to impress your taste buds even if you live gluten and lactose-free. Pup-friendly!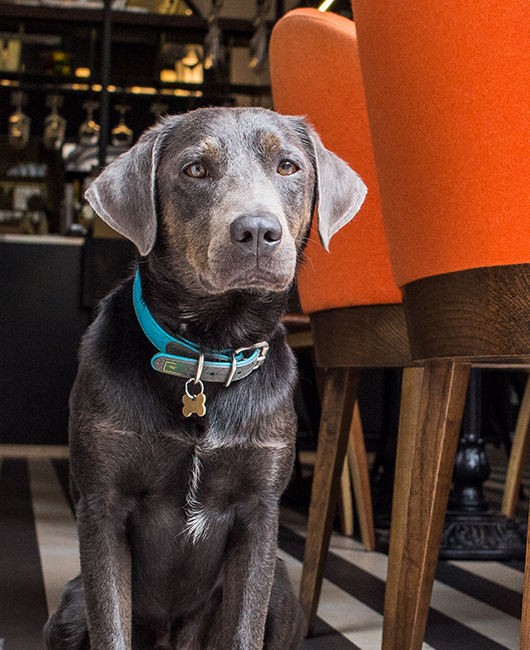 1053 Budapest, Veres Pálné utca 33.
The beloved coffee shop of Pozsonyi út had a little brother last May in Veres Pálné utca, nearby Kálvin tér. The 100% dog-friendly place offers delicacies for the whole day: breakfast dishes such as Eggs Benedict with salmon and American pancake with fresh fruits until 12am, a great variety of soups, pastas and pizzas for lunch, and tapas and salads to end the day well. Still, they put emphasis on their quality coffees that is made with their own special technology. They are always double that allows them to show you their unique coffee science.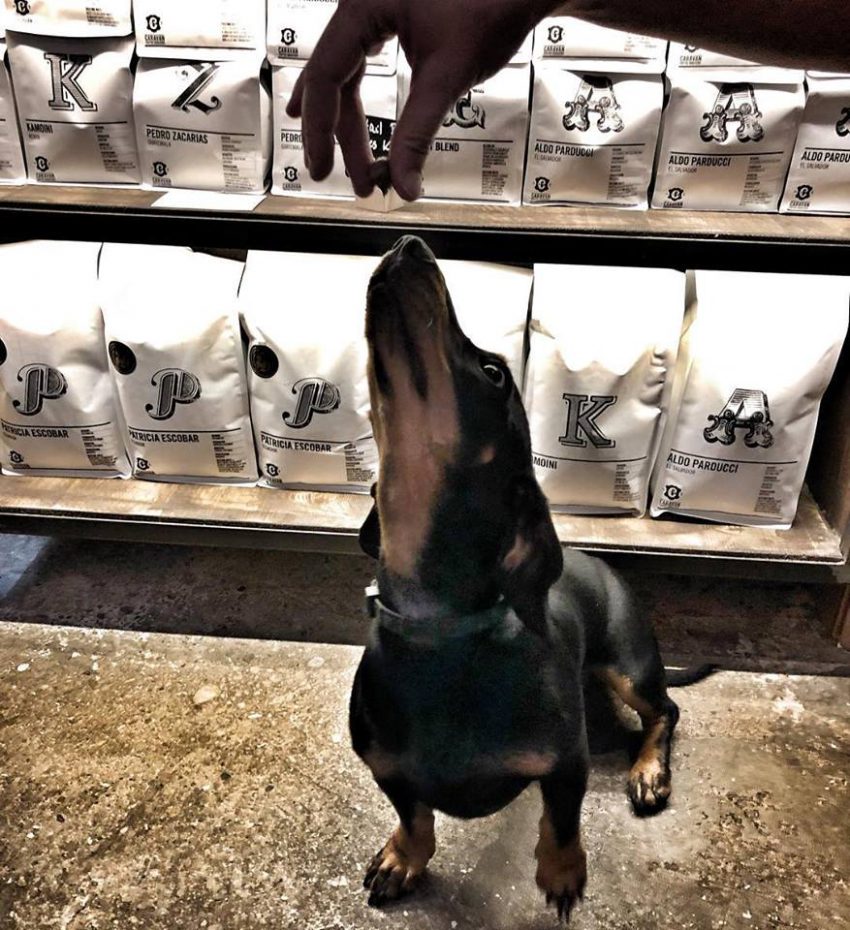 1074 Budapest, Dohány utca 7. 
Situated just a stone throw away from the Great Synagogue, Kuzin Bar's charm lies in friendliness and hospitality. Other than that, their wide range of beverages (long drinks, wine, Checz Budweiser, new wave beer specialties) and divine street food offers are also worth a mention. Once you are there, Kuzin's staff will guide you through the brew adventure by introducing their numerous beer types. The popular venue gives home to many fun events of which we highly recommend the quiz parties, but the bar also serves as a great spot for a memorable birthday celebration or a Christmas gathering with friends or colleagues. The best thing is that you got to enjoy these moments with your furry friend!