Do you know what's new in Budapest? We do. Here are the newly opened restaurants, shops and cafés in the Hungarian capital.
1146 Budapest, Állatkerti körút 14-16.
At Édes Mackó ('Sweet Teddy Bear'), everything revolves around kürtőskalács, or chimney cake. Founded by the team of Vitéz Kürtős, the venue offers a wide and colourful variety of the traditional Transylvanian delicacy, including chimney cake zserbó, floating island with pieces of chimney cake, and poppy seed chimney cake with vanilla custard. In addition, Édes Mackó awaits visitors inside Budapest's new Holnemvolt Vár next to the Zoo with refreshing coffee specialties and lemonades. It's worth mentioning that you can taste their wonderful sweets without having to pay the entry fee to either the playpark or the zoo: Édes Mackó's entrance is located opposite of Széchenyi Baths.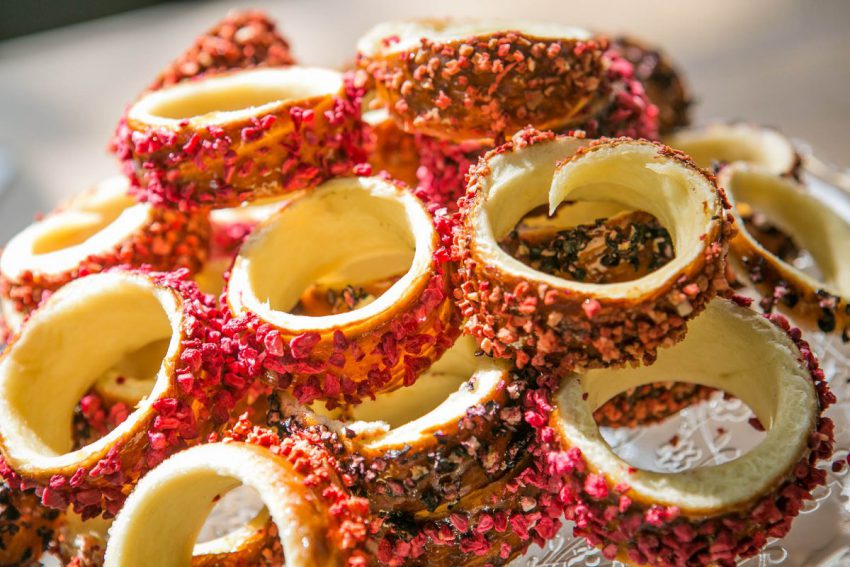 1051 Budapest, id. Antall József rakpart 1.
The story of Blitz Pizza started in a small kitchen in Budapest: after a few years of feeding his friends with his magical pizzas, owner Dávid Liptay decided that it's time to share his love of the Italian dough dish with a bit more people – and that's how PONTOON's very own pizza shack, Blitz Pizza was born. Each circular piece of Napolitano heaven is made in a wood-fired oven, in four varieties: the Davegherita is topped with a herb mix, crushed tomato, balsamic drops, rocket and grana padano; the Cheesus Christ comes with ricotta, taleggio, sweet gorgonzola, white wine drops and charred cherry tomatoes; the Quasi Ungherese boasts smoked sausage crumbs and pickled red onions; while the Mortadella features shaved fennel, black pepper and the eponymous luncheon meat.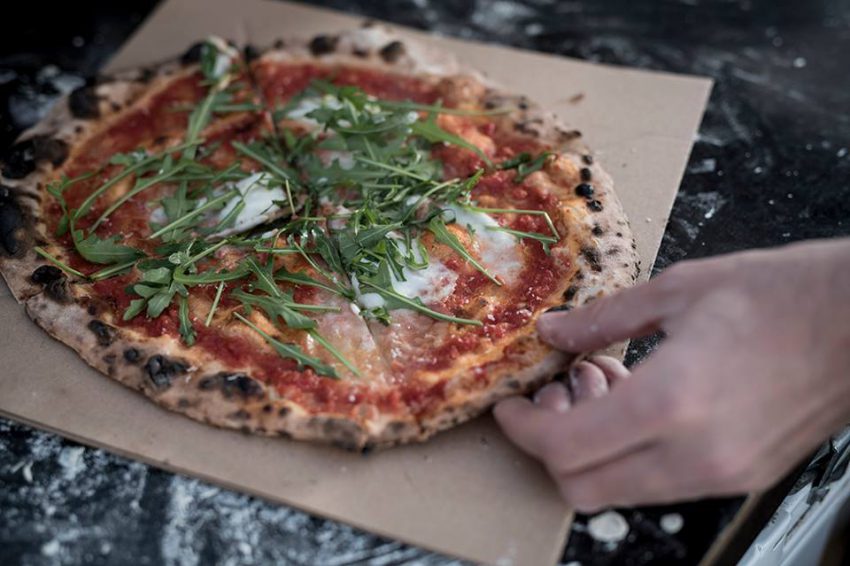 1124 Budapest, Apor Vilmos tér 11.
Zuzu is acclaimed chef Krisztián Huszár's latest endeavour to the land of iconoclastic flavours: after a detour in Asian cuisine, Huszár and his team decided to turn the page and start focusing on Hungarian cooking. Huszár's provocative approach to the culinary arts shows itself in the way he puts a spin on classic Hungarian dishes, such as the pork soup, the meatloaf, the pörkölt, fatted duck liver, stuffed cabbage, carp and desserts like Rákóczi túrós and poppy seed noodles. If you're looking for an haute cuisine experience and authentic Hungarian flavours, look no further than Zuzu.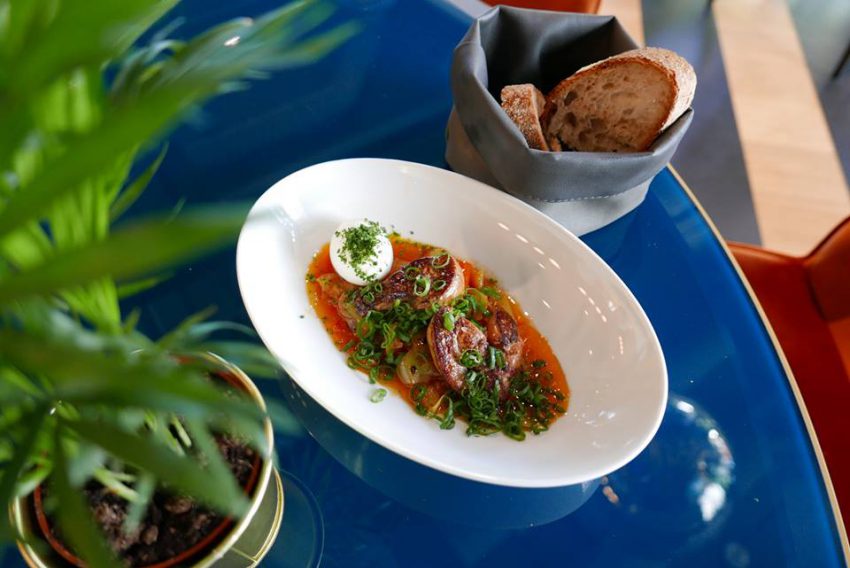 1051 Budapest, Arany János utca 31.
Awaiting coffee lovers in the heart of downtown Budapest, Empathy Café & Bistro opened its doors in the beginning of August. Run by the Hungarian Red Cross, Empathy is not just your run-of-the-mill specialty café, but a community space as well, where invigorating pick-me-ups and important social issues go hand in hand at your table. The barrier-free café's centrepiece is a 17-metres long table, where everyone is welcome to sit and talk about whatever's on their mind. Besides the black brew, Empathy also offers filling soups and flatbreads at reasonable prices: a two-course menu costs 1,000 HUF.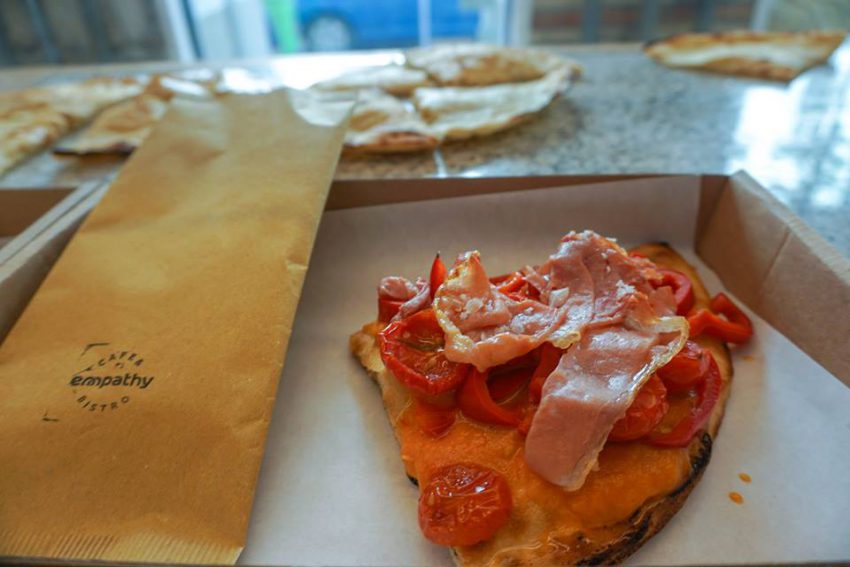 1051 Budapest, Arany János utca 16.
Just a couple of minutes from St. Stephen's Basilica, MyWine Wine Bar & Shop awaits you with imposing interior, a premium wine and ham selection, and wallet-friendly prices. The cosy and contemporary wine bar was designed by Eszter Dobrosi, the woman behind such leisurely elegant venues as Fricska Gasztropub and Coyote Café. Drop by the Arany János utca shop and sip on Artizan winery's rich and delicate nectars as you're snacking on MyWine's wonderful ham and cheese platter. Craft beers and cold cuts are also available.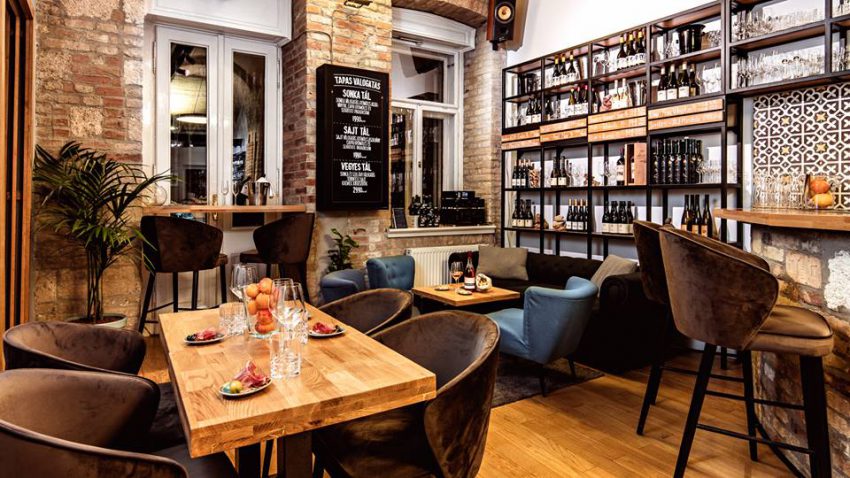 1055 Budapest, Kossuth tér 9.
Situated on the stately Kossuth Lajos tér, overlooking the Parliament building, PICK Deli & Gourmet is the flagship store of Hungary's number one meat producer company, with a special emphasis on cured sausages. Here, you can not only buy your favourite type of salami for a normal price, but you can also kickstart your day with a protein-rich breakfast and refill your half-empty batteries during lunchtime with a couple of hearty sausages, potato casserole, a bowl of goulash soup or crispy pork knuckles. Sandwiches, salads, yogurt with granola, freshly made bakery products and cold pressed juices are available from 7 AM to 5 PM.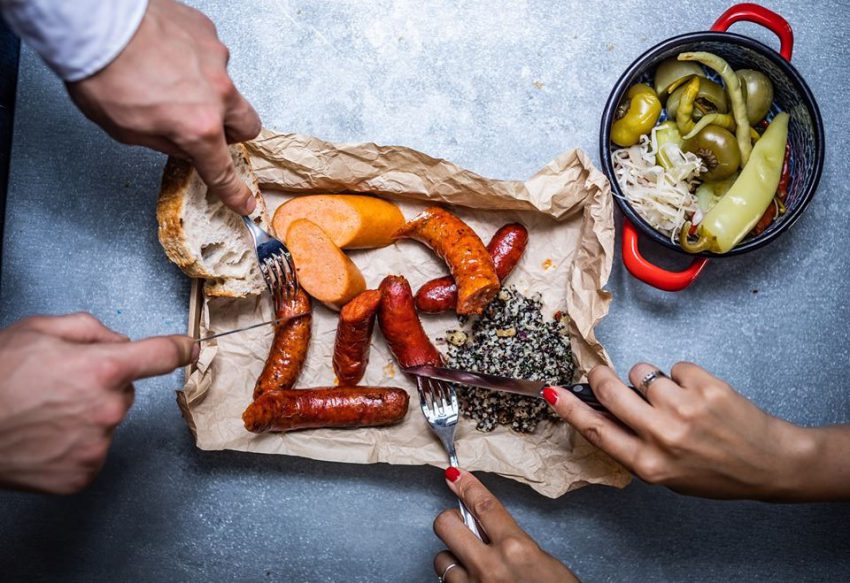 1055 Budapest, Falk Miksa utca 5.
Situated on Budapest's most famous antique gallery street (the one guarded by the statues of detective Colombo and his loyal dog), the menu of FALK 5 Bistro offers guests a surprising mixture of Jewish-American grilled dishes: on the same page you can find the traditional cholent (based on a 1932 family recipe), chili cornflake chicken wings with coleslaw, beef stew with matzo balls and hamburgers. Inspired by the owner's travels to New York and Israel, as well as the countless of hours Ákos spent in his grandma's kitchen, Falk 5 Bistro neatly balances between traditional Jewish and Hungarian cooking, and American flavours.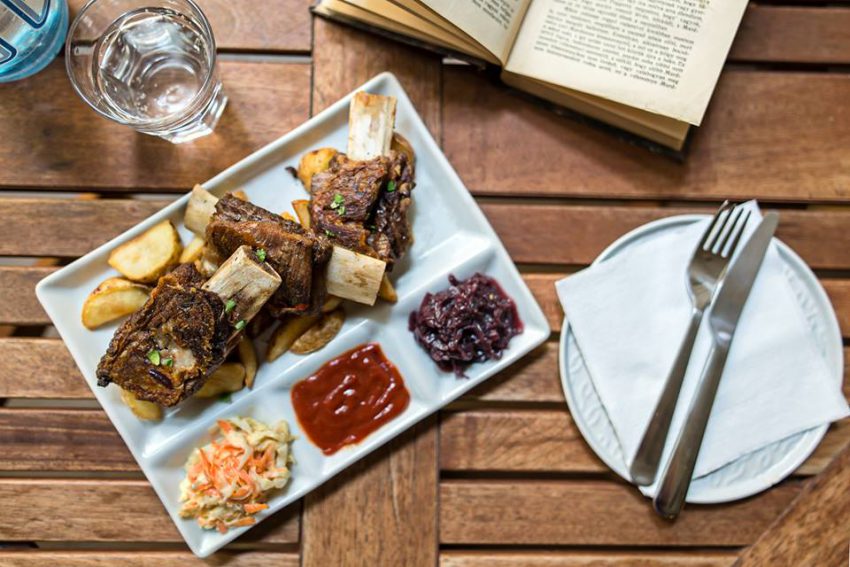 1065 Budapest, Nagymező utca 37.
Are you bored of playing shooter games on your PC? Then it's time to experience the real deal. At Budapest Shooting, Hungary's best indoor live-fire shooting range, you can pick and choose from seven different thematic packages, from "Rookie" and "Punisher" to "Over the Top" and "Action Hero", each with their own firearms,  including snipers, shotguns, pistols and rifles. Situated in the Party District, a session at Budapest Shooting is definitely a unique form of entertainment, but one that you'll remember for far longer than a simple night-out with your mates. No firearms license needed. Book your appointment on the website.