Dining by the waterside is in no way ordinary, here's your guide to finding your next destination.
Robinson Restaurant
Mesmerizing Robinson was built on the island of City Park Lake not too far away from Heroes' Square. There are a number of reasons why the restaurant stands out, the fortunate location is only the tip of the iceberg. Robinson strives to be the best: the management has set high standards in order to fulfil the needs of customers. Each meal (Hortobágyi pancake, confit duck leg, Hungarian veal paprikash served with egg dumplings, asparagus ricotta ravioli, and more) is excellent as well as the service. Make sure to book a table before you go.
1146 Budapest, City Park | Website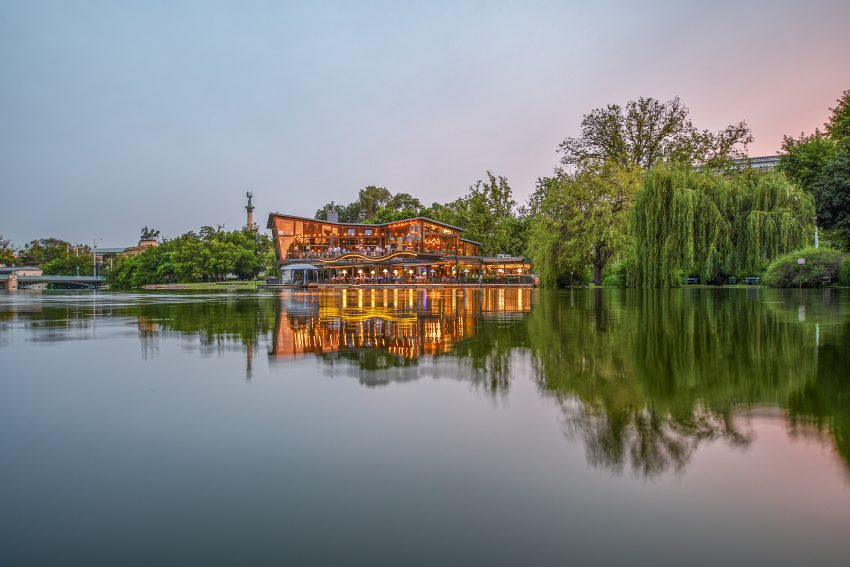 Hemingway Restaurant
Like a peaceful oasis in the middle of the desert, Hemingway Restaurant is located on the bank of Lake Feneketlen, in District XI. Dining there is a feast for the eye and the belly. Food at Hemingway's is heavenly, expect nothing but the tastiest, nicely presented meals. On the menu, you will find garlic king prawn with arugula salad and a rabbit fillet stuffed with foie gras, among other mouth-watering food creations. To max out the experience, take a seat at one of the tables overlooking the lake. Good to know: the restaurant offers free parking.
1113 Budapest, Kosztolányi Dezső tér 2. | Website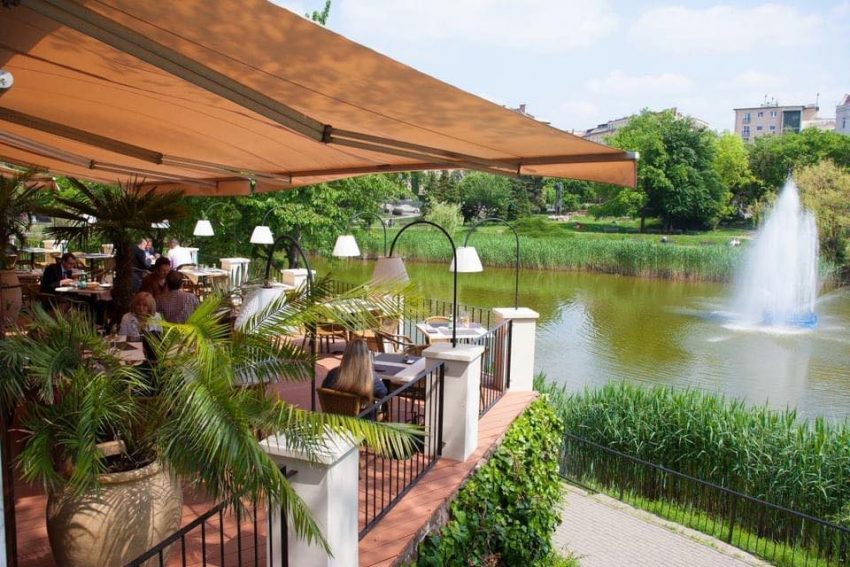 Buttler Terrace
Are you looking for the perfect chill-out spot in District VIII? Open from spring to fall (with consideration of the actual weather), NKE Campus' Buttler Terrace can be found at Orczy Park. The two-storey open-air venue has a roof over it which provides enough shade from the sun even on the hottest days. The waterside terrace's menu is short but it guarantees that no one will remain hungry: it features pizza, sandwiches, different desserts – ice cream too –, coffee and refreshing beverages (both alcoholic and non-alcoholic). It is open from 10 AM to 9 PM.
1083 Budapest, Ludovika tér 2. | Website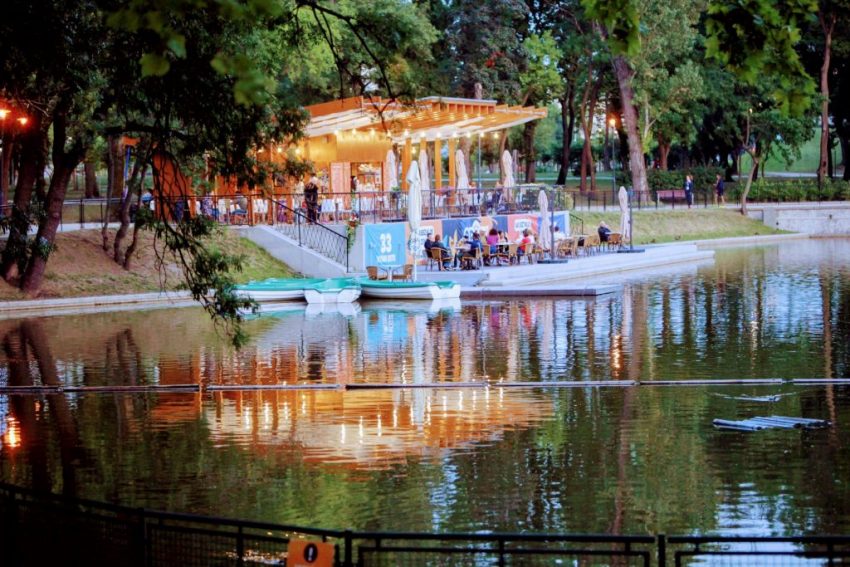 Kacsintó
Situated in District XIII, Vizafogó Eco Park's biggest attraction is an artificial lake and a floating wooden pavilion built over a wide wooden dock. The beloved bistro offers breakfast meals, sandwiches and salads, but coffee, cold drinks and snacks are also part of the list of food and beverages provided by the eatery. From time to time they organize thematic events, Gin&Tonic nights and chess tournaments, for instance. After making sure your blood sugar is no longer too low, you can enjoy the cosiness of the park on comfy sunbeds and benches.
1138 Budapest, Párkány utca 39-41. | Website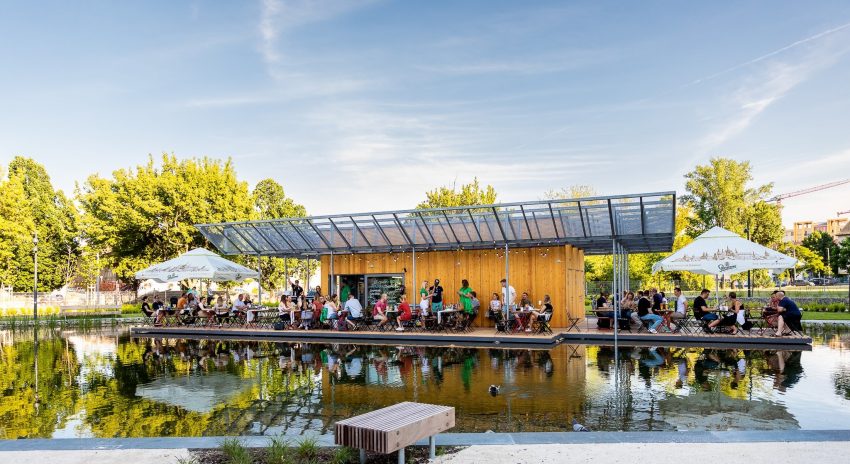 Dunaparty Megálló
You might wonder, what a red double decker bus is doing in south Buda, by the river Danube? The answer will surprise you: it is a food vendor and bar. The unusual buffet is only open when the weather is nice and if that is the case, the smell of lángos, fried hekk (or hake), and crepes is wafting through the air. You can stop by Dunaparty Megálló for a glass of draft beer too (four types are on tap), and iced coffee, lemonade, fruit syrups, cocktails are also served. On weekends there is live music, and the riverside switches into summertime mode.
1116 Budapest, Hunyadi János út 162. | Website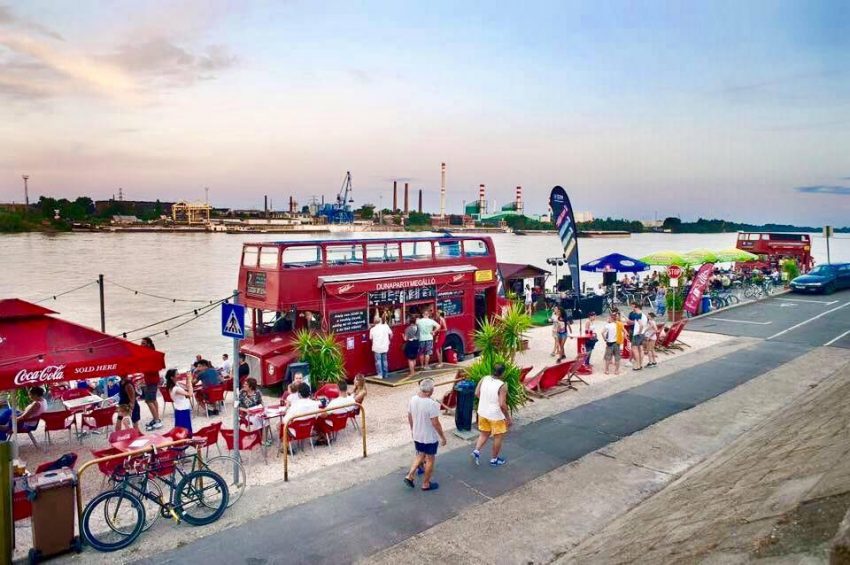 SHO Restaurant
During the summer, stylish SHO Restaurant, bar & café is operating at SHO BEACH's terrace. In the hottest months, the restaurant – known for premium drink offers and gourmet specialty foods made with high-quality ingredients – is waiting for gastro adventurers and foodies near Kopaszi dam with a first-class beach experience. The environment is unique: guests can enjoy the sandy waterfront and the comfort of cozy sunbeds before and after taming their hunger. Don't miss out on such a memorable culinary experience, reserve a table in advance.
1117 Budapest, Buda-part tér 3. | Website