Lángos, chimney cake, and deep-fried breaded meat are all Hungarian delights you should definitely try. Wrap up your visit with memorable gastro experiences at Budapest's superb venues serving local delicacies.
Édes Mackó
Situated in City Park, next to the Capital Circus of Budapest, you will bump into Édes Mackó (Sweet Teddy) chimney cake shop, the only place in the city that serves the traditional chimney cake roasted over charcoal year-round. Run by the jubilee Vitéz Kürtős, this lovely family business originates in the Székely Land, the home of chimney cake. They rightfully call their dessert original, as they knead the dough freshly on the spot, and roast it the old way, over charcoal, which gives the cake its characteristic, home-style taste. In Édes Mackó's chimney cakes, the golden brown, caramelized sugar-coat is in perfect harmony with the delicate dough inside. Other than the traditional version, you will find several desserts in the repertoire that boast chimney cake as their prime ingredient. "Chimney Ice Cream" and "Chimney Pudding" (inspired by the Hungarian poppy seed bread pudding) are, for example, among the most popular items on the menu.
1146 Budapest, Állatkerti körút 14-16. | Website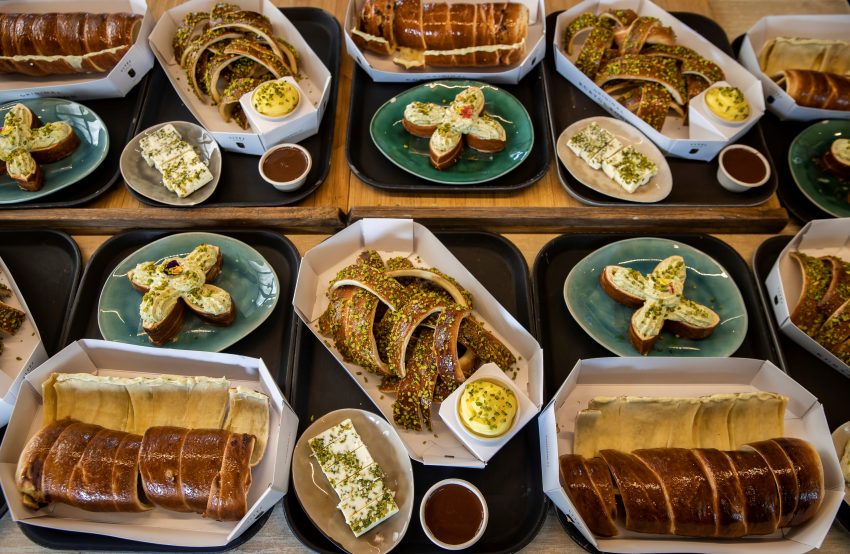 Pavilon Kert
Under the lush trees of City Park, Pavilon Kert evokes the golden age of the park during which it served as a popular entertainment venue. Bringing back traditional Hungarian flavours, open-air music concerts, and a welcoming atmosphere, this cool joint is made up of four local businesses. Taste Hungarian star chef Lajos Bíró's legendary fried delicacies at Buja Disznó-k, or opt for the famous Hungarian lángos at Ligeti Lángos. For dessert, make time for Kató Néni's heavenly chimney cake creations. With your belly full, settle down at Pavilon Bar for drinks, and enjoy the live music until the sun sets.
1146 Budapest, Állatkerti körút 3. | Website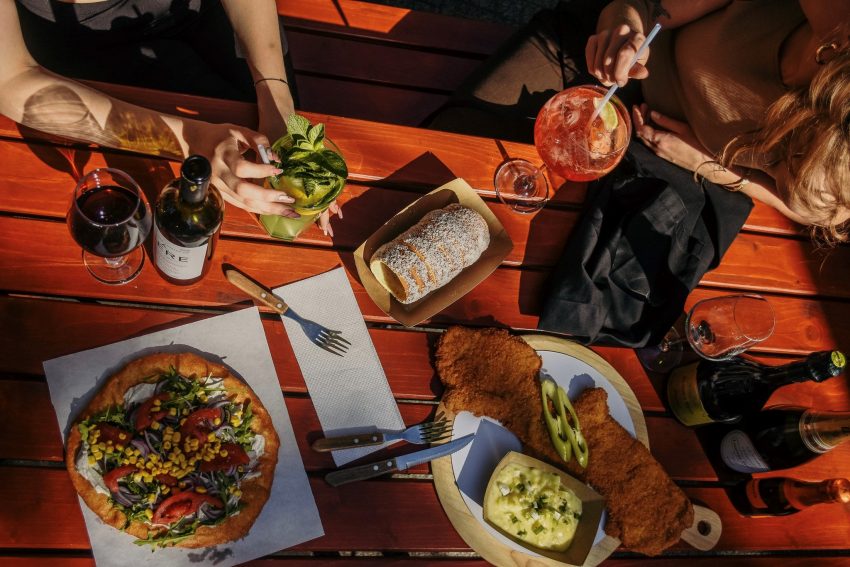 SZÉK Restaurant & Bar
Traditional Székely flavours meet the most modern cooking technology in chef Sebestyén Réti's kitchen, at SZÉK Restaurant & Bar, situated on the imposing Andrássy Avenue. The mind-blowing fusion meals from the new summer menu revolve around gourmet fast food dishes, such as the Székely dog, a rethought version of America's beloved hot dog, made with uniquely seasoned, artisan sausage, handmade bun, and a special Transylvanian mustard sauce. Typical Hungarian platters like foie gras with ratatouille are also available. If you are down for tucking into classic courses with an unexpected twist, put SZÉK on your bucket list!
1061 Budapest, Andrássy út 41. | szekrestaurant.hu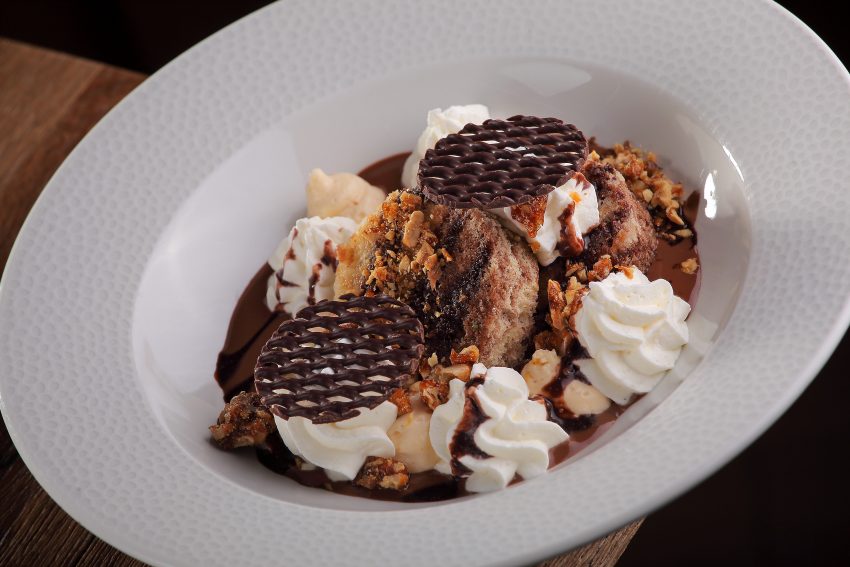 Pichler Chimney Cake & Gelato
Discover the delicious taste of Hungary with Pichler's mouth-watering gelato chimney cakes! Their artisan ice cream is carefully crafted to perfectly complement the warm, crispy dough of heavenly chimney cakes. Made fresh all day, these cones are the perfect treat to enjoy while exploring the beautiful streets of Budapest. Don't miss out on this authentic Hungarian delicacy – visit their shop at Ferenciek Square and treat your taste buds to an unforgettable experience. Whether you're a local or a tourist, Pichler Chimney Cake & Gelato is a must-try stop in Budapest!
1053 Budapest, Kossuth Lajos utca 4. | Website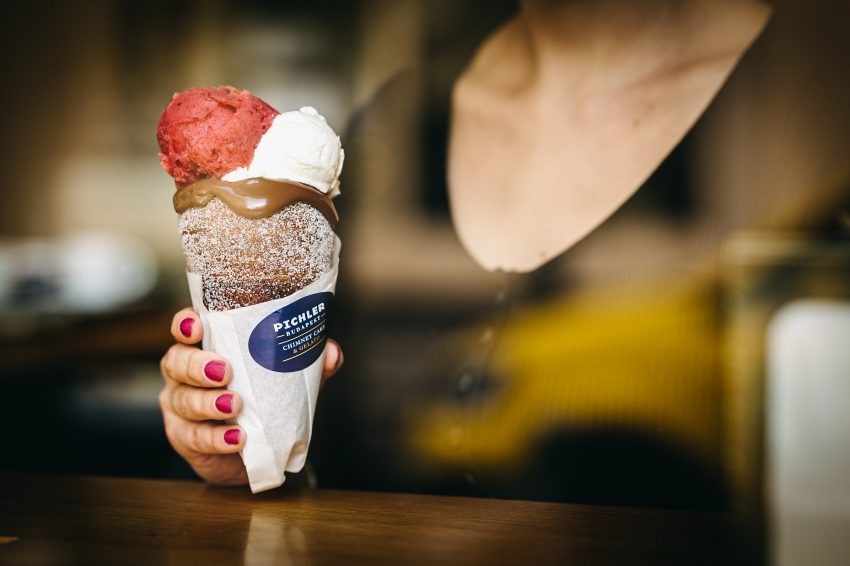 Retro Lángos
Lángos evokes childhood summer memories in many Hungarian people, as it is the beach food you would munch on by Lake Balaton (and any other waters, in fact). This Hungarian deep-fried dough is originally consumed plain or topped with garlic oil, sour cream, and grated cheese.
In 2011, Retro Lángos made our beloved summer treat available in Budapest all year round. At first, they opened a tiny food stand next to Arany János metro station, which grew immensely popular in its 9-year lease. Due to the renovation of the metro station, the food stand had to close, but Retro Lángos survived in the form of a brand new, modern lángos bistro just across the street.
Today, they serve more than 20 types of lángos, ranging from the classics to inventive variations, such as the Meat Bomb that was inspired by a guest who wanted to have all the toppings available on his lángos. Even if you have food intolerance, you will be happy to choose from gluten-free, lactose-free, and vegan options. All lángoses are made with love, from fresh and good quality ingredients, on the spot.
Retro Lángos' summer hits include sheep curd-sausage lángos with scallion, tzatziki sauce-chicken lángos with tomato and feta cheese, as well as the mouth-watering pulled pork lángos with BBQ sauce. Opt for simple, seasonal or creative lángos, but don't forget matching them with the unique Retro specialty cocktail, a sensational booze from Tubi, ginger, and passion fruit.
The spacious terrace attracts many people in the summer, so it is common to see a long queue in front of the bistro, especially in the weekend, but no worries, Retro Lángos is famous for its fast service. A friendly, 20-member staff guarantees that you will fill your belly with a hearty lángos just in time.
1065 Budapest, Bajcsy-Zsilinszky út 25. | Website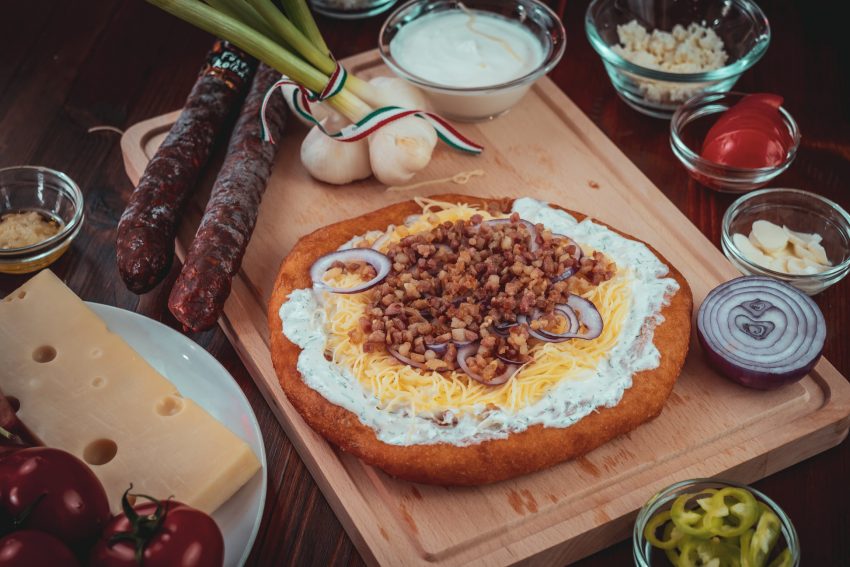 Gundel Restaurant
Gundel didn't just stumble into being one of Hungary's top restaurants – it's been rocking the culinary scene since 1894! Nestled in the heart of the stunning City Park, this gastro venue is the original home of iconic Gundel dishes like the legendary Gundel pancake, the mouthwatering Gundel loin, the comforting Palóc soup, and the decadent Somló sponge cake. If you want to experience the best of Hungarian cuisine with a touch of French flair, Gundel is the place to be.
1146 Budapest, Gundel Károly út 4. | Website