The recipe of a mouth-watering, sugar free Hungarian pastry (named after Hungarian confectioner János Rákóczi) is this month's treat from us to you, first and foremost because A) Diabetes Day is in June, and B) it is summer and you want to look good in that bathing suit. This slow carb dessert is gluten and lactose free, rich in fibre and protein, which make it a perfect cheat-day item.
Ingredients (dough – a large amount)
200 g gluten free oat flour, 50 g ground walnut, 30 g plantain seed shell, 100 g lactose free sour cream, 150 g coconut oil, 75 g erythritol, 1 egg yolk
a pinch of Himalayan pink salt, 0.5 g baking powder
Filling: 850 g lactose free cottage cheese (túró), 2 tbsp. plantain seed shell, 3 tbsp. lactose free sour cream, 2 egg yolks, 2 scraped vanilla beans, 75 g erythritol
1 lemon's peel, sugar free apricot jam
Top: 5 egg whites, 50-61 g ground erythritol, a pinch of salt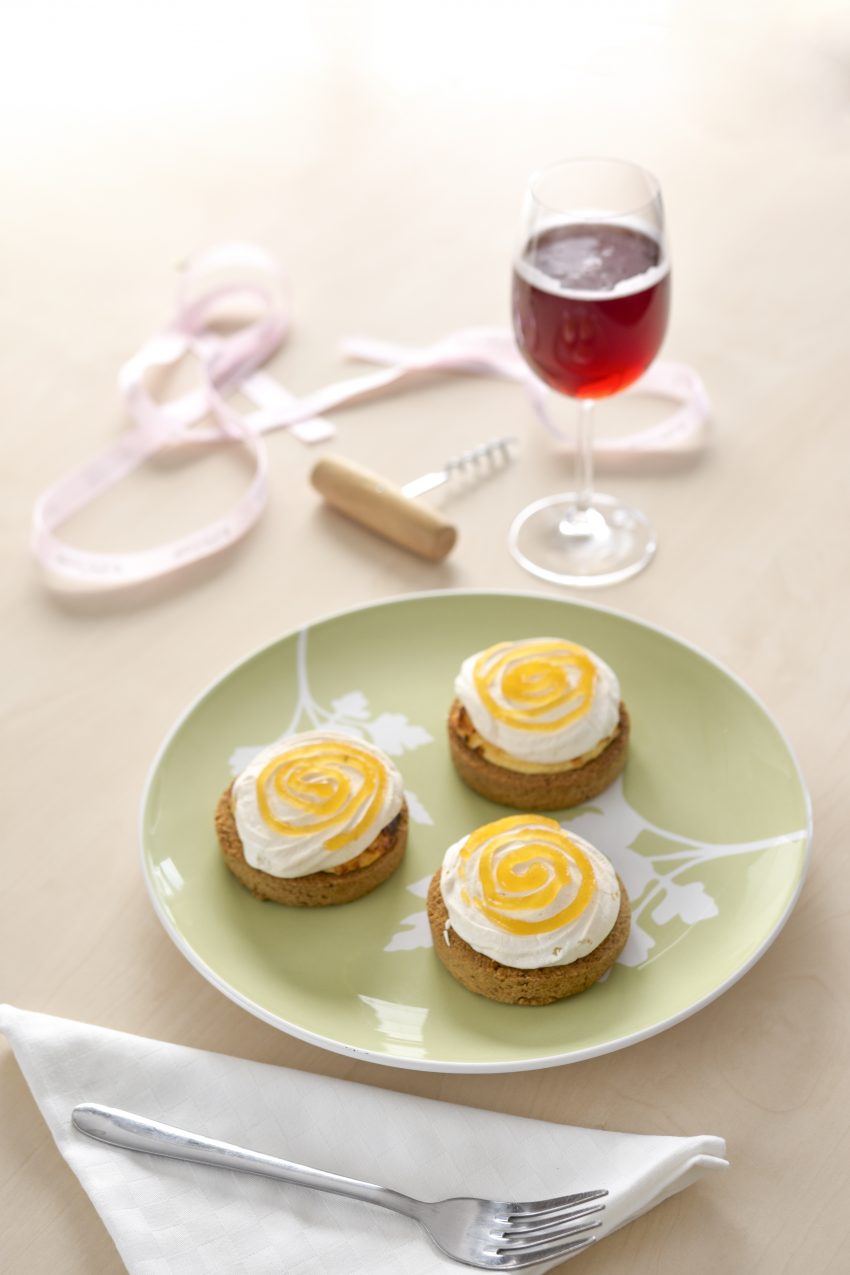 Directions
Combine all ingredients in a large mixing bowl, and allow it to rest for 20 minutes. Put flour on the rolling board and roll out the dough into a rectangle, about 1-1.5 cm thick. (You can make it thinner, but then you won't need all the dough. Wrap the unused dough and keep it in the fridge.) Clean and dry the tart moulds, and use a cookie cutter which has just a bit bigger diameter. Cut the dough, and place each piece into the mould. Pre-bake them for 10 minutes at an oven temperature of 180 degrees. Meanwhile mix the filling's ingredients (except for the jam).
The pre-baked tarts need to cool down before you spread a thin layer of jam on them. Then scoop the filling on top of each. Bake the tarts for 25 minutes until ready. Now make the meringue: beat the egg whites (with an electric mixer) until stiff while slowly adding the salt and the erythritol. Layer the whisked egg white on top of your lovely tarts and bake at 120 degrees for as long as it needs before turning golden brown. (It is rather a drying process, not baking.) Once it happens, let it cool. It is ready when the meringue is stiff.
Special thanks to FitCandy for the awesome recipe!  Check out the lovely sugar free confectionary where everything is healthy, fit, and diet-friendly, specializing at low-carb, sugar, gluten and diary free cakes, cookies and biscuits. Viza utca's FitCandy is the heaven on Earth for everyone with a sweet tooth. Their dreamy, premium quality desserts (including specialties prepared with collagen and protein) are available within a price range of 500-1500 HUF. FitCandy is awaiting diabetics, sportsmen, and admirers of culinary pleasures alike, in a modern, exclusive environment where even your four-legged friends are welcome. Stay in shape and enjoy the sweet temptation you should not resist!
Other Rákóczi's cake alternatives
They might not be part of the "perfect beach body" recipe, but the following restaurants' heavenly cake slices are all cheat-day worthy!
If you're looking for a truly authentic gastronomic experience during your stay in Budapest, Magyar QTR restaurant should definitely be on your list! Located right next to the gently flowing Danube, this prestigious place presents the flavours of the simple Hungarian cooking in a luxurious manner. With more than 70 different kinds of local artisan wine brands, a huge selection of fruit spirits and a series of brilliant dishes, including a refreshing twist on Rákóczi túrós (composed of linzer, apricot jam, cottage-cheese mousse, and meringue), Magyar QTR will sweep you off your feet! Visit the riverside venue and enjoy the great atmosphere completed by a gorgeous panorama of Gellért hill, while stuffing your belly full with meticulously prepared dishes and sipping on the best Hungarian potions.
1056 Budapest, Belgrád rakpart 18.
Our favourite French-style confectionery has been enticing sweet-toothed customers with its sublime pastries since 2014. The spacious Paulay Ede utca venue (run by Beatrix Borszéki-Ékes and Zsuzsanna Pálfi) offers beautiful tarts, arguably the city's best macarons, a wide range of ice cream, mousses, creatively crafted hedonistic cakes, as well as a number of reinvented Hungarian classics – like Rákóczi túrós, or the zserbó dessert cup. Besides the beautiful and scrumptious treats, Desszert.Neked provides guests with unique dessert-making courses, a play corner in the back so that parents can converse over their confections in an undisturbed fashion, and customizable cakes to order.
1061 Budapest, Paulay Ede utca 17.
Located on a tiny piazza in the heart of the city, Gerlóczy Café is a popular meeting point for locals and expats. The kitchen of this cosy yet vibrant coffee house (said to be one of the most "Parisian" venues of Budapest) offers a nice blend of French and Hungarian dishes, including goulash soup, black mussels with tomato sauce, Rougié duck breast, lamb steak with Provencal ratatouille, beef stew with cottage cheese pasta rolls, and Rákóczi túrós with delicious apricot jam. From fresh-out-of-the-oven croissants, filling breakfast options and bistro meals to inexpensive daily lunch deals, great pastries, and a charming terrace, Gerlóczy Café is one of the best kept secrets of the city.
1052 Budapest, Gerlóczy utca 1.
Situated on the ground floor of the prestigious Hotel Astoria (which has been operating in the same building since 1914), Café Astoria Restaurant brings to life the classic coffee house experience tailored to 21st century tastes, awaiting guests with an enthralling atmosphere and seductive culinary pleasures right in the centre of Budapest. The seasonal á la carte menu includes crispy fresh salads, rich soups, vegetarian dishes, mains such as cipura baked with buttered yuzu cream served with marinated cherry tomato salad, supreme guineafowl paprikash with roasted potato noodle and cucumber salad, beef cheek with bacon, green bean, and roasted potatoes, and a slew of Hungarian desserts, from Rákóczi túrós to Esterházy cake.
1053 Budapest, Kossuth Lajos utca 19.