Spring is in full swing here in Budapest: one terrace opens after the other. Go supercharge your senses in the fresh air, imbibe the sunshine, and stuff your belly with something really delicious.
One of Europe's most prestigious, historic coffee houses welcomed the spring by opening its cosy terrace. Regardless of the occasion (and the time of day), it is pleasant to sit there, and have a hearty breakfast or a chill dinner while experiencing the mood lifting effect of the coloured bulbs decorating the place. The more than 132-year-old café helps you take a break from the big city life even though you don't have to travel anywhere.
Trying to be true to its roots, Central Café and Restaurant intends to recreate the atmosphere of an era which everyone refers to as the golden age of Hungarian gastronomy. Those traditions have lived on in their flavour compositions up to this day. The Károlyi utca venue is not only a popular catering spot, but also perfect for hosting social and cultural programs. It wishes to inspire its guests just like it inspired numerous literary figures in the past.
1053 Budapest, Károlyi  u. 9.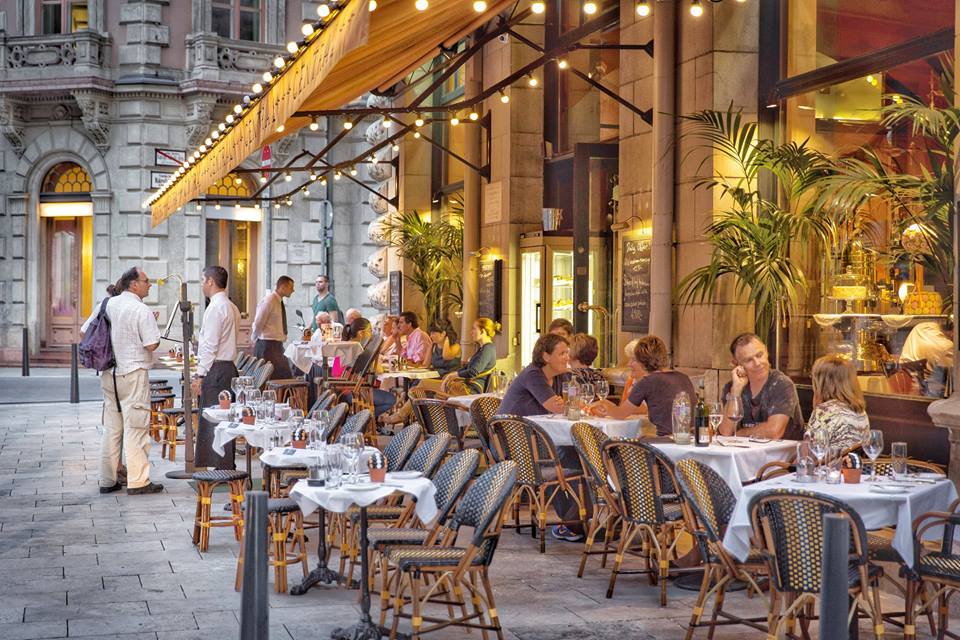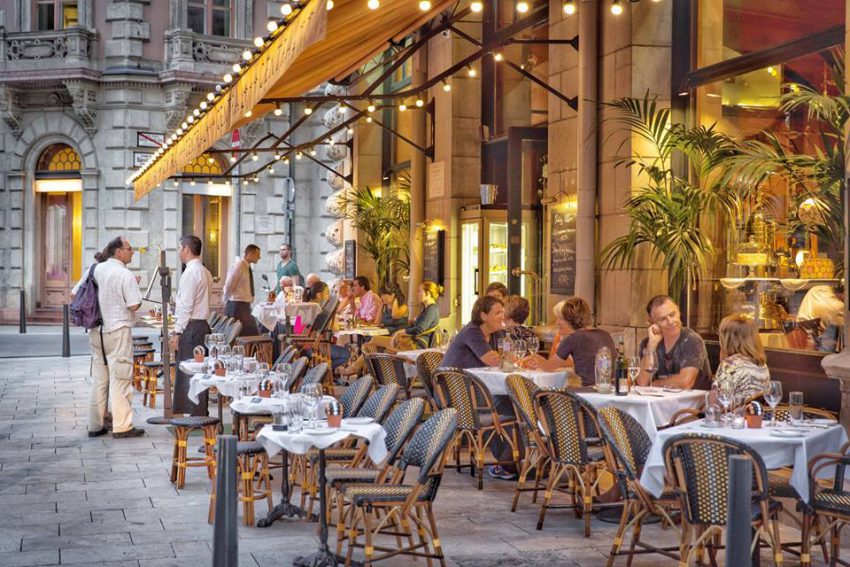 You have probably heard of Fisherman's Bastion, one of Budapest's most attractive tourist destinations. But did you know that this UNESCO World Heritage site actually gives home to an elegant restaurant? Halászbástya Restaurant has been operating within the prominent walls since 2010, offering a spectacular view to the city's world-famous landmarks. Picture having a light meal (from the lounge menu) during lunchtime at its most beautiful location, the Duna terrace, open from spring to fall. Imagine to chat over a drink at Margaréta terrace, looking over all 8 bridges of the city, or envision yourself sitting at the venue's lavish interior space, enjoying the chef's irresistible creations with live gypsy music. Delightful, isn't it?
1014 Budapest, Budai Vár Halászbástya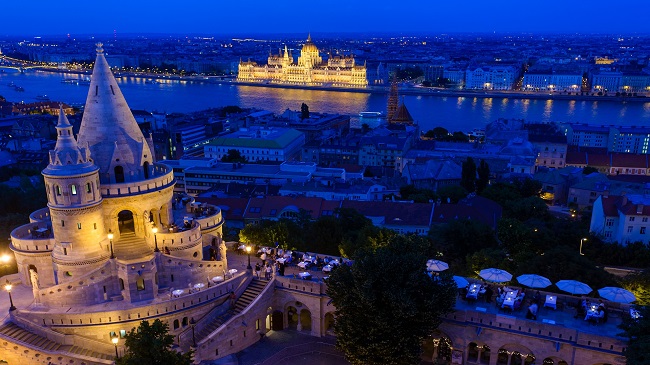 Spring is here, it's time to take advantage of the warmer weather! What better way to spend your time than visiting patios and outdoor dining options? In spite of the fact that there are plenty of open-air terraces in Budapest, the surroundings aren't always as idyllic as we would expect. Fortunately, Városliget Café & Restaurant hands us everything on a silver platter. From the gorgeous view to the dreamy ambience and outstanding food & drink offers, this venue is gold. If sipping on a nice cocktail on a sunlit, flower-filled terrace or having dinner with live guitar music is something you would admire, leave the spring lethargy behind and head to this City Park gem! It's equally ideal for casual meetings, family affairs and rendezvous.
1146 Budapest, Olof Palme stny. 6.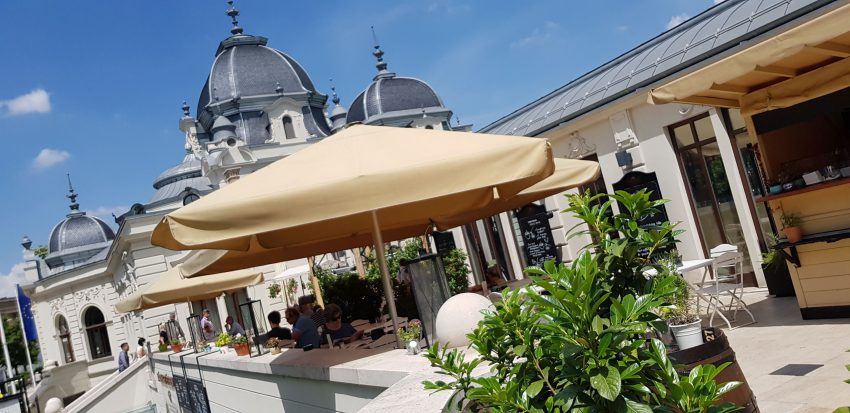 Being in the service of the thirsty for many decades, Buda's oldest pub has finally opened its lovely terrace this spring. Gellért Brasserie can consider itself lucky for numerous things; above all, for having a great location and a breathtaking view. Are you in the search for affordable culinary adventures and fond of experimenting with quality craft beer? If your answer is yes, set your GPS with the location of the above mentioned brasserie. You won't regret it. Traditional Hungarian meals with a moderate twist are served by the beer kitchen and it is worth tasting the house's own, uniquely labelled craft beers, the Giorgio ale and the premium category Gerardo wheat beer with which they pay homage to Bishop San Gerardo (Szent Gellért).
1114 Budapest, Szent Gellért tér 2.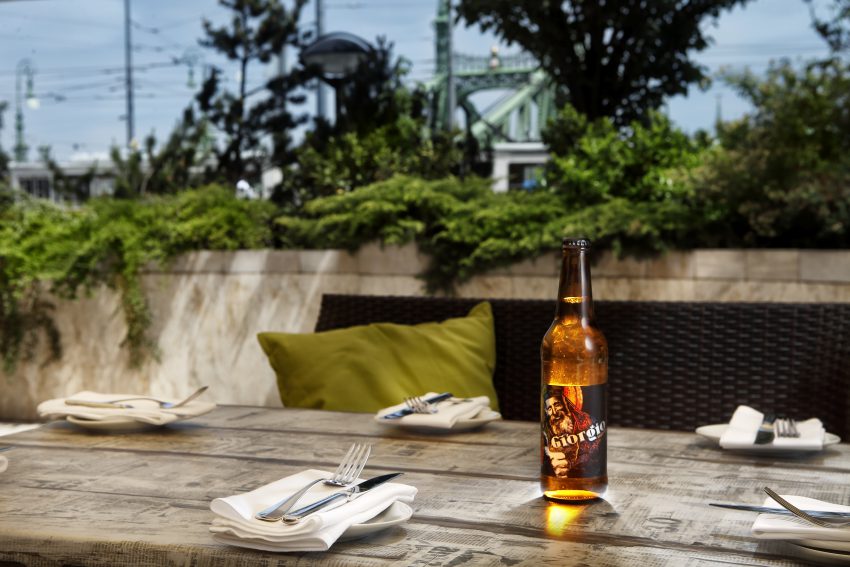 Without being corny we have to admit that Buda's charming restaurant, the beautiful Jardinette is in fact an urban oasis. A tranquil space in the busy city, with tall chestnut trees forming a relaxing little orchard in the calm and cosy yard, this Hungarian restaurant welcomes guests with a peaceful atmosphere to help recharge their batteries. The family-run Jardinette is a place of modernity, but the restaurant's chef relies on traditional recipes. The menu has been built upon seasonal ingredients (like ramsons and asparagus), because the Jardinette team believes the best meals are made of fresh, locally-sourced elements. Sign up for one of their thematic gastro nights, and try their homemade apple pie. It's going to be a blast!
1112 Budapest, Németvölgyi út 136.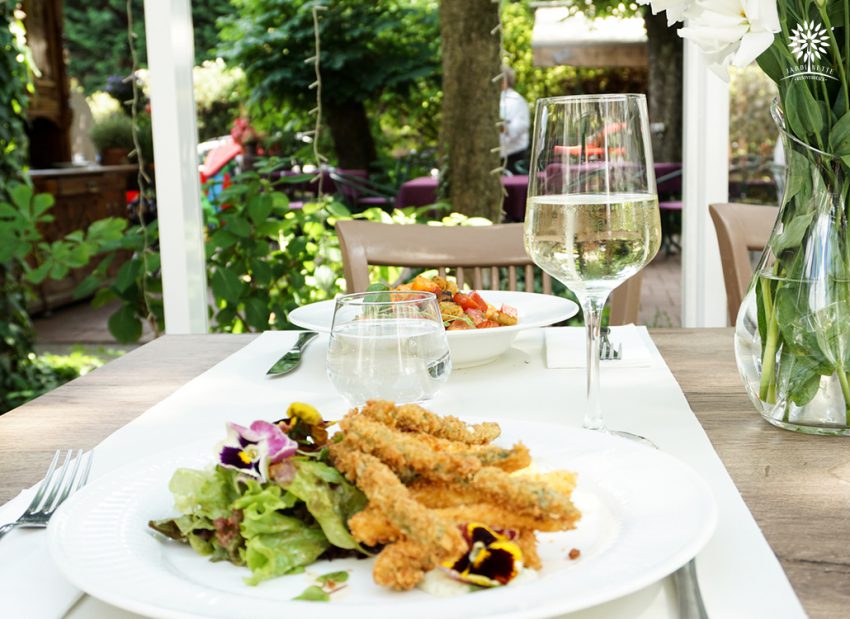 Located in Kelenföld (District XI), MAG kert is the go-to place if your interpretation of heaven on Earth could be materialized as a laid-back garden area with quality food and drinks. This fun outdoor venue is furnished with beer benches, hammocks, and beach umbrellas that bear the power to create holiday-ish/happy festival vibes on an ordinary day, just a little bit away from the city centre. The flower-coloured patio functions as a flexible, cosy corner where – thanks to MAG kert's grand smoker and exceptional BBQ chef – BBQ parties take place from time to time, and the weight conscious won't be the only ones who burn calories by the ping pong table. In such an environment a glass of cold beer or lemonade will bring you peace and satisfaction. Opening: 3 May.
1119 Budapest, Kelenvölgyi határsor 3.
The most vital part of an experience often lies in the details. Wherever you go, take time to look around, and try to feel the incomparable vibes of each place. Visiting Remíz should be no exception, although the popular meeting point of frequenters and newcomers offers more than what the uncanny eye can see. It is managed by the Meződi family in the spirit of maintaining a good balance between traditional practices, flavours, and today's trends. Since the opening of Remíz in 1992, the former café house has turned into a restaurant where pastry specialties still play a big role. While the atmosphere of its inner spaces is reminiscent of the last century, the spring/summer terrace reminds us more of our childhood, evoking happy holiday memories.
1021 Budapest, Budakeszi út 5.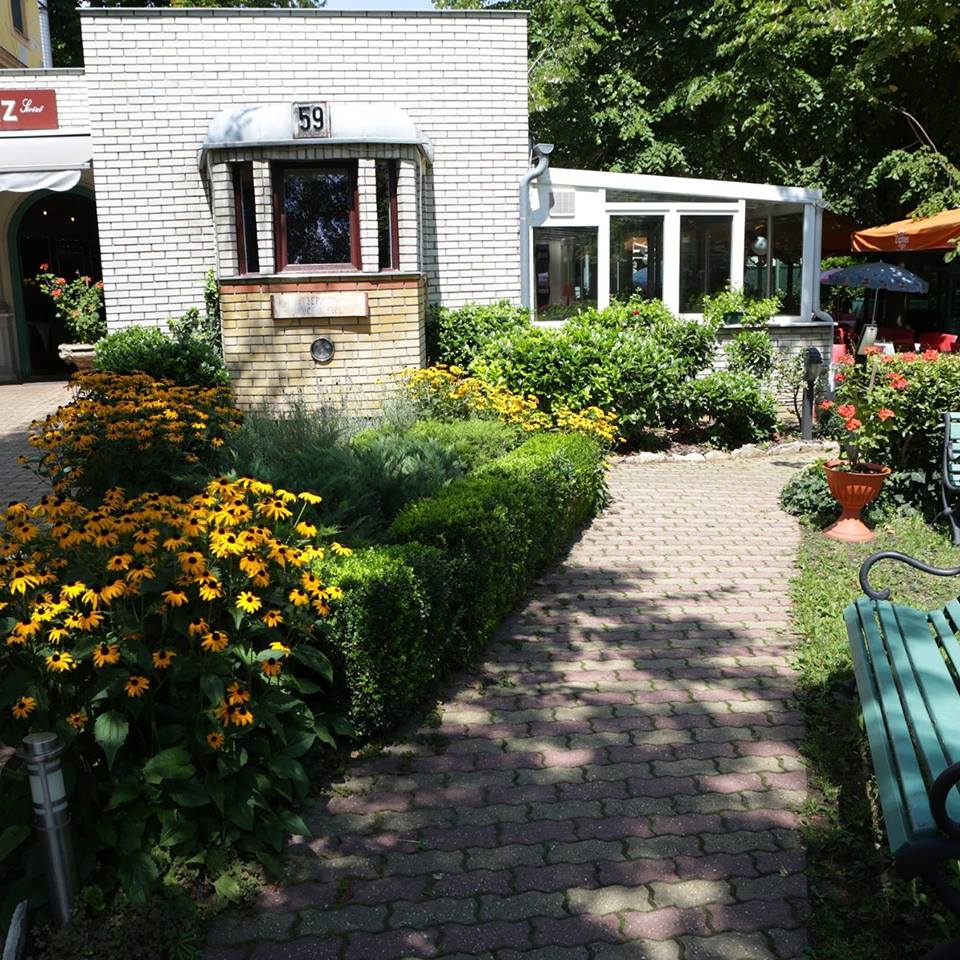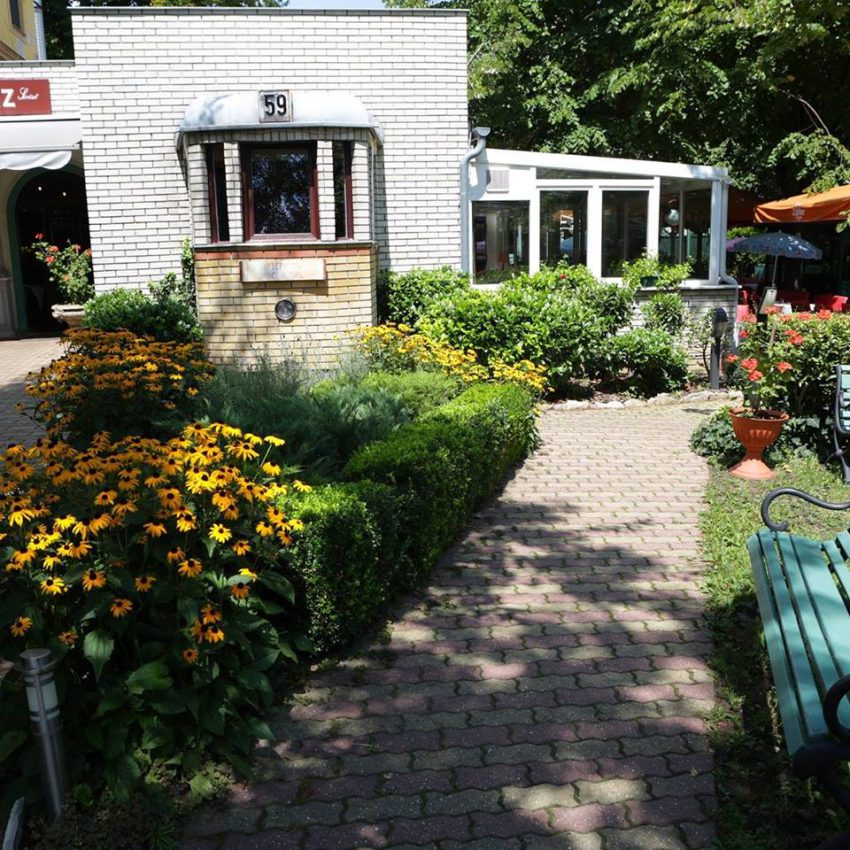 Located in the heart of the capital city, Black Cab is a popular burger joint with a delicate touch of English culinary tradition. And just like good wine needs no bush, Black Cab's quality burgers speak for themselves too. It's a gourmet kitchen; the signature hand-cut chips is fried in peanut oil, and served with a characterful malt vinegar dressing that creates an exciting taste harmony. Guests are challenged to build their desired burger from top to bottom, with regard to the size of the bun, the preferred meat – chicken, beef, salmon – toppings, and extras such as blue cheese, grilled pineapple and fried egg. At the same time, well-composed house specials like the customer favourite Cabbie Burger are also featured on the taste-bud-impressing menu. Once you are there, grab an English soft drink, ale, cider, or Hungarian fruit juice too, and take a seat at Black Cab's terrace!
1088 Budapest, Rákóczi út 19.
1095 Budapest, Mester utca 46.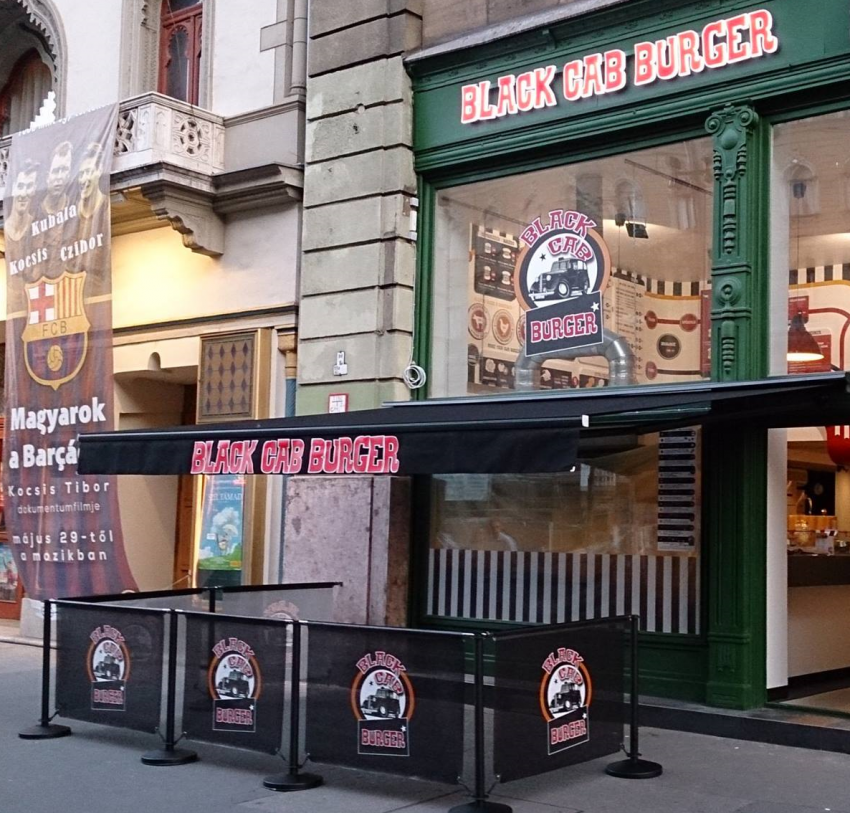 Since its inception, Sarki Fűszeres has become an essential part of Budapest's scene, and an emblematic institution of the familial yet trendy Újlipótváros neighbourhood. The corner deli shop is whatever you want it to be; a pleasant café, a relaxing breakfast venue, a restaurant, a wine bar, a gourmet foodshop, or a welcoming community space. On the shelves of Sarki Fűszeres, you can find an extensive selection of French, Hungarian and Italian wines, cheese varieties and meats, alongside other culinary necessities of a Mediterranean lifestyle. The menu ranges from ham and eggs, pastrami, and grilled cheese sandwiches to fresh salads and flavourful meat platters, all of which are best enjoyed sitting outside on the terrace, while watching the friendly faces of Pozsonyi út.
1137 Budapest, Pozsonyi út 53-55.