Whenever we ask our foreign friends what they know about Hungarian gastronomy, goulash soup is always on top of the list of dishes they recite. 21 Hungarian Restaurant was kind enough to share their terrific recipe with us; follow their step-by-step guide and you'll cook goulash like a pro.
Ingredients
400 g beef shank, 200 g potato, 1 l stock, onion, garlic, caraway seed, black peppercorn, bay leaf, paprika powder, 2 tomatoes, 1 bigger bell pepper, 1 tbsp. pig fat, salt
Noodles (50 g)
1 kg flour, 2 eggs, 15 egg yolks, 0.5 dl oil, 0.5 dl water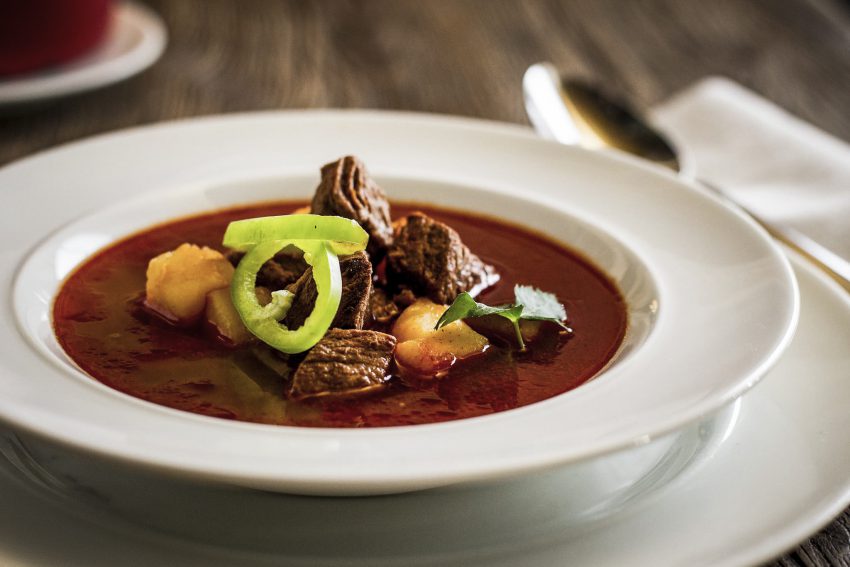 Directions
Clean the unboned beef shank, dice it. Chop the onions and the garlic, add the sliced paprika and fry them together. Remove from the heat, add the paprika powder and the peeled, chopped tomatoes. Roast meat on pig fat, and slowly pour half of the stock over it when it is back on the stove. Season it with salt, pepper corns, and bay leaf. Cook the meat until tender, then add the rest of the stock and the diced potatoes. Cook until done. Serve with homemade "csipetke" pinched noodles. It's easy: add all the ingredients together, mix them until homogeneous. Form tiny balls by pinching. Let them dry. Finally, cook the noodles in salty water and pour it off when done.
Wine Advisor
Thanks to its deep, spicy aromas and mild acidity, Kadarka wine's character complements this dish very well.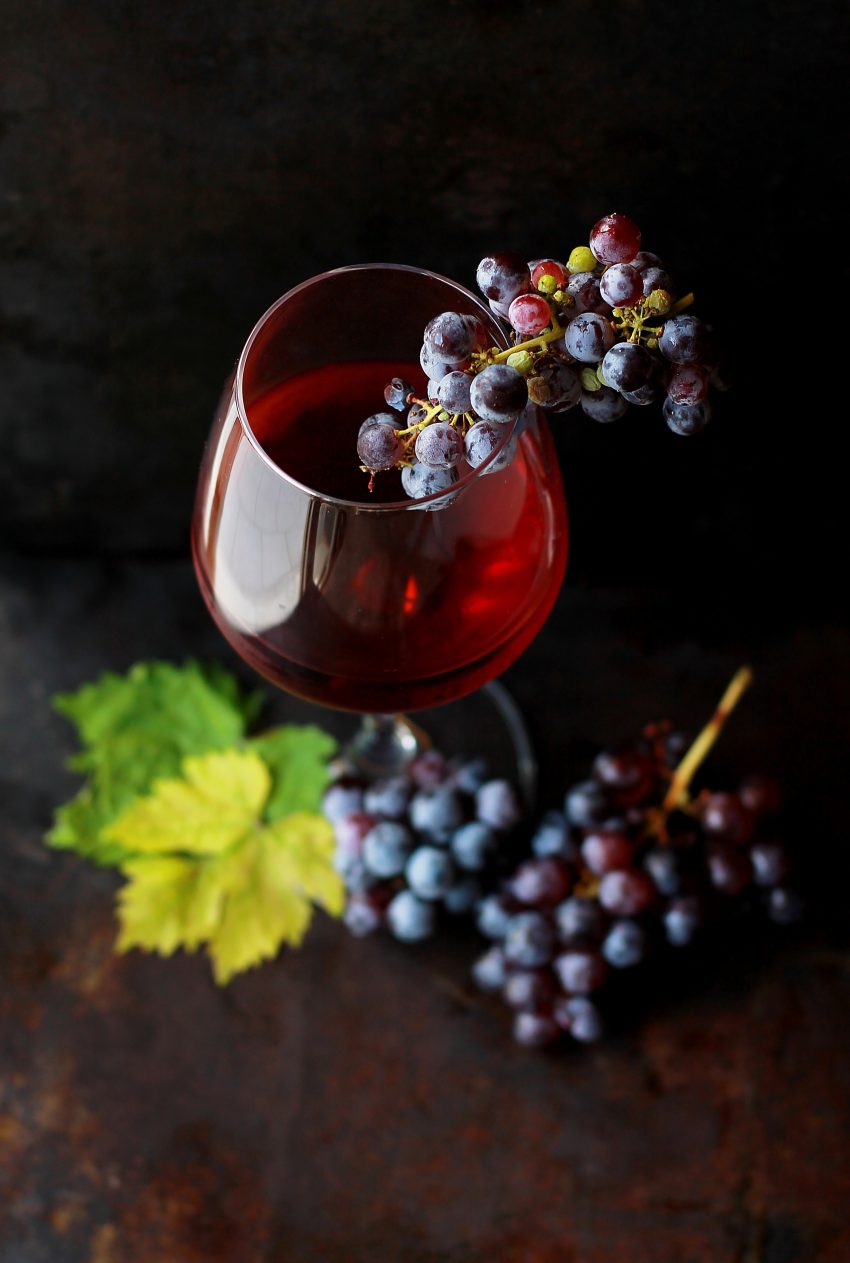 The Best Goulash Soup Restaurants in Budapest
There's no doubt about it: goulash, the meal of the cowboys of the Great Hungarian Plain is the most well-known culinary creation of Hungary. However, what the world calls goulash is radically different from what it really is (hint: it's not a stew), which results in a lot of surprised faces when the thick, nourishing soup arrives to the unsuspecting guests' table. In case you want to be the next person to be surprised by this timeless classic, visit one (or more) of the below spots.
The number 21 has a double meaning: on one hand, it's the house number of the restaurant, on the other, it reflects upon the founders' wish to introduce guests to the wonders of 21st century Hungarian cuisine. Despite being located on an ancient street of Buda Castle, 21 is one-hundred percent a product of modern times: the kitchen of Chef Szabolcs Vígh serves classic dishes according to modern-day standards, made of ingredients procured from local producers, and accompanied by only Hungarian wines. 21's hearty goulash soup comes with pinched noodles, while other delicious fares worthy of savouring include Tokaj wine infused foie gras paté, veal stew, and baked cheesecake.
1014 Budapest, Fortuna utca 21.
At the foot of Óbuda's huge housing project, right next to Árpád bridge, there lies a small architectural remnant of the 19th century, a time when Jews, Hungarians and Swabians lived side by side in the neighbourhood. It is here where Kéhli, one of the best Hungarian-style restaurants of the city resides, right next door to the home of the late bohemian writer Gyula Krúdy, whose love for Hungarian wine was only surpassed by his love for Hungarian food. At Kéhli, you'll find plenty of both. The menu includes all the classic dishes of the past couple of centuries of Hungarian cuisine, from beef goulash served in a cute hot-pot and frog legs fried in breadcrumbs to lamb stew and the full gamut of iconic Hungarian desserts, from Gundel pancakes to Somlói sponge cake. The turn-of-the-century ambience is made complete with live gypsy music every day from 8 PM.
1036 Budapest, Mókus u. 22.
With a name like this, is it any wonder that Gettó Gulyás made it on our list? Found on one of the main streets of Budapest's Jewish District, the homely, unrestrained restaurant offers an unpretentious selection of classic Hungarian dishes, with a menu focusing on the heartier, meaty side of Magyar cooking. Besides the eponymous goulash soup prepared with a lot of vegetables and Hungarian pinched noodles called csipetke, you'll find a colourful variety of pörkölt (stews) here, with veal, chicken, rooster testicles, beef, deer, catfish, beans and mushrooms as the main components. The stews are usually served with nokedli (a kind of dumplings) and the pickles of your choice. In case you want to end your meal on a sweeter note, ask for Gettó Gulyás' cottage cheese dumplings, coated in cinnamon-flavoured bread crumbs – it's more than phenomenal.
1077 Budapest, Wesselényi utca 18.
Opened in 2017, this one is for the more well-off gastro-tourists. Situated in the historic environment of the Buda Castle, with the backdrop of Matthias Church and the good-luck statue of András Hadik, Ramazuri offers guests a toned-down contemporary ambience. The tight-lipped menu draws inspiration from the hottest trends in gastronomy, the most exquisite international flavours, and the most beloved Hungarian classics, ranging from goulash soup to zander fillet, chicken paprikash, and lamb with Hokkaido pumpkin, Savoy cabbage, and plum. In case you'd rather get fed with something other than the venerable buildings of the famous neighbourhood, Castle District's Ramazuri will make sure that your wish will be granted!
1014 Budapest, Úri utca 30.
Run by Bocuse d'Or European champion Tamás Széll and chef Szabina Szulló, two outstanding gurus of gastronomy, Stand25 Bisztró is located inside the Downtown Market Hall, as Budapest's answer to Lisbon's TimeOut Market. Opened in 2017, the Széll-Szulló dream team presents all the classic dishes of Hungarian cuisine in their full, fatty, flavourful glory, from goulash soup to layered potato casserole and Mangalitsa cheek stew, all made from locally sourced, fresh-to-the-kitchen-table ingredients. The flavours are so compelling that in 2018 Stand25 was awarded with the Michelin Bib Gourmand title, which means it offers a good value for money experience. Hungarian wines, craft beers, sparkling wine, and coffee specialties are also available under kiosk 25.
1054 Budapest, Hold utca 13.
The Bajcsy-Zsilinszky út restaurant is one of the lesser-known gems of downtown Budapest's fine-dining scene.Tama was opened in 2016, and has slowly become a flagship of Hungarian new wave gastronomy, thanks to the arduous work and pioneering talent of chef János Erdei. Dishes served at Tama reflect the cosmopolitan interior design of the two-storey venue: they combine taste and tradition with an artistic sensitivity to current trends, resulting in a unique and colourful experience. From a marvellous goulash soup with spätzli, to hunter's stew with rabbit and duck liver terrine with apple and Tokaji Aszú wine, here you can savour modern Hungarian cuisine at its absolute best.
1051 Budapest, Bajcsy-Zsilinszky út 22.
Nested in downtown Budapest, located just a stone's throw away from St. Stephen's Basilica, one of the must-visit gastronomic spots of the Hungarian capital has been around for quite a while now. The history of this much acclaimed venue draws backs to the gloomy days of mid-century Hungary: it was first opened in 1954, then soon became one of the favourite hangouts of local artists and writers. Nowadays, the charming joint keeps dazzling its guests with authentic Hungarian flavours you simply can't miss out on. Visit Terv Presszó to taste their amazing goulash soup, served in a cauldron with melt-in-your-mouth beef and dumplings, and enjoy each and every spoonful of the scrumptious dish while admiring the retro feeling that envelopes every square inch of the venue.
1051 Budapest, Nádor utca 19.
If you're looking for meat lovers' heaven on Earth, this is it. Budapest Barbecue Company has been serving fans of smoked and juicy animal bits since 2016, offering guests a classic American-style BBQ experience made possible by a gigantic Southern Pride smoker, and the owners' own roadside impressions from Mississippi, Louisiana and Texas. Now, you might ask "why the hell is there a BBQ place listed among the city's best goulash restaurants?" The answer is three words: BBC beef goulash. Their thick and rich soup is prepared with smoky beef and fresh vegetables, giving the Hungarian staple dish a slight taste of the flavourful cuisine of the American Deep South.
1055 Budapest, Szent István körút 13.
Located only a few steps away from the Chain Bridge, the Castle Funicular, and Várkert Bazaar, stylish ZONA awaits guests with a modern bistro kitchen, unique food pairings, and hundreds of the finest Hungarian and international wines to match them with. Led by Chef Levente Kovács, ZONA puts a huge emphasis on seasonal ingredients, and so the menu changes every couple of months: what's constant is the high quality and the surprising flavours of the featured dishes. Must-try ZONA specialties include beetroot risotto with octopus and parsley, Mangalitsa goulash with bacon chips, the hedonistic beef burger, and the paleo mango brownie.
1013 Budapest, Lánchíd utca 7.
Located on the corner of Rákóczi tér, Csiga Café is one of the most treasured venues of District VIII: the interior is characterized by wooden surfaces, snail-shapes made of wrought iron, a lot of paintings hanging from the wall, and a pleasing abundance of plants. Famous for its delicious and filling breakfast options, which include Croque Madame and American pancake with maple syrup, artistic Csiga Café also boasts an extraordinary rum selection, a friendly staff, and a kitchen serving an assorted mix of Hungarian and international dishes. Whether you're hungry for traditional Hungarian beef goulash, a Pastrami sandwich with brisket, Moroccan spicy chicken tagine with couscous, or an otherworldly apple cake, you can sate all your cravings at Csiga Café.
1084 Budapest, Vásár utca 2.
One of the most popular underground pubs of the Terézváros neighbourhood, Kiadó Kocsma is situated a stone's throw away from busy Oktogon, and is usually just as crowded as the aforementioned square (needless to say, if you're smart, you make a reservation, or else you can play the waiting game). This tiny locale is a favourite amongst the hipster herd of Budapest, but families with young children are not a rare sight either. In addition to supplying guests with a seemingly endless flow of alcohol, Kiadó boasts a neatly put-together collection of Hungarian and international flavours, ranging from wholesome goulash soup, mouth-watering burgers, and hummus through to solid steaks, beef stew with red wine, and penne arrabiata.
1061 Budapest, Jókai tér 3.