Budapest's pub scene is so rich it would take a while to check out all the venues in that category. Regardless of having this kind of bucket list or not, we are certain that you'll find at least one, if not more future favourites among the below locations.
On the far end of Király utca, inside a former and prestigious video rental shop, Roots Budapest aims to revitalize the outer parts of the Grand Boulevard by serving as a cultural hotspot of the area, hosting exhibitions, concerts and parties, and playing what is possibly the most versatile collection of music during the day. Stepping inside Roots Budapest you'll most likely find good vibes, a lot of tattooed people in snapbacks, sipping on Jamaican coffee or drinking a tall glass of craft beer, enjoying a quesadilla, or reading a book from the bar's help-yourself bookshelf. On the gallery floor you can also find a tattoo shop, in case the guys downstairs persuade you to finally lose your ink virginity.
1077 Budapest, Király utca 77.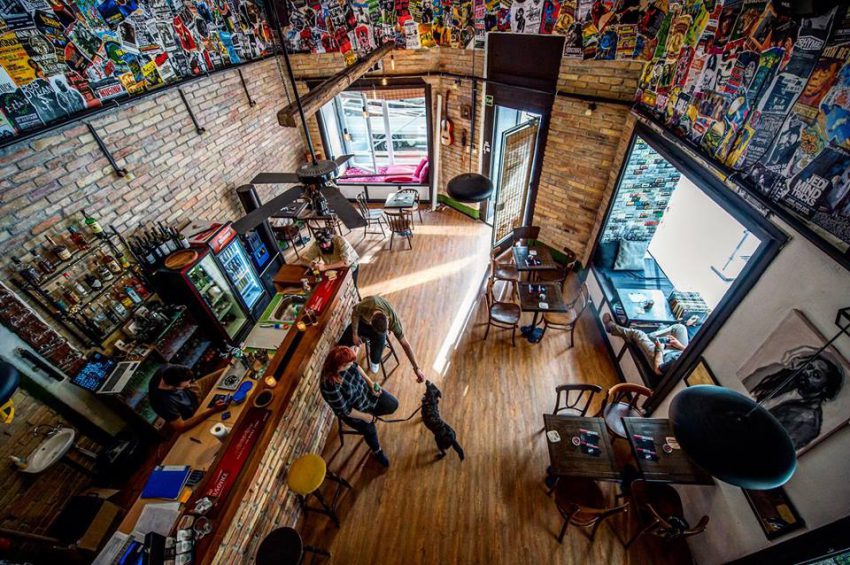 Opened in 2010, Szatyor is one of the most renowned bars of the Buda side. It represents the very essence of Central Europe condensed into a single bohemian venue, whose interiors were designed by 18 young talents. The main hangout of local hipsters and arts types (of whom you'll see plenty of drawing and painting on their iPads), Szatyor awaits visitors with a menu offering a flavourful combination of Hungarian and international tastes, colourful cultural programmes, art exhibitions, and live music events, making it the heart and soul of the lively Újbuda neighbourhood. If you're looking for a unique, more sophisticated version of Pest's ruin bars, drop by Szatyor!
1111 Budapest, Bartók Béla út 36.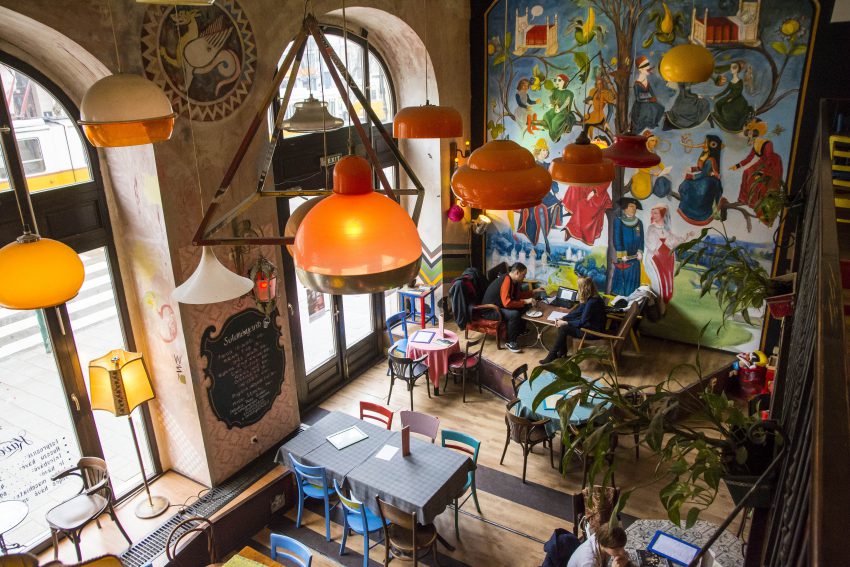 Situated just a stone's throw away from the Great Market Hall, nearby the campus of Corvinus University, Trapéz gives space to a cozy ground floor area, a spacious, well-lit loft on the upper floor, and a tranquil inner yard. With plenty of settings to choose from as the place of your lunch or coffee break, friendly outing, or date, Trapéz fits any need. As far as eating and drinking options go, the charmingly distasteful bar offers a whole slew of sandwiches, burgers, salads, and a decent drink list, featuring draft beers, spirits, and cocktails, with prices that match the size of your average university student's wallet.
1093 Budapest, Imre utca 2.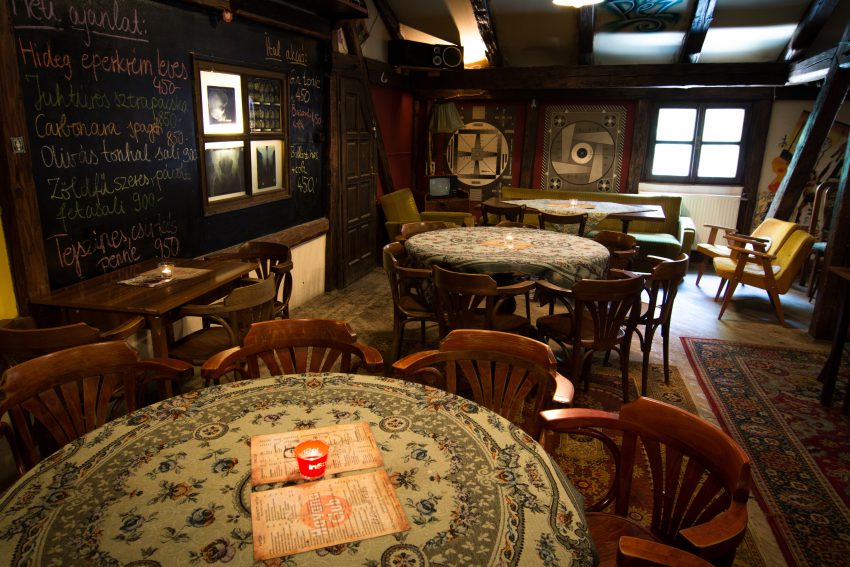 Although one of the most promising names of the Hungarian craft beer scene, FIRST isn't that very well known outside of a handful of brew buffs, the reason being is that their open brewery doesn't exactly have a central location. Luck for us, the team didn't hesitate for long, and opened their new wave brew bar in the heart of Budapest's party district, offering on tap their uniquely flavoured ales, the products of international brands, and more than 200 types of bottled beers, as well as delicious meaty dishes, snacks, and salads. The price of a glass of beer starts at around 650 HUF, while the menu includes steaks, pulled pork sandwich, Angus burger, chili, and Chocolate souffle.
1074 Budapest, Dob utca 3.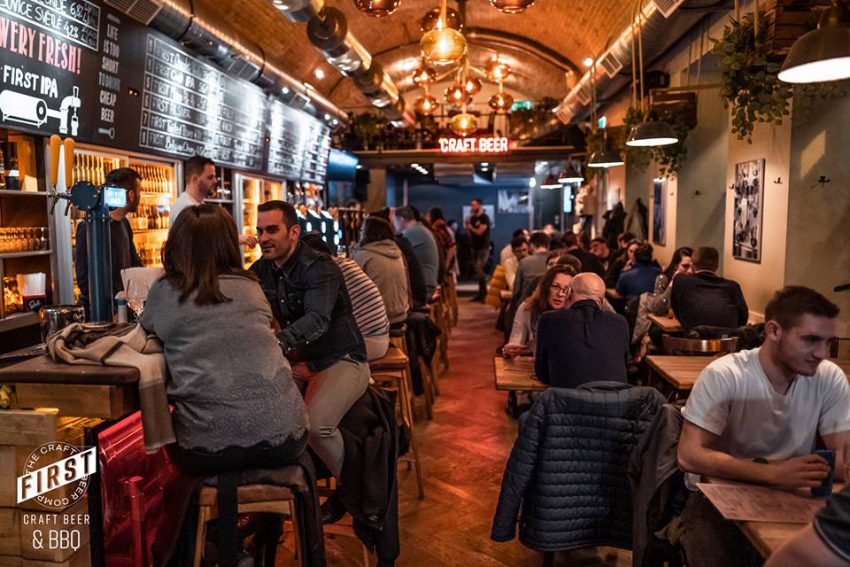 You don't necessarily want to leave behind the busy Party District, but you also wouldn't mind getting your buzz on at someplace less touristy and more genuine? Lucky for you, Dzzs Bar is just such a place. The Nagydiófa utca venue is capable of seating 50 people, perfect for hosting a small friendly get-together too. The atmosphere is super friendly and homely. The interior design shows traces of a bohemian retropical ruinbar, while the same influences can be observed on the drink list. Whether you opt for a rum drink (there are roughly 20 types in their assortment), a cocktail, the wormy mezcal, or a glass of craft beer, you won't regret it. Dzzs Bar is the jewel box of downtown Budapest.
1072 Budapest, Nagydiófa utca 32.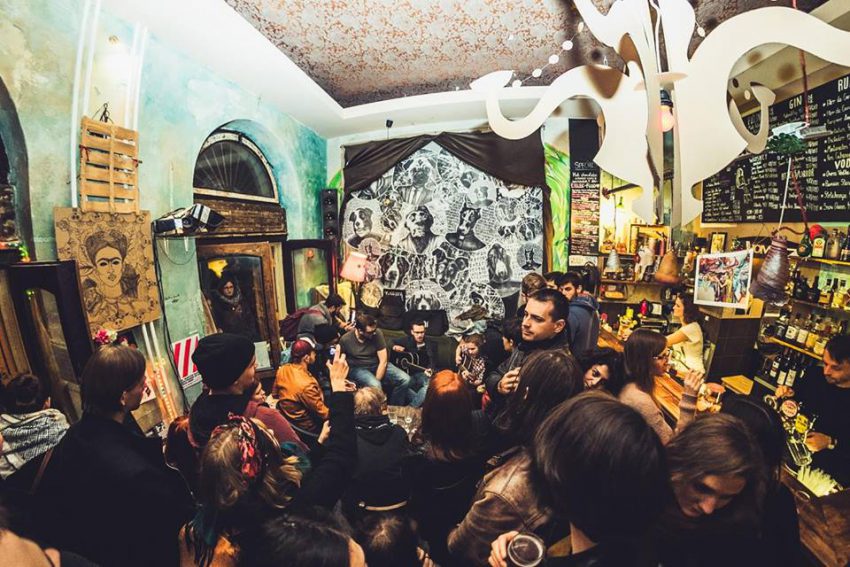 Located right next to the Budapest University of Technology, Műhely Pub is a car repair shop-turned-underground secret bar themed around the world of mechanics, attracting a colourful clientele of university students and Budapesters looking for something quite different than what they'd find in downtown ruin pubs. You can choose from six beers on tap and a large variety of bottled beers, a list of local wine, a wide range of high quality spirits, a number of classic and signature cocktails. Their bartenders know what they are talking about. Even though the pub closes its doors as early as 11PM, regularly the funky looking venue also gives home to free live music concerts and smaller-scale electro parties. It's a place where the night starts, regardless of who you are with.
1111 Budapest, Budafoki út 29.