Love, love love: these three words come to our mind, thrilling out taste buds whenever we hear the name of this creatively layered dessert. And you, my friend are very lucky, because this time not only will you find out where there's the best somlói sponge cake in town, but also get the recipe thanks to Pörc & Prézli restaurant. Are you excited yet?
Ingredients (for 10 people)
Sponge cake: 12 eggs, 240 g flour, 240 g sugar, 4 g baking powder, 20 g cocoa powder, 20 g ground walnut – chocolate sauce: 3 dl water, 80 g cocoa powder, 1 pinch of salt, 5 cl oil, 30 g sugar -vanilla cream: 1 l milk, 5 eggs, 15 g sugar, 80 g vanilla custard-powder, 1 vanilla bean – sugar syrup: 30 g sugar, 5 cl rum, 100 g raisin – 1 l whipped cream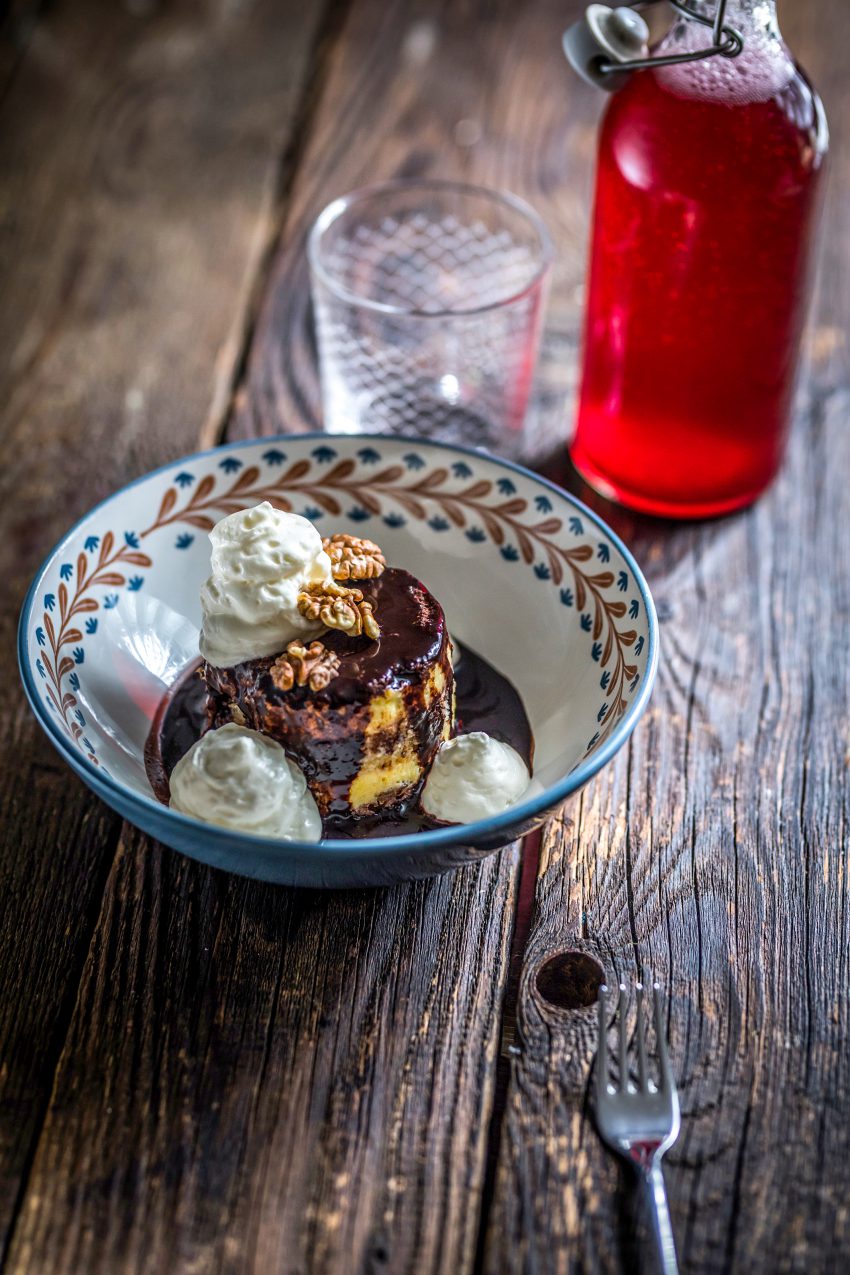 Directions
Bake three types of sponge cakes. First, divide the eggs, portion them into three bowls equally. Add 80-80 g sugar to the yolks, and mix them together until smooth with an electric mixer. Do the same with egg whites and a pinch of salt until stiff, also in 3 portions. Carefully mix the whisked whites and the yolks, and whilst constantly stirring, add 1/3 of the baking powder and 80 g flour. Ground walnut goes into sponge cake number 2, and cocoa powder into the third (please note that you need half a spoon less of flour this time). Preheat the oven to 160 degrees, and bake each sponge cake for 8 minutes. Use the toothpick test to see if they are done.
For the sugar syrup, bring a bowl of water (with sugar and raisin) to boil. Add rum at the end, then cool it down. Now mix the ingredients of the chocolate sauce, and cook until it reaches the right consistency. Continue with the vanilla cream: heat milk (it calls for a slow simmer), add half of the sugar and the vanilla bean (cut open) after boiling. When ready, mix it with custard-powder and get it off the stove. Whisk the other half of the sugar with the egg yolks carefully, add it to the milk under constant stirring. Finally, add the beaten egg whites to the cream.
Well done! Now it's time for layering your sponge cake: white sponge cake, 1/3 sugar syrup with raisin, cocoa sponge cake, sugar syrup, 1/3 vanilla cream, walnut sponge cake, sugar syrup, and the rest of the cream on top. Garnish: cocoa powder and walnut pieces. Leave it to rest in the fridge for a few hours before serving with chocolate sauce and whipped cream.
Wine Advisor:
Your palate will be overcome with the flavours of Cabernet Franc from Szekszárd which really shines when paired with the Somlói sponge cake.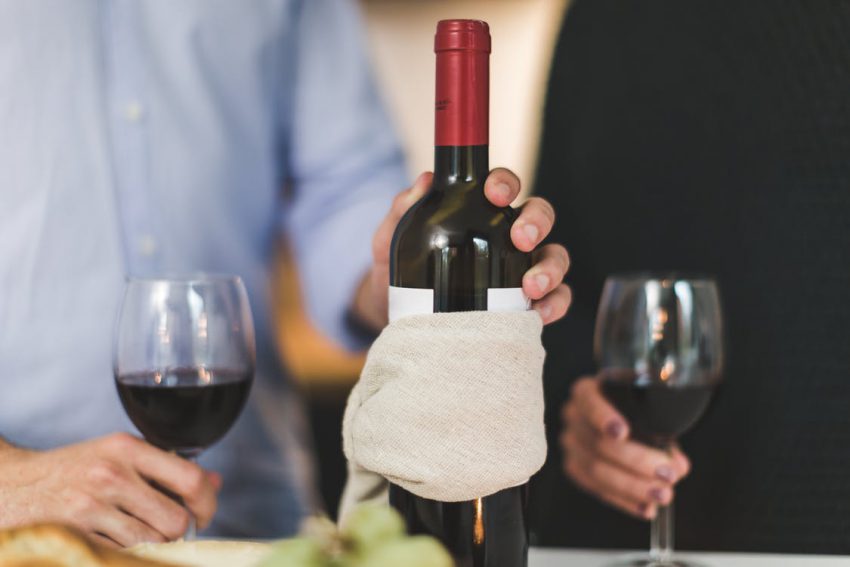 The City's Best Somlói Sponge Cake Restaurants
One of the most decadent desserts you can imagine, Hungary's classic Somlói sponge cake is lighter than it looks, which makes it the perfect choice to add a delicious finish to your meals. If you want to give this sweet treat a taste, try one of the following 11 Budapest locations which offer the best Somlói sponge cakes in town.
Found within a two-minute distance from the Opera House, overlooking the dome of St. Stephen's Basilica, Pörc & Prézli is a modern Hungarian trattoria where the focus is on all things meat, greaves, and breadcrumbs. Led by Chef István Kristóf, Pörc & Prézli's kitchen pays special attention to the ingredients used, procuring them from small producers. Instead of reinventing every other classic Hungarian dish, they simply make sure to use the finest available ingredients on the market, and prepare the meals following well-established recipes. Their huge portions, including their creamy chicken paprikash (served with buttered noodles and sour cream), are accompanied by live music in the second half of the week, as well as a flavourful list of craft beers from Szent András Brewery. To help make your culinary experience complete, try Pörc & Prézli's toothsome Somlói sponge cake.
1065 Budapest, Lázár utca 1.
The name Gerbeaud is synonymous with the golden age of Budapest and high-quality, classic coffee house experience. The Vörösmarty tér venue has been operating as a confectionery since 1858, and took up the name of Émile Gerbeaud, its new owner from 1884, who turned the coffee-and-cake house into one of Europe's most renowned cafés. With an interior characterized by the use of gold, marble, and wood, Gerbeaud provides guests with a luxurious backdrop, while they are enjoying the legendary confectionery's classic creations, from the popular Gerbeaud cake to the decadent Somlói sponge cake, made with raisins steeped in Tokaj Aszú, Valrhona chocolate sauce, whipped cream, and walnut linzer crisps.
1051 Budapest, Vörösmarty tér 7-8.
Butcher's shop-turned-steak heaven, MészárSteak Kitchen centers around meaty treats and Hungarian flavours. Located in the heart of the city, here you'll find friendly prices, dishes made from superb ingredients, and a laid-back bistro environment perfectly suitable for a romantic date or a casual business lunch. Besides the various cuts of beef, MészárSteak Kitchen offers a range of á la carte items, including meat-stuffed pancakes, green pea cream soup, salads, sweet chili and lime pullet breast, vegetarian burger, and Somlói sponge cake trifle. The menu is of course accompanied by a selection of Hungary's finest wines.
1053 Budapest, Károlyi utca 11.
With the eponymous food item in its name, where else would you find Macesz Bistro than in the heart of Pest's Jewish District? Situated within walking distance from the world-famous Szimpla and the equally renowned Great Synagogue (Dohány utca), Macesz Bistro is balancing on the line between old and new, serving a palatable mixture of Jewish and Hungarian dishes, as well as a decent wine selection. Since goose is the most prominent meat in Jewish cooking, you'll find plenty of dishes centered around the waterfowl, including foie gras paté with pear and thyme, stuffed goose neck with pearl barley, and boiled millet with goose giblets. Those with a sweet tooth won't be disappointed either: their Somlói sponge cake is one of the best in town.
1072 Budapest, Dob utca 26.
Topping Gellért Hill ever since its foundation in 1937, Búsuló Juhász Restaurant was once the home of blaring gypsy music and the city's first late night bar. After a complete overhaul in 2010, the restaurant was reinvented as a citadel of 21th century gastronomy, its concise, seasonal menu featuring classic Hungarian dishes (goulash soup from the Great Hungarian Plains, breaded Mangalica pork chop, and Somlói sponge cake) as well as a few surprising items: take, for example, the vitello tonnato (a starter from Piedmont) with bonito flakes (dried, fermented, and smoked Japanese fish), or the venison with pumpkin-poppy seed sponge cake and pumpkin spaghetti. A killer panoramic view, delicious flavours, and a friendly and swift service – what's not to like?
1118 Budapest, Kelenhegyi út 58.
One of Pest's most popular garden restaurants, Kert Bistro awaits you on Thököly út with hundred-year old trees providing soothing shade during the summer months, interiors furnished with rustic tables and chairs, and an abundance of flowers in the winter season. The family-friendly venue prides itself on its award-winning Italian artisanal coffee specialties, inexpensive lunch deals and exciting menu, full of fresh and seasonal offers, presented in a like-magnet manner. Whether you go for the melt-in-your-mouth beef tenderloin tartare, the scrumptious Thai soup with coconut milk and prawns, the divine beef cheek with pork wine, or the light Somlói sponge cake, you'll leave a happy person.
1146 Budapest, Thököly út 57.
Csalánosi Csárda is located north of Árpád bridge, just a couple of minutes from the Szentlélek tér stop of the H5 suburban train. Surrounded by the late Baroque buildings of Óbuda's main square, it is a treasured remnant of Óbuda's small-town past, when instead of huge housing projects, hundreds of small pubs, taverns and restaurants dotted the landscape. If the weather allows it, you can consume your old-time dishes (including hearty catfish stew, tripe, goulash, and a Somlói sponge cake served with vanilla ice cream and tiramisu) in the charming csárda's garden, and if it doesn't, you're welcome to take a seat inside the restaurant's ancient cellar (used for storing wine barrels in the olden days), and enjoy the live music.
1033 Budapest, Hídfő utca 16.
Established in 1887, Centrál Kávéház is one of the few survivors of the late 19th century coffee house boom in Budapest – and it's as beautiful as ever, complete with antique furniture and a lot of wooden surfaces. The downtown venue is situated on the corner of Károlyi and Irányi utca, hidden in plain sight thanks to the shades provided by the surrounding buildings. The historic café's kitchen puts Hungarian cuisine in the spotlight, with equal amounts of respect for tradition and openness to new ideas present in their dishes. Aside from delicious pick-me-ups and hearty meals, the menu of Centrál Kávéház also features scrumptious desserts, such as the Somlói sponge cake and the coconut panna cotta with passion fruit and pineapple.
1053 Budapest, Károlyi utca 9.
Run by the same family for over 40 years now, Dunacorso Restaurant is located in a historic environment. The river bank venue is not only a next-door neighbour to the Romantic-style Vigadó but is also a first-rate spot if you want to admire the royal beauty of Buda Castle while gorging on reformed flavours. Famous for its professional service, the meals prepared in the kitchen of Dunacorso range from cold foie gras with red onion jam and homemade French brioche to roasted sturgeon and creamy spinach with dried tomato cream and porcini mushroom. To end your repast on a sweet note, order one of Dunacorso's locally made dessert specialties, like the hedonistic Somlói sponge cake.
1051 Budapest, Vigadó tér 3.
Easily reachable from the inner city by the H5 suburban train, Rozmaring is a riverside restaurant and event venue with a prime view to Margaret Island, a wine cellar, no-fuss dishes, filling portions, and a tennis court. The spacious restaurant offers a nice mixture of authentic Hungarian and international fares, making sure that you'll spend a good amount of time deciding what to order. To make your life easier, we recommend that you begin your meal with a rich Óbuda-style meat pot, continue on with roasted goose liver slices served with roasted apple and cranberries, and then top it off with a gorgeous platter of Somlói sponge cake.
1036 Budapest, Árpád fejedelem útja 125.
Housed in the same late-17th century building as the Petőfi Literature Museum, Károlyi Restaurant is the perfect place for a relaxing adventure in the rich lands of Magyar cooking. Opened in 2002, the venue was born with the aim of offering dishes that reflect the spirit of traditional Hungarian flavours and the history of its prestigious home (once functioning as Hungary's most prominent literary salon). The result is a menu that's mainly comprised of seasonal dishes, including a number of gluten-free, vegan, vegetarian, and sugar-free options. If you don't have any dietary preferences, we recommend that you start off your meal with beef bouillon (served with semolina dumplings and horseradish), then move on to veal goulash in potato pancake as your main, and finish up with a Somlói sponge cake as your final course.
1053 Budapest, Károlyi utca 16.