The capital city's newest beer spot, the dog-friendly BrewDog Bar Budapest defines itself as the "hoppiest" place on Earth. The idea behind the brand comes from two relentless Scottish punks whose long-term goal is to build a genuine craft beer culture all around the world.
Since its opening in last November, people go into raptures over BrewDog's crowd pleaser brew alternatives, delicious array of burgers, chicken wings, hot dogs, irresistible snacks and modern punk-ish interior, making us more and more stoked to check it off our bucket list. Fuelled by curiosity, we decided to visit the local BrewDog Bar on a cold winter afternoon, ready to learn how to taste craft beer like a pro.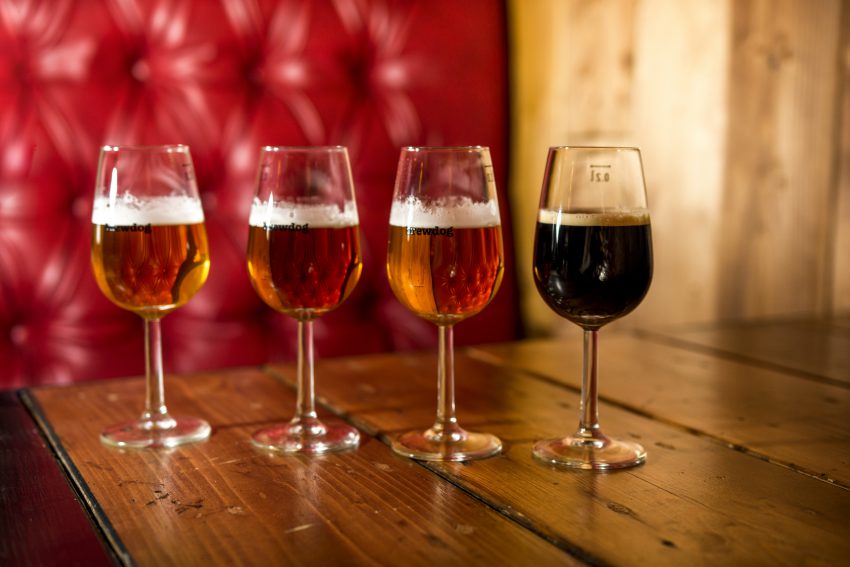 After crossing BrewDog Bar's doorstep, we found ourselves at a spacious venue of more than 400 square meters. In front of us, over BrewDog's enormous bar (it boasts 25 taps, serving an incredible line-up of local and international beers) we discovered the bar division's signature cinema styled board presenting headliners, seasonals, and small-batch beers available on the ever-changing brew menu. Eventually, other inevitable design pieces such as the neon skull caught our eyes, and we also noticed some colourful underwater creatures spray-painted on the otherwise dark grey walls. Our booth was situated in a more secluded corner, with wine red leather applied on the comfortable seating surface and a massive wooden table in the middle.
To experience more of the punk spirit, we listened to our risk-taker selves and let our hosts decide on what we are going to eat. While punk rock songs were playing in the background, we were patiently waiting for the mysterious meals to arrive. Soon four 1 dl tasting glasses landed on our table, with beer specialties personally selected for us. Little did we know that BrewDog's professional beer experts also took our food choices into consideration when picking that foursome.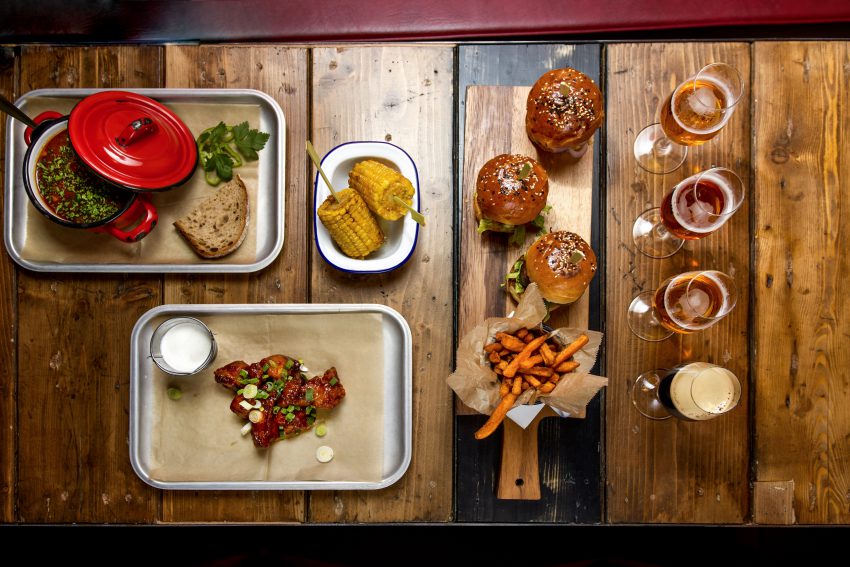 The bar's qualified staff obviously knows how to stun a new guest: first, we were served a tasty-looking slider board with 3 juicy hamburgers (Patriot with a beef patty, smoked bacon and pickles, a vegetarian alternative called Buffalo Cauliflower Burger with buffalo cauliflower steak & gorgonzola sauce, and my absolute favourite, Cluck Norris, the southern fried chicken and avocado burger with sweet potato fries), complemented by BrewDog's Punk IPA, a light coloured American brew with tropical notes and reduced bitter aftertaste. Our second and third beer "shots", Elvis Juice (its colour reminded me to Aszú, a sweet Hungarian dessert wine, with grapefruit notes and caramel) and Indie (a rather girly pale ALE with notes of pear and cookie crumbs) also enhanced the unique flavour harmony of our burgers.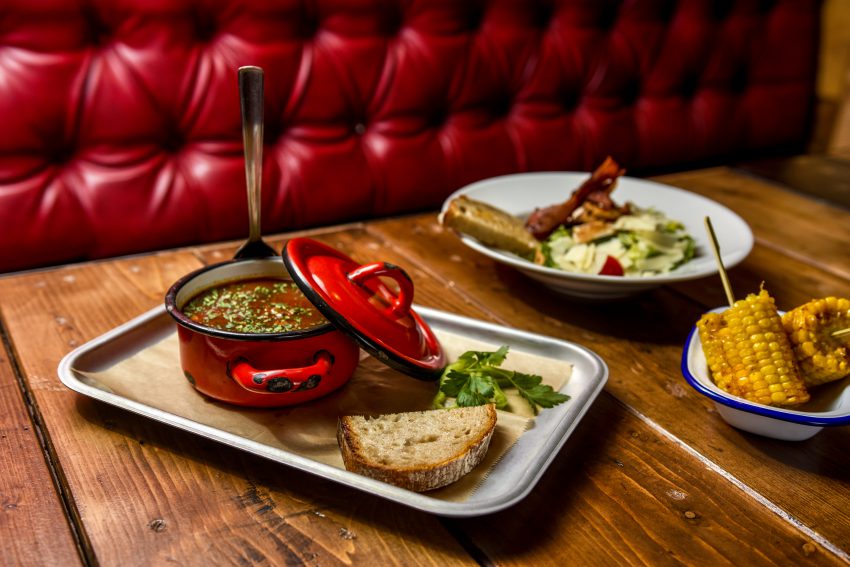 Among the array of surprise meals lining up on our table, the ultra-rich goulash soup winded its way into our hearts too. It was everything we wanted: tasty, colourful, and perfectly balanced, presented in a lovely, red enamelled-steel stock pot, a nice hunk of bread (and additional hot green paprika slices on the tray, just in case), bringing back sweet memories of our grandmother's soups. The next meal on our plate, namely the hot sauce marinated chicken wings coated in honey glaze, was hot as fire, but luckily we don't mind a spicy dish. However, to be honest, we really appreciated the taming vegan mayo dip it was served with. Thankfully, we could also rely on a glass of refreshing, dark coloured brew called coffee stout that we both picked as our ultimate favourite.
Full belly or not, leaving without testing at least one of BrewDog's snacks would be considered a capital crime. Truly, our culinary experience wouldn't be complete without the butter soaked, cajun rubbed corn on the cob that is an absolute dream. One more thing in conclusion: if you don't want to miss out on BrewDog's now available assortment, rush off to the bar like there's no tomorrow, because their beer taps change constantly.
Follow them on Instagram!
1061 Budapest, Anker köz 2-4.
Photos: Krisztina Németh