There's a lovely village only 30 kilometres away from the capital city, where innovative winemaking is taken to a whole new level. It's none other than Etyek, the so-called vineyard of Budapest.
Our destination is located in the Etyek-Buda wine region known for its flourishing grape cultivation since the 13th century. Interestingly enough, the Pannonia Sea (a shallow ancient sea) used to cover the land during the Miocene and Pliocene epochs, making the terroir rich in limestone.
Once we arrived, we couldn't help but notice the idyllic surroundings, the irresistible view, the fresh air and the lovely wine cellars lining up by the brick road.
We parked close to a reimagined chateau, the Etyeki Kúria Winery that was established 22 years ago at Etyek Old-Hill. Today it's every inch a modern winery, with Sauvignon Blanc, Chardonnay and Pinot Noir being the three of the important varietals grown by the winery. Etyeki Kúria also has 22 hectares of wine grapes in the Sopron wine region, a historical wine district of Hungary, with Merlot, Zweigelt and Blaufränkisch being the most dominant varieties.
The building itself is state-of-the-art, characterized by grey concrete and glass surfaces, while the wooden beams above the wine bar add a traditional touch to the concept. Our hosts kindly showed us around the building; first we walked outside to look around at the cosy terrace, then they guided us into a glass-walled, bright room with pieces of contemporary art hanging on the walls.
Functioning both as a meeting room and a place to have lunch or dinner at, this establishment encompasses a classic wine bar, a winery, and the event hall, capable of hosting up to 80 people. (Thanks to planned developments, this number is going to be doubled in the near future). Finally, we also visited the vinification passage where, thanks to the glass surfaces, one can see the stainless steel tanks and wooden barrels underground without entering the production facilities.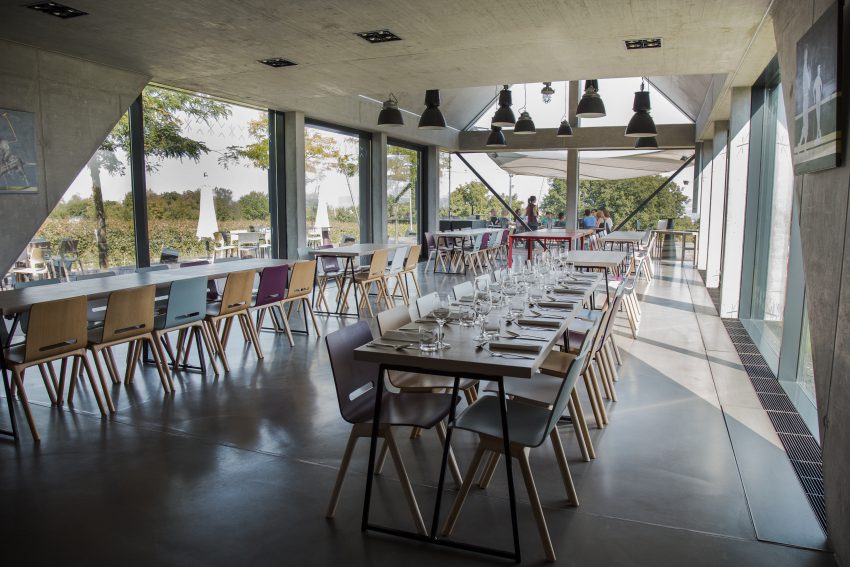 We soon returned to our nicely set table accompanied by Vince Nagy, Etyeki Kúria's commercial director who joined us for the sensory examination and evaluation of the wines. There were porcelain plates in the middle of the table filled with two types of delicious scone (with seeds and cracklings), three types of cheese (washed-rind Rouge, classic Trappist, and Hegedűs cheese made of raw cow's milk) from the local producer Etyek Tej, and dried fruits to complement the characteristic features of wine.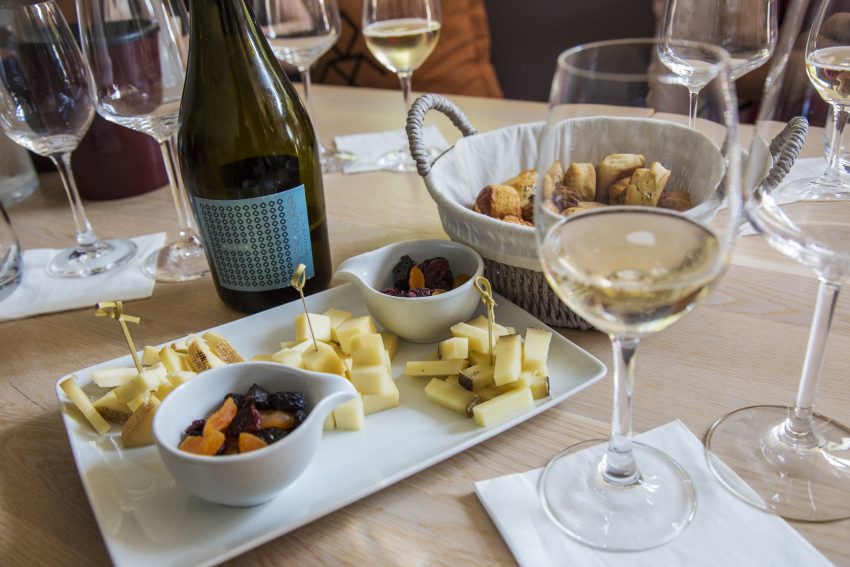 The first stop of our wine adventure was Pláne Frizzante White, a bubbly cuvée made of Királyleányka, Pinot Gris, and a bit of Zenit. Like most of Etyeki Kúria's white wines, this specialty is also the product of reductive winemaking, meaning that fermentation took place in stainless steel tanks to preserve primary aromas and flavours. Just like Pláne Frizzante White, the second wine that we sipped on, Kúria White (2017) was made of the same grape types, but without Zenit. It's similarly light and fresh, with vibrant fruitiness and floral scents.
Among the winery's premium products, we tested Etyeki Kúria's pride and joy, Chardonnay (2016), characterized by elegance, richness, light buttery aromas and roasted notes. Considering its ripe acidity and juicy fruitiness, it's no wonder that hundreds of people gather together every year at ChardonNITE to chill and celebrate Chardonnay at the winery. We wouldn't leave without trying a red wine: we chose the light, fresh "pop and pour" Kúria Red (2016) which blew us away with its woody aromas, intensive fruitiness, plum scents and fine vanilla note that made it really special. The icing on the cake is that it can be easily matched with food, such as a pasta dish or grilled meats.
Etyeki Kúria's Pinot Noir (2016) must also be mentioned: the winery was the first to plant Pinot Noir grape in this wine region. One sip and you'll feel the intense scents of sour cherry and blackcurrant with a slight spiciness, then a hint of chocolate. Its layered fruitiness, fine acidity and velvety texture make it an elegant Burgundy-style wine.
Etyeki Kúria supports Sándor Mérész, its chief winemaker of nearly 10 years in his experiments: his current project wine (made of the local Zenit variety) became a customer-favourite thanks to its crisp fruity flavours.
From the simple, but expressive labels designed by Austrian graphic designer Cordula Alessandri to the perfectly composed taste harmonies, everything seems to be spot on. Experience the special atmosphere while sipping on Etyek's quality wine at the unapologetically modern Etyeki Kúria, and follow them on social media (Facebook and Instagram) to find out more about their events!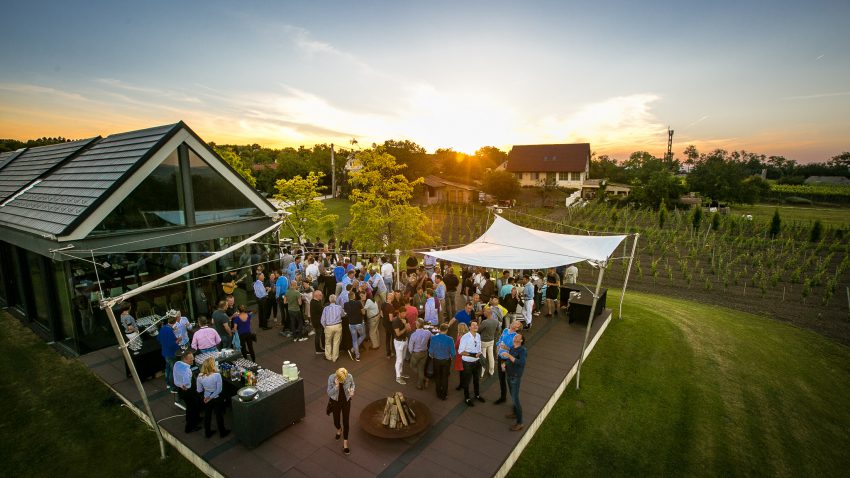 2091 ETYEK, Öreghegy Hrsz. 2699