Having dinner at a lavish Michelin-rated restaurant is not ordinary by any means:  it is a special experience that begins the moment you cross the doorstep. We were excited to visit not one but two great Budapest restaurants, only to discover the world of top gastronomy.
With high expectations and butterflies in our stomach, we headed to bistro-style Costes Downtown – located at Prestige Hotel Budapest – on a warm and sunny Friday afternoon, thinking how lucky we are to kick off the weekend in such a fascinating restaurant that was actually awarded with its first Michelin-star only after half a year of operation, in 2016. Once we arrived, we were greeted by the friendly staff that showed us to our table.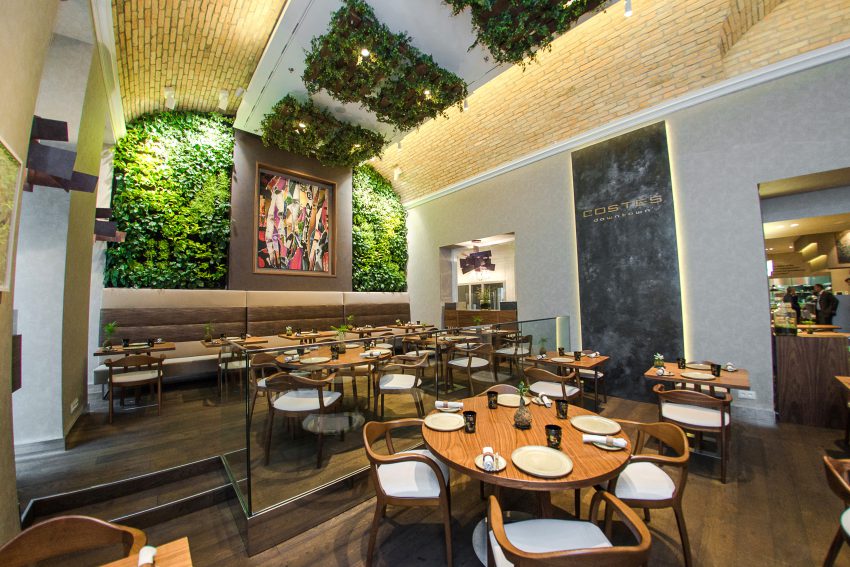 The modern & artistic design and the clean colour scheme was very well put together; from the furniture to the unique drinking glasses and the chandelier-looking window decoration everything was spot on. The combination of beige and wenge brown matched too nicely, while the greenness of live plants added a bit of jungle-ish character to the fancy and tasteful interior.
The weather was blazing hot outside, so we were happy to finally sit down at the air-conditioned venue. All we desired was a glass of cold, refreshing drink, and we decided on trying two special, non-alcoholic cocktails. My companion chose the one with apple, pear and ginger, while I opted for a more exotic choice called "no rum no plum just fun" with grape, chocolate and vanilla. This incredibly gorgeous looking drink (served in a black cocktail glass) took us off our feet just by its appearance, but the freshness of it is what wooed us.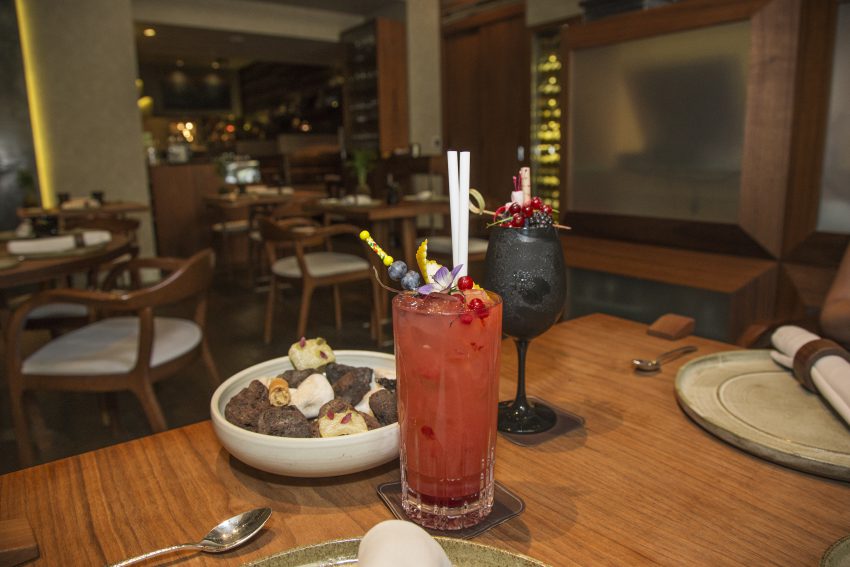 Looking at the rather international menu, we decided to go for a 4-course meal including two starters, a main course and a dessert. The service was so fast that the first tasty treat arrived at our table before we could blink twice! The amuse bouche, namely a basket of freshly baked bread rolls (white and whole wheat) smelled incredibly appetizing, let alone the delicious butter variations and salmon-trout tartare that they served with them. If it weren't enough, another welcome plate arrived with tiny snacks to make us feel even more spoiled before the starters actually landed on our table.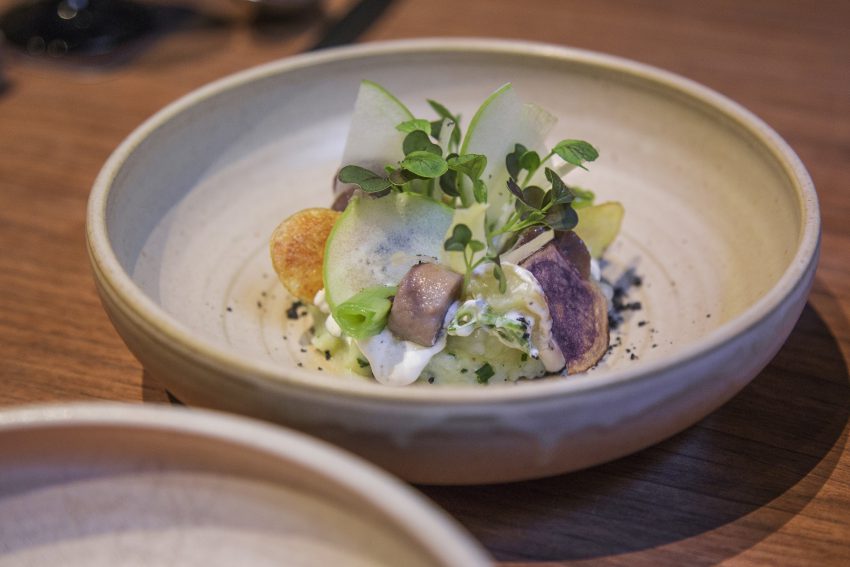 Portuguese head chef, Tiago Sabarigo knows how to spin comfort classics into modern hits: my potato salad (with green apple slices) was a piece of art, in which spring onion, tapioca and different potato textures (potato confit, purple and yellow chips, creamy mashed potato, smoked potato) created an amazing flavour harmony. The other starter, gazpacho is also worth mentioning, because it is nothing like you've seen or tasted before. Thanks to a creative touch (grilled watermelon, fresh orda cheese, and olive oil-tomato sorbet) this creamy, cold paprika soup became the menu's star specialty, with both gently sour and delightfully sweet flavours.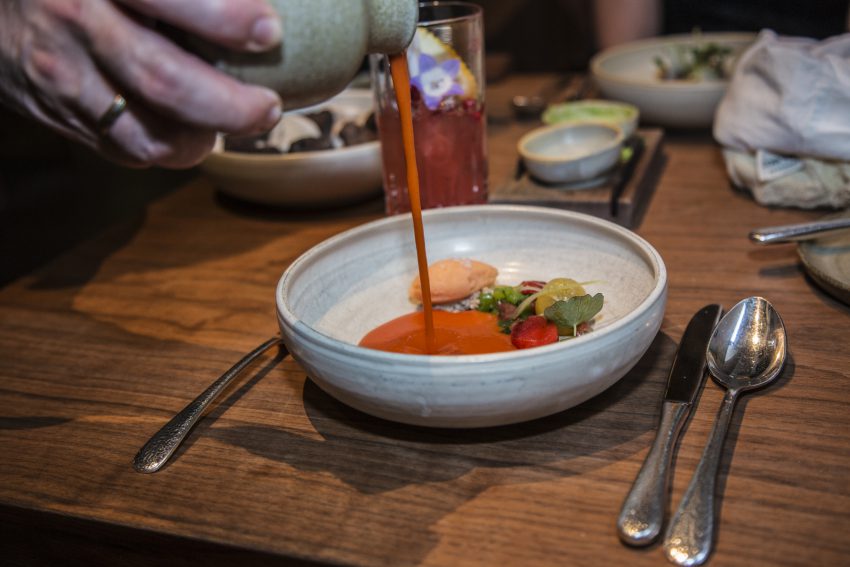 As our discovery through food utopia got to another destination, we were looking forward to what's next after the mouth-watering starters. One of us ordered pan seared pike perch with salicornia and leek, served with bulgur and an exciting side dish, a distinctive puree which was coloured with squid ink. Together with the citrusy sea asparagus, it balanced the characteristic flavours of fish incredibly well. The menu's risotto-inspired meal, "like a risotto" also caught our attention, and oh, how good it was! The gorgeous mixture of summer squash, pearl barley, quail egg and parmesan chips was absolutely delicious and filling, leaving us feel almost full just before the dessert.
Looking at the artistically served dessert creations, it would have been a big mistake not to test what Costes Downtown offers when it comes to sweet treats. We ordered two classic, but reinvented desserts, of which both the cottage cheese noodle (with lavender, cinnamon brioche crumbs and apricot tulle) and the strawberry floating island were phenomenal. All in all, the whole evening was perfect, we couldn't have wished for better, and the taste bud pleasuring Michelin-star experience wasn't even over… Stay tuned!
1051 Budapest, Vigyázó Ferenc utca 5.