Thanks to its landscape and gorgeous buildings, Budapest is among the world's most beautiful capital cities. Visit the below locations to see our beloved capital in a new, even more flattering light!
1146 Budapest, Olof Palme sétány 6.
Soak up the scent of Belle Époque Budapest at Városliget Café, a place where history, the romantic atmosphere of the turn of the century, and delicious flavours meet! Situated inside the neo-Baroque building of the Ice Skating Hall (designed by Ödön Lechner, one of the greatest Hungarian architects), Városliget Café presents you with an unparalleled view of the gothic towers of Vajdahunyad Castle, and the boats of the City Park Lake. Couple that with the soothing live music, a friendly and professional service, and a menu composed of Hungarian classics as well as international favourites (all prepared from seasonal ingredients), and you have the makings of a perfect night!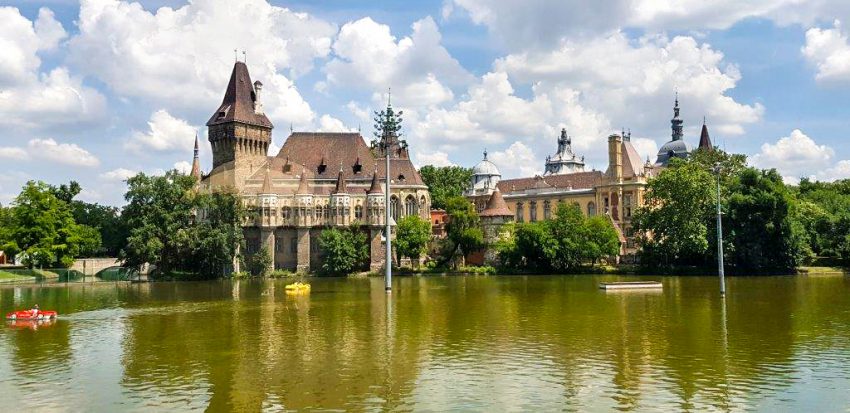 Cruising on river Danube is just as great at night as it is in the daytime, if not more. Take a look at Budapest's world famous sights in their evening glory from the deck of MAHART's evening cruise ships, and enjoy the view, a refreshing welcome drink, a delicious buffet-table dinner and live music provided by Beatangok Band. The capital city is truly magical at night, see it for yourself! The offer is valid until 22 September, from Tuesday to Saturday, and cruise ships depart from Vigadó tér's ship station at 7 PM. Please note that the bar on board serves a wide variety of drinks, but it isn't included in the price. For further information and details, please check out MAHART's official website!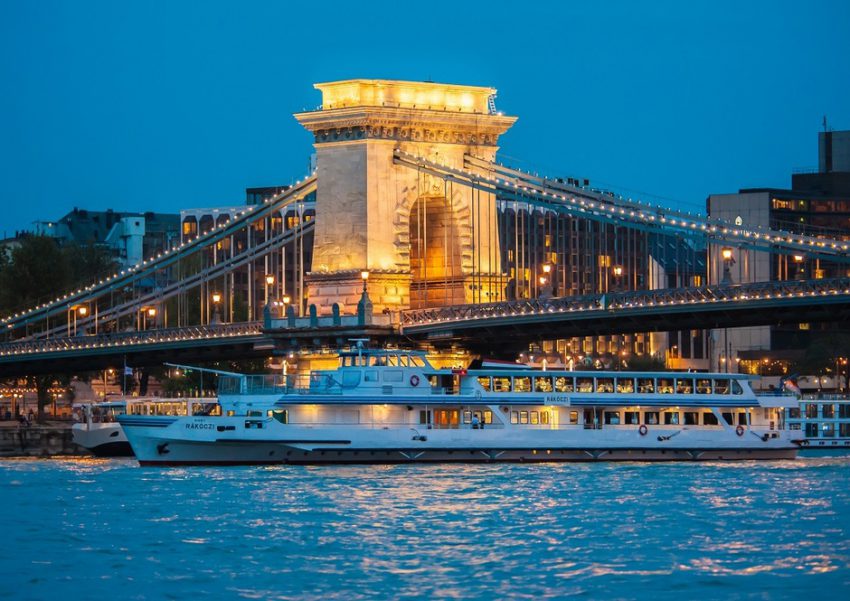 1055 Budapest, Kossuth tér 13-15.
Picture this: your guided tour to the Parliament has just ended, you are overwhelmed with history and a sense of hunger, but you don't yet want to leave this enchanting and grand part of the city. "What should I do?" you ask yourself. The answer is simple: drop by Elysée Bistro! The proud successor of Elysée Café House, a once-legendary coffee house founded in 1931 by the Gönczi brothers, Elysée Bistro offers tasty meals and a great view of the Hungarian Parliament building at Kossuth tér, which you can enjoy sitting and relaxing at their summer terrace. Elysée is not just a simple French-style bistro, but also a museum, featuring a collection of old writings and photographs, narrating the story of this historic venue. The kitchen serves a mouth-watering combination of authentic Hungarian dishes and French bistro meals, using the freshest ingredients available every day. The homey restaurant is open every day from early morning until late in the evening, serving breakfast, lunch and dinner, accompanied by live swing & jazz music on Friday nights.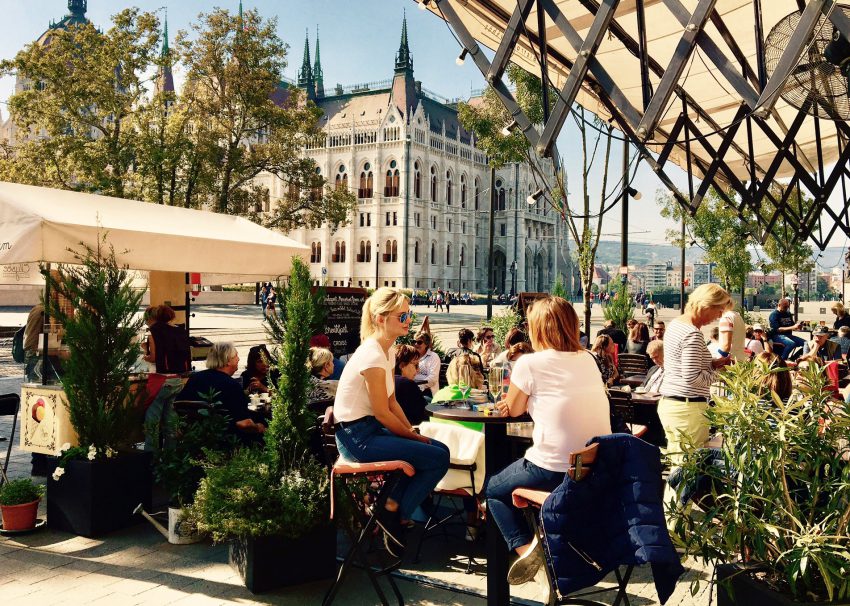 1075 Budapest, Holló utca 6.
High above the buzzing promenade of Gozsdu Udvar, the luxurious terrace of Gozsdu Sky Bar awaits visitors with one of the best rooftop views of the city since it first opened its doors in the spring of 2014. Once you make your way to the sixth floor of Holló utca's EZ parking garage, you can marvel at the statue-topped peak of the Citadel, admire the elegant shape of the dome of St. Stephen's Basilica, or get lost in the exciting outline of Pest's historic city centre. After you're done soaking in the unique view, you can start snacking on a tasty quesadilla, a light salad, or a delicious pizza, while sampling the rooftop bar's extensive cocktail selection and watching as the sun goes down behind the Buda Hills. If you've had enough of dodging the constantly flowing stream of people of the Party District, and want some peace of mind, here is your place!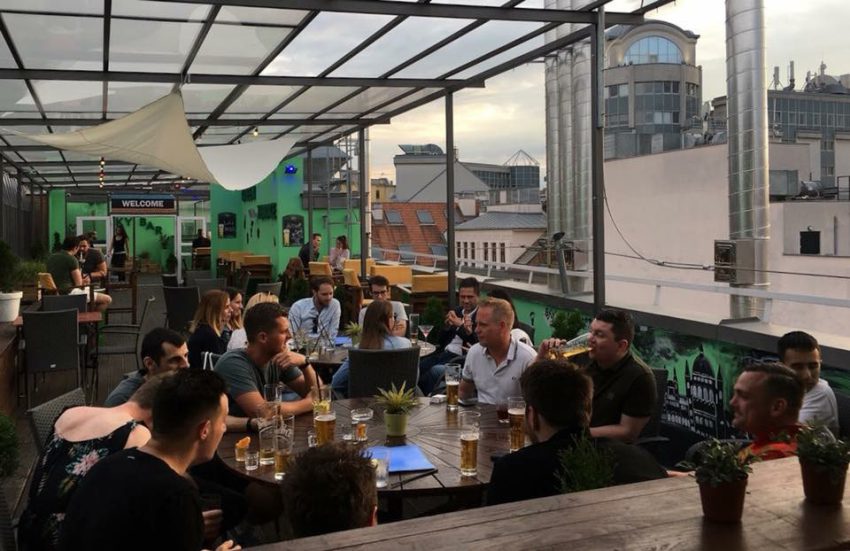 1113 Budapest Kosztolányi Dezső tér 2.
Hemingway restaurant is located in the idyllic area of Lake Feneketlen ("Bottomless" in Hungarian), surrounded by the beauties of nature within reach. Enjoy your meal (brunch, lunch or dinner) in the most tranquil atmosphere, where stress is an unknown word. The cozy terrace and its modern interior will sweep you off your feet, as well as the delicious food creations (prepared solely of ingredients sourced from Hungarian suppliers) and the best local wine you can order from Hemingway restaurant's appealing menu. It's a place where quality, taste and visual perception are equally important. If you don't believe, go see it for yourself!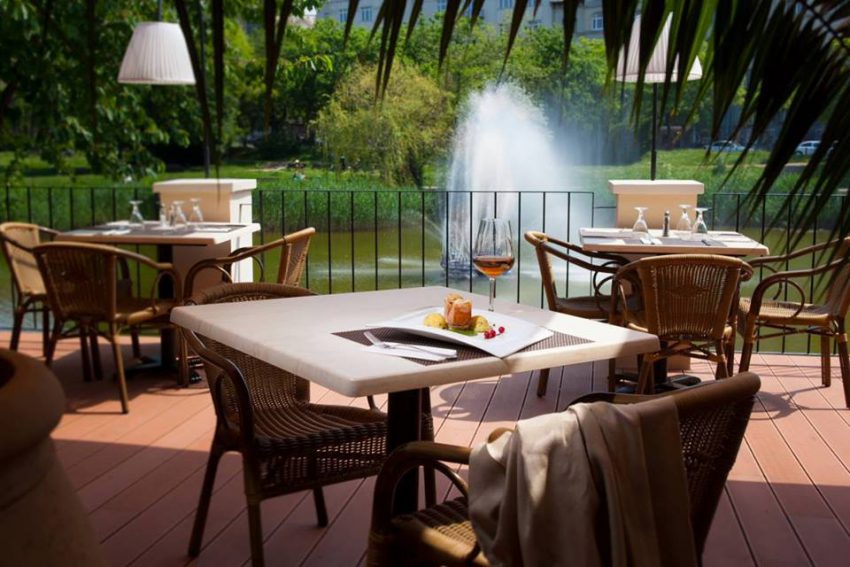 1013 Budapest, Clark Ádám tér 1.
The newest addition to Budapest's rooftop bars/restaurants is Leo, where you can overlook the beautiful sights of the capital city including Chain Bridge's bulky lions, the Gellért Hill, and our gorgeous River Danube that divides Budapest into two parts. Without exaggeration, the astonishing Clark Ádám tér venue is situated in one of the most spectacular locations in the heart of Budapest, and other than the delicious, artsy food creations, the jaw dropping panorama is another reason why you should definitely check it out. Visit Leo's terrace, and enjoy the royal treatment! Please note: the restaurant is very popular, we suggest guests book a table in advance.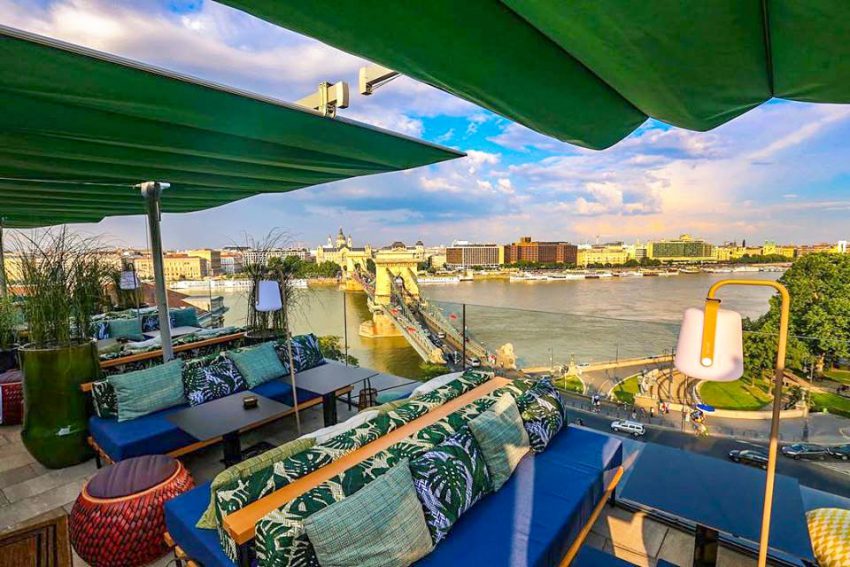 1014 Budapest, Budavári Palota
It is impossible not to notice one of Budapest's most emblematic buildings, Buda Castle which sits in the cultural Castle District, right on the south tip of Castle Hill. This venue gives home to Budapest Terrace, the café and restaurant that is waiting for you with cold drinks, cocktails, delicious hot dishes, tasty snacks and the most beautiful panorama imaginable. Guests are welcome to the chilled terrace from 10 AM to 10 PM everyday all over the summer, with an exclusively furnished specialty longue area. Choose this excellent venue for special occasions, romantic date nights or whenever you long for something extraordinary. Budapest Terrace won't fail to impress!