Now that spring has sprung, it's high time to move the fun outside! Without further ado, here's our list of Budapest's nicest open-air spots.
Located beside the iconic Széchenyi Chain Bridge on the Pest side, Pontoon is one of the city's most popular urban meeting places among locals and foreigners alike, and it's hardly a surprise why. Overlooking the gently flowing Danube and the marvelous Royal Palace, Pontoon acts as a cultural/community space during the daytime, then transforms into a buzzing party venue in the night, awaiting Budapesters with cultural programs, live music concerts and unforgettable parties, as well as cool drinks and a magical atmosphere. Whether you'd like to have an awesome night-out with your friends, or get a bit of work done on your laptop while sipping on a refreshing lemonade, Pontoon is the place to be.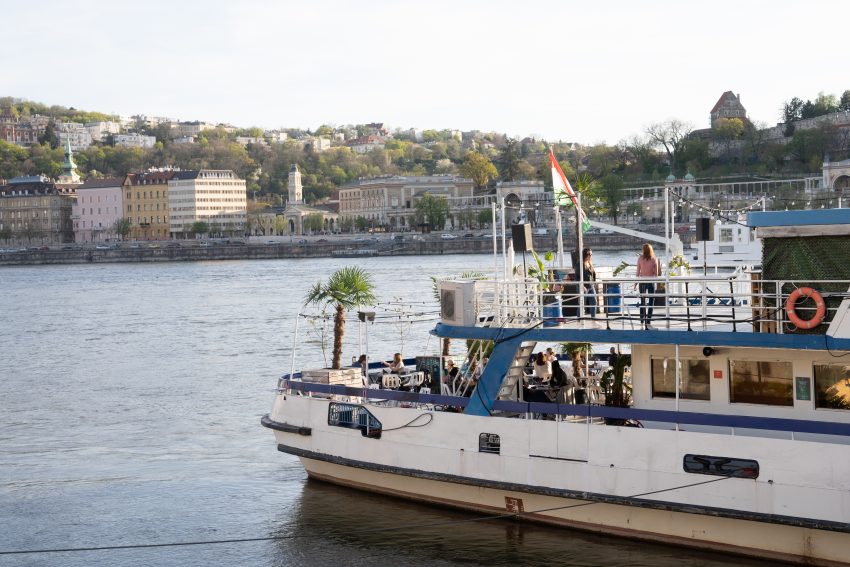 Photograph: Kriszti Bertók
1051 Budapest, Vigadó 1/A kikötő
The Pest shore's answer to Buda's legendary Fellini Kultúrbisztró, Kabin was opened in the summer of 2017, and is situated at the foot of the Újpest railway bridge on peaceful Népsziget island, only a few minutes' walk from the Újpest-városkapu stop of metro line M3. Offering movie screenings, acoustic concerts, yoga classes, picturesque sunsets, live DJ sets and increased well-being, this seasonal waterfront venue welcomes guests with a wide range of drinks and a varied bar food selection, including burgers, salads, veggie dips, sausages and more. If you'd like to escape the hustle and bustle of the big city and get in touch with nature while listening to booming techno beats and pampering your taste buds, Kabin is your place to be.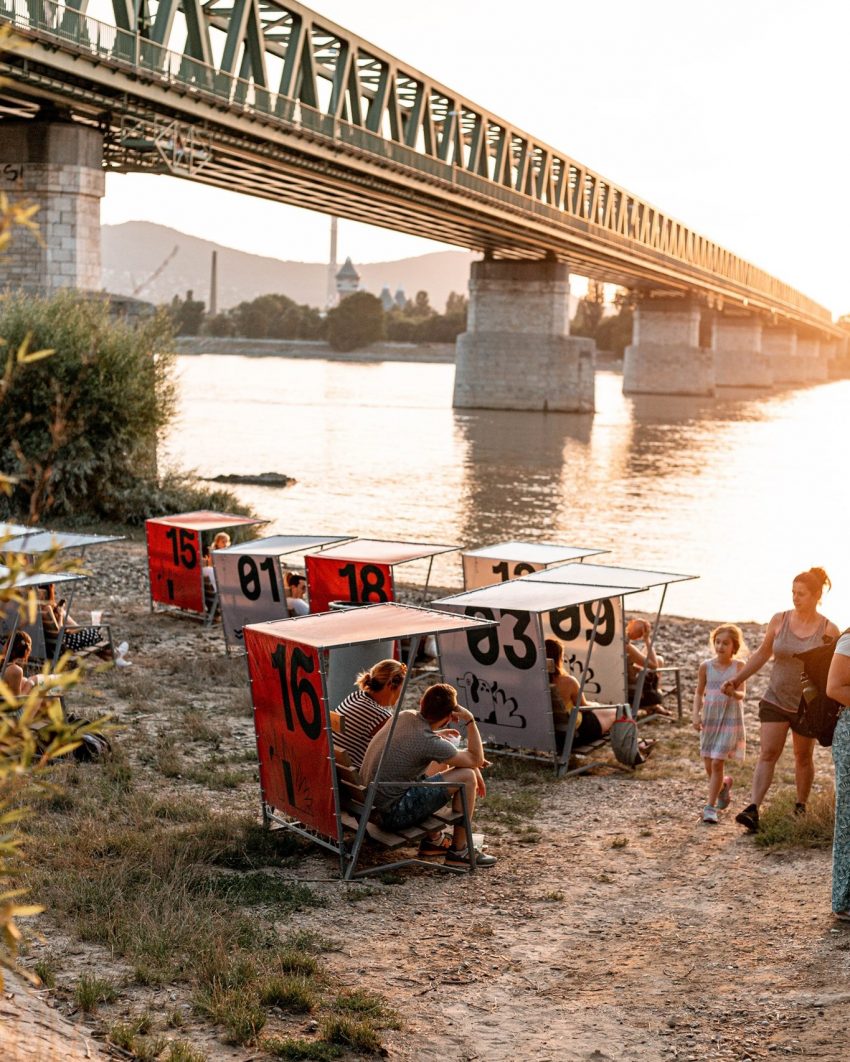 1138 Budapest, Zsilip utca
Nested inside the patinated courtyard of the Baroque Zichy Palace in the city's Óbuda neighbourhood, Kobuci Kert is one of the most popular outdoor live music venues in Budapest. Established as a special location for the Kapolcs Valley of Arts festival back in 2005, cosy Kobuci is its own institution now, bringing the best of (mainly Hungarian) underground rock, folk, jazz, blues, and world music to centre stage from April to August. Giving off pure festival vibes six days a week, Kobuci boasts plenty of space to dance, but also to eat: make sure to try their signature kobuci sandwich, a delicious medley of garlic sour cream, roasted sausage crumbs, cucumber and tomatoes.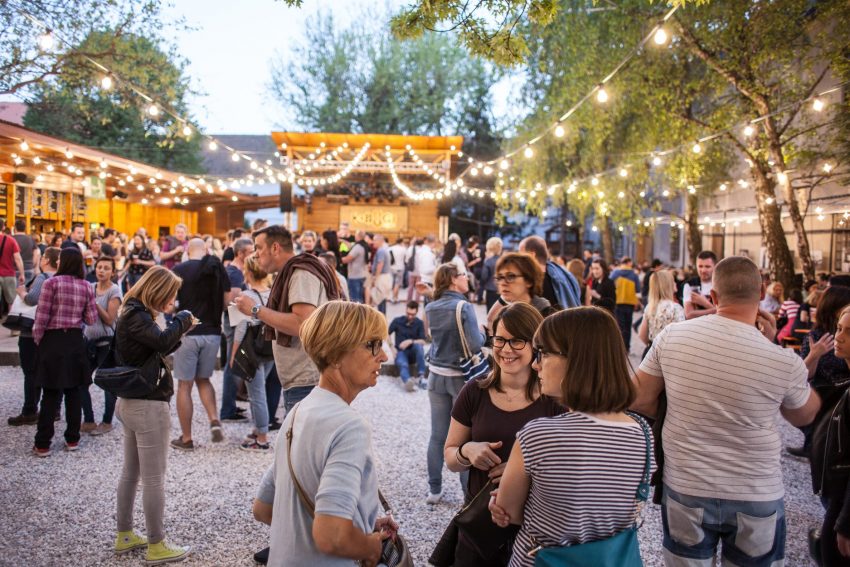 1033 Budapest, Fő tér 1. 
Surrounded by a number of rusty industrial buildings from the first half of the 20th century, Kertem moved from City Park to the backyard of the future Museum of Transportation last summer, yet it is still the same urban hippy haunt that Budapesters came to love. Maintaining its original ruin bar feel, Kertem is now also permeated by a summer camp ambience, courtesy of the colourful outdoor furniture, the large trees, and the diverse set of individuals dotting this hidden patch of paradise. Regardless if you come for the greenery, the chill music, the cool crowds or the bombastic Balkan burger, Kertem will not disappoint you.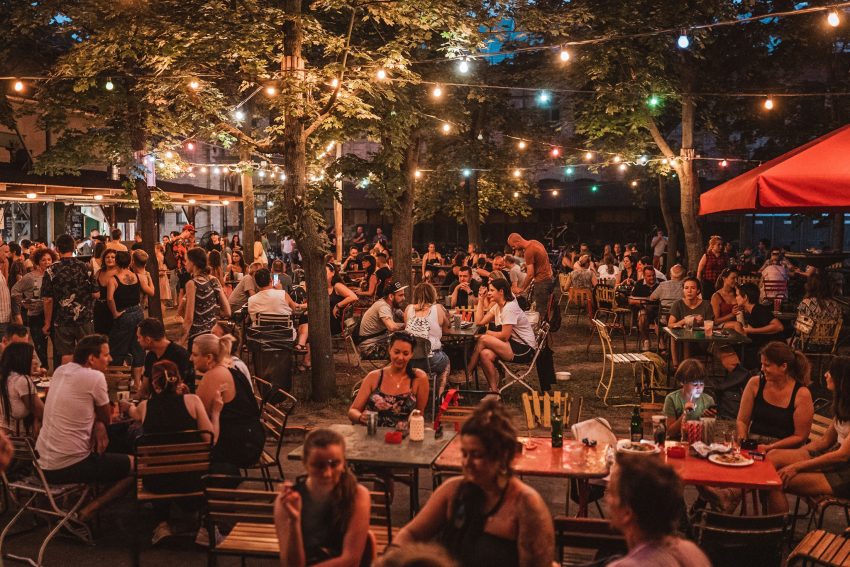 1101 Budapest, Kőbányai út 30. 
The largest open-air music venue in not just Budapest, but the whole of Europe, launched in 2012, giving place to festival-size concerts, massive parties, and performances from every genre of art. Occupying an area of more than 11,000 square metres just a stone's throw away from the Hungarian National Theatre and the Palace of Arts, Budapest Park is a multifaceted entertainment and event centre with its very own KFC, a party venue that looks like a tropical jungle, a retro garden, several VIP lodges, and a main stage that will see the likes of Alt-J, Billy Talent, Moderat, The Pixies, and Rise Against performing in the coming months. As the expression goes: be there or be square!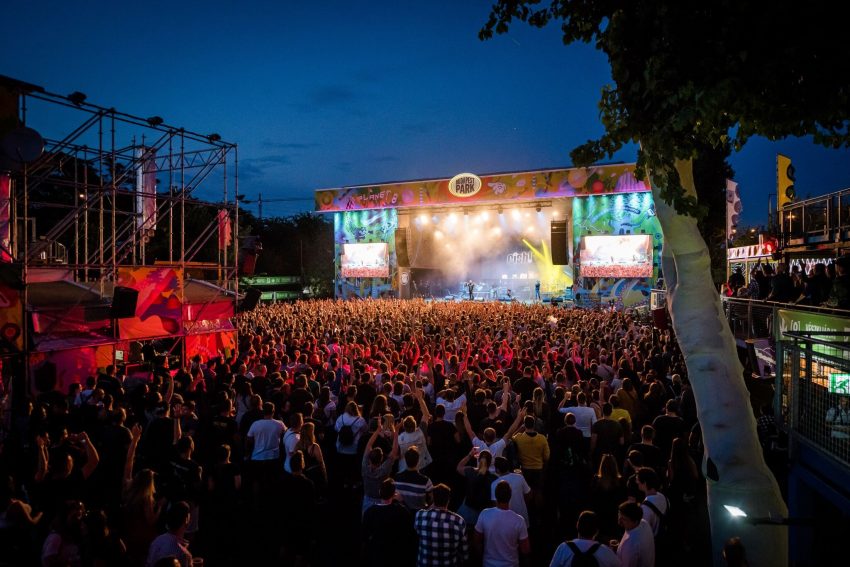 1095 Budapest, Soroksári út 60.
Similarly to Kertem, Budapest's beloved Dürer Kert had to give up its City Park location last year, too, finding its new home in south Buda, next to Lágymányos Bay: easily reachable by public transport or bike, Dürer Kert entices those looking for a riverside getaway with a seemingly endless garden, an abundance of tables, a romantic riverfront with hammocks and bean bags, tables for a friendly game of ping-pong, and equipment you can rent for outdoor cooking. Burgers, beers, and other liquid refreshments serve as your body's main sources of sustenance, while the festival atmosphere is ensured by a steady supply of live music acts.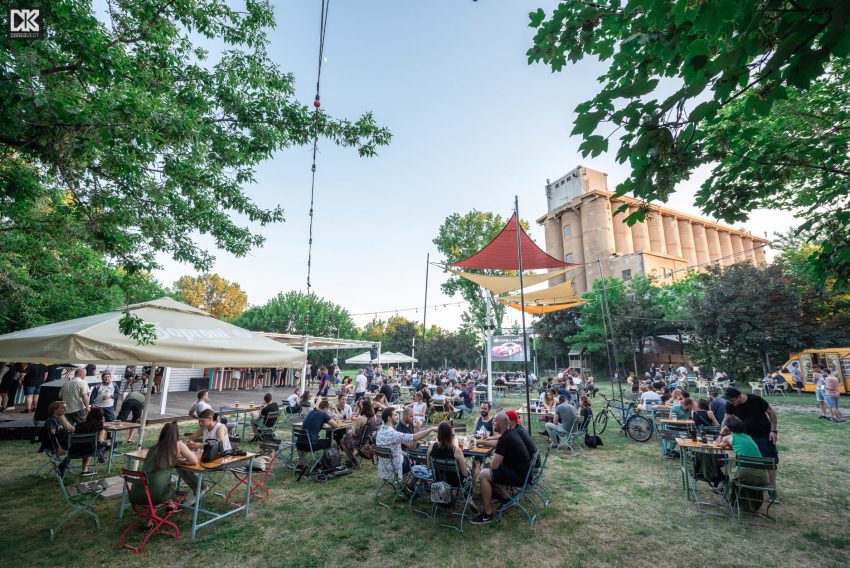 1117 Budapest, Öböl utca 1.