With still a few weeks of summer left for us to enjoy, we thought it'd be a great idea to show you around our favourite outdoor spots in Budapest, just to give you an idea on where to stock up on good vibes and Vitamin D before we're forced once again to stay indoors all day long with no end in sight. So without further ado, here's our list of the city's nicest open-air spots.
Perched atop Gellért Hill, right at the foot of Budapest's towering Liberty Statue is where you can find one of the city's hippest summer bars, 1xfent. Inspired by the Citadella's regularly held Botellón events (a tradition of people coming together to socialize in public areas with a few bottles of wine, originally hailing from Spain), 1xfent offers an unparalleled view of the sprawling Magyar metropolis, fine wines from Bortársaság, a wide range of spirits (including a Hungarian artisan gin), delicious craft beers from Hübris brewery, as well as live DJ sets at night on the weekends.
1118 Budapest, Citadella sétány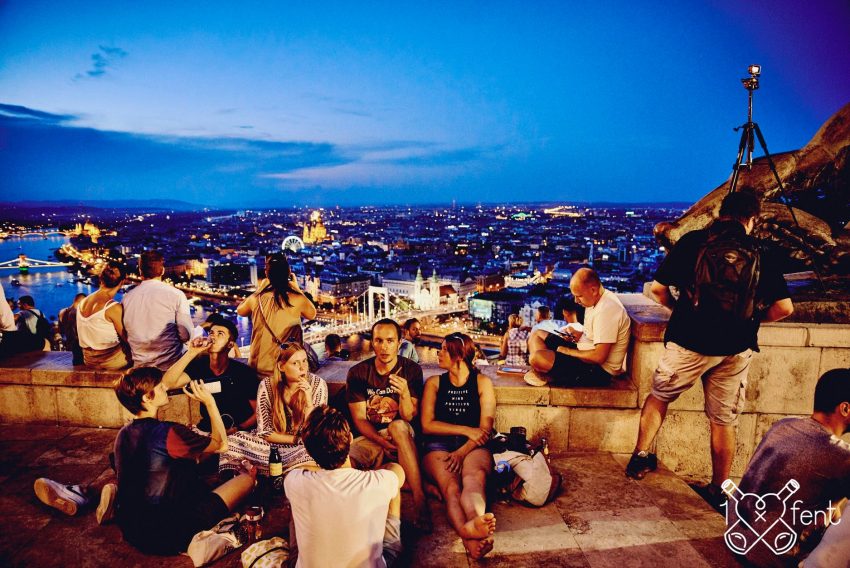 Located next to the Pest pillar of the iconic Széchenyi Chain Bridge, Pontoon is one of the city's most popular urban meeting places among locals and foreigners alike, and it's hardly a surprise why. Overlooking the gently flowing Danube and the marvellous Royal Palace, Pontoon acts as a community space during the daytime, then transforms into a buzzing party venue in the night, awaiting Budapesters with live music concerts and DJ sets, as well as cool drinks and a magical atmosphere. Whether you'd like to have an awesome night-out with your friends, or get a bit of work done on your laptop while sipping on a refreshing lemonade, Pontoon is the place to be.
1052 Budapest, id. Antall József rakpart 1.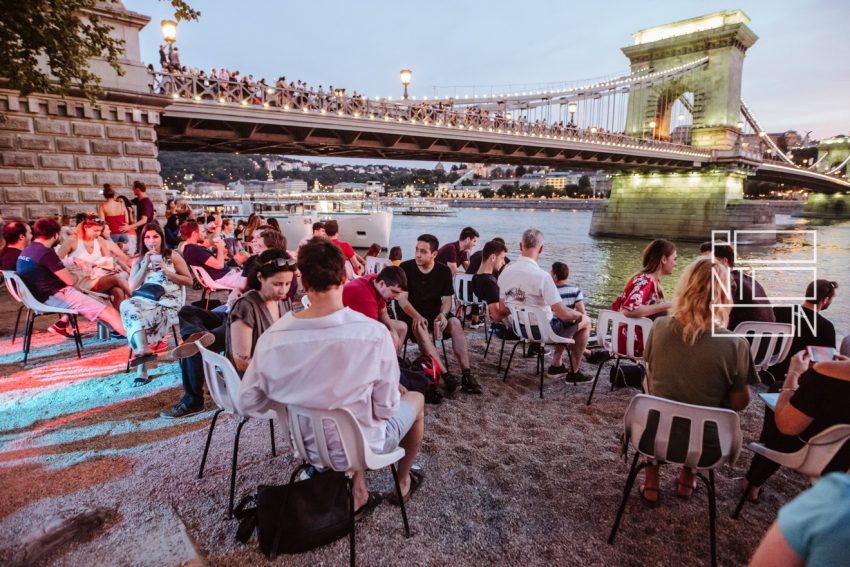 Reachable from the centre by the H5 suburban train and a short walk, and operating on the romantic Római-part in the Óbuda neighborhood of the city, Fellini is one of Budapest's best-kept secrets, a truly enchanting riverside venue with striped deck chairs, a floating movie screen, amazing grilled dishes and picnic packs to munch on, as well as soothing Belgian brews to refresh yourself with. Favoured by families, bikers, and more and more tourists thirsty for off-the-beaten-path stuff, Fellini acts as a natural safe haven to people fed up with the noisy and crowded streets of the inner city, offering them the gentle waves of the Danube, trees as shades, comfy French tunes during the day, and live music on the weekends at night.
1039 Budapest, Kossuth Lajos üdülőpart 5.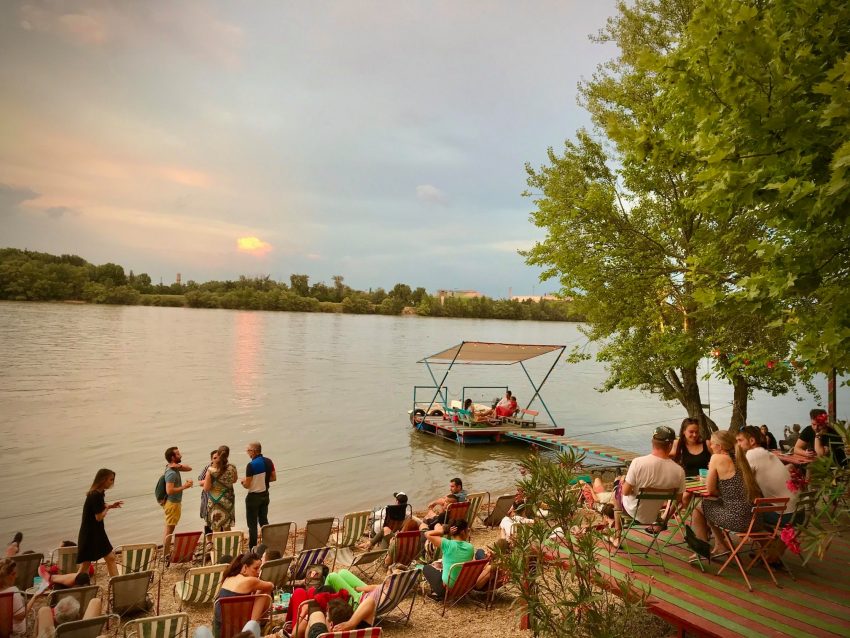 Deep within the concrete jungle of Budapest's Újlipótváros neighbourhood (famous for its modernist architecture and many cafés), surrounded by friendly buildings, you'll find a public park-turned-oasis that in recent years has become a true Mecca for those who got bored of the watering holes of the Party District: Figaró Kert. Embraced by Katona József, Visegrádi and Borbély utca, Figaró Kert is a lovely little venue, boasting lots of greenery, a fountain, and a bohemian atmosphere, enhanced by the nicely put-together drink assortment and the few snack items available (including pulled pork sandwich and quiche). Naturally, Figaró Kert is a dog and family-friendly place. Mind you, reservation is a must, and they only accept cash.
1132 Budapest, Borbély utca 2.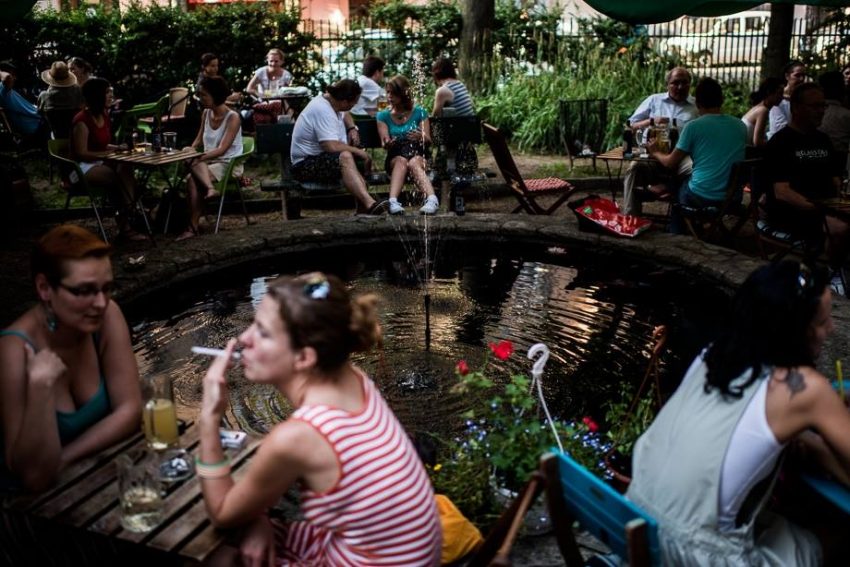 The eastern Danube shore's answer to the western shore's Fellini Kultúrbisztró, Kabin was opened in the summer of 2017, and is situated at the foot of the Újpest Railway Bridge on Budapest's hidden Népsziget, only a few minutes' walk from the Újpest-városkapu stop of metro line M3. Offering movie screenings, acoustic concerts, yoga classes, picturesque sunsets, and live DJ sets, this seasonal waterfront venue welcomes guests with a wide range of drinks and a varied bar food selection, including burgers, salads, veggie dips, sausages and more. If you love the closeness of nature that Fellini offers but would prefer if there were a tidbit fewer people around you, Kabin is a great alternative.
1138 Budapest, Zsilip utca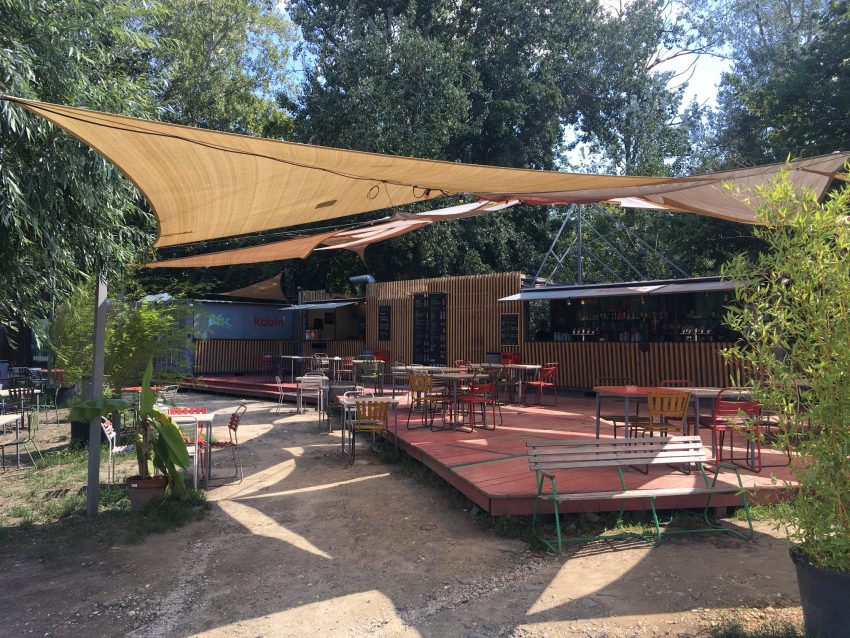 Kopaszi-gát
One of the nicest outdoor venues of Budapest is found in south Buda, in the vicinity of Rákóczi Bridge: the eponymous Kopaszi-gát is a 900 meters long dam separating the Danube from the tranquil Lágymányosi-öböl, and it was only a few years ago that this ten-acre land has been refurbished and repurposed as a public park. Since then, Kopaszi-gát has become a literal peninsula of peace, where you will find a handful of restaurants and terrace cafés in case you left your picnic basket at home. For a nice, romantic getaway from the city, we suggest you check out Fruska, a homely bistro where you can enjoy artisan cheese products, hamburgers and healthy snacks in a Provencal milieu. Remember not to bring dogs, because they are not allowed in the park.
1117 Budapest, Andalgó utca 15.