Meeting Hide the Pain Harold face to face was a really nice experience, because the Hungarian man behind the worldwide phenomenon is such a friendly, genuine person. Over a coffee at Szimpla Háztáji we talked about his hobbies, and how becoming a meme has infected his life.
After finding a photo of you on social media back in 2010, you were asked to be a stock photography model. Within a short time, your face and incomparable smile became known all over the world. How did your life change?
Dramatically. I mean, nothing tragic has happened, but it took me a long time to accept this situation. It's not what I signed up for. As an engineer I considered myself a serious man, and seeing how people made fun of my face didn't make me happy, to say the least. I've came across numerous memes which I wasn't proud of. But after a few years, I decided to take on the Hide the Pain Harold role, because I started looking at it as an opportunity, not a threat. My face was turned into a brand, I would be dumb not to make the best of it. So all in all, I have no regrets about that photoshoot.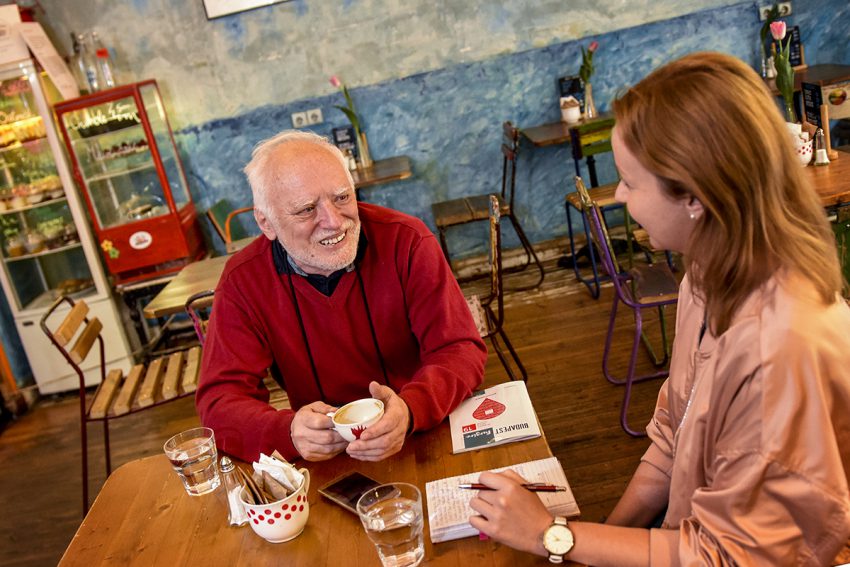 Since that time you've been getting a lot of PR requests. Do you always say yes?
I'm not a pushy type who would do anything to be in the spotlight, so I've never called anyone and said: Hey, I am Hide the Pain Harold and I want to get a gig. When I am asked to make a public appearance that I have doubts about, I say no. I don't want to become a sideshow. Since my first video that was for the request of a car dealership, my life has changed so much that sometimes I say to myself: "Oh my God, I can't believe this!"
What are the most memorable opportunities you got?
I loved the OTTO commercial in which I had to dress up in many costumes. You know, the ones I wore in the stock photo shoots. I also enjoyed being invited to an IT company's Siberia headquarters as a "surprise guest" at the end of a conference. Everybody was so friendly, and the location was really special. Dressing up as a zookeeper at Nyíregyháza Zoo was also such an experience. I remember cleaning up after the elephants, and letting monkeys steal grapes from my hands. It was fun.
How does your family handle your unwanted fame?
From denial to acceptance, my wife also went through the different stages. It was an important milestone when I first got paid for a gig. People often tell her that she is lucky to be married to me, and her response is: why is that such a luck? Interestingly enough, my 45-year old architect son doesn't accept the meme story at all, he is trying to completely block it out of his life.
What about you? Do you enjoy it?
I do! Video shoots are always so much fun. Also, I've been to beautiful countries. A few weeks ago I visited England where I played the leading role in a short film. I don't want to spill the beans because it hasn't been made public yet, but I can tell that I portrayed myself applying to the Faculty of Memology. During the week-long shoot, I did what university students do: I went to the cinema, the library, turned up at parties, and had lunch at the canteen. I loved every second of it.
What do you like to do in your free time?
I go to swim 2-3 times a week, but I also like outdoor activities. There is a game called Geocaching that I like to play quite often. Geocaches are hidden all around the world, and when you find one, you get access to a website that belongs to the given destination. Once you entered, you can upload photos and leave a comment about whether you liked the place or not. It's witty. I've found approximately 300 chamber boxes so far, and there is one hidden by me. It can be found in Erdőkertes, Hungary.
How do you hide the pain when you are upset?
When I am unhappy, I listen to classical music, Mozart especially. But I also like the music of the 60s and 70s, the Beatles or Rolling Stones, for instance. Actually, before becoming a meme, I worked for a small town radio station for 5 years in my free time.