Only a year after giving birth to her son, former foreign trade assistant Gabi Bartyikné Oláh took a step towards becoming a successful entrepreneur and started taking pole fitness lessons in 2013. Her passion soon turned into her profession: today not only is she an accomplished pole fitness instructor but also masters the skills of aerobics and aerial hoop.
How did you get into pole fitness?
I've been interested in it for quite a while, but couldn't find a pole fitness course in the neighbourhood. Once I've finally had the chance to try, it was love at first "touch and turn". It gave me the experience of confidence and leisure, and helped me recharge my batteries. I can safely say that this occasional 1-hour did wonders; it was 60 minutes of me-time when I was not a mom or a wife. I was there for myself only. However, at times it was challenging since I was recovering from my C-section.
Was it hard to change your career path?
Surprisingly, there weren't any significant obstacles, probably because I've always worked in positions where I had to deal with people. The only difficulty was to make up my mind whether to become an entrepreneur. Now I know it was the best decision I could have made, and I feel extremely lucky for doing what I love. I'm thankful for having a gorgeous son, a husband who's been very supportive from the start, and parents who I can always rely on.
What kind of qualifications did you need to become an instructor?
Being a certified aerobics instructor would be enough, but I wanted to accomplish more to stand confidently and proudly in front of my students. Pole fitness is indeed a dangerous sport, at times students perform moves hanging upside down on the pole without using their hands. It is my responsibility to teach them the right techniques. Also, for me passion is just as important as the paper qualifications.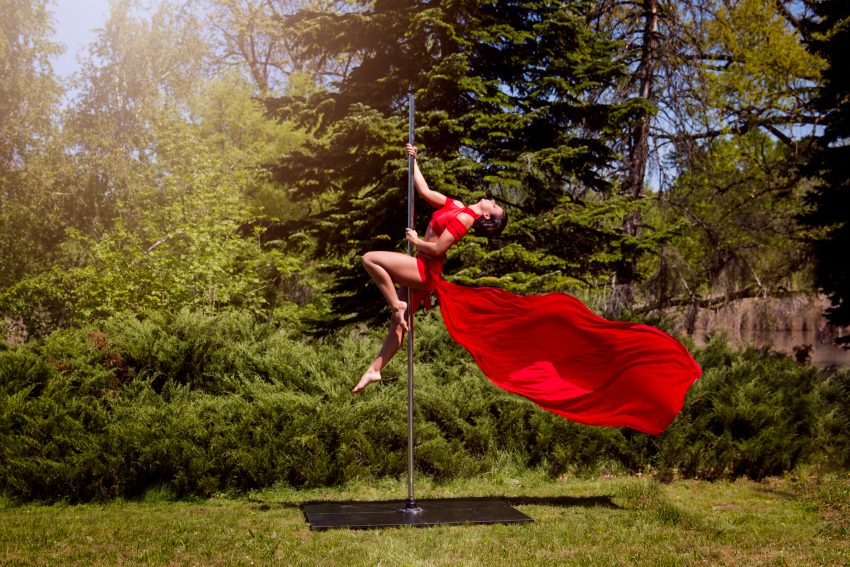 What kind of classes are available at your studio?
Pole fitness which gives you confidence, makes you stronger and shapes you. Classes are very versatile, we learn new moves at every single occasion. Doing flexibility work is also very important, therefore we have stretching classes too. It equals with a good workout and a great effort to prevent or reduce the severity of bodily injuries. Arial hoop on the other hand is a very elegant, feminine genre that creates the illusion of flying.
Is any kind of pre-training necessary?
In my opinion, persistency is what really counts. I've witnessed talented students giving up too early, and very driven practitioners going for the top. Considering past aerobic and fitness experiences, people who have done sports before always have an advantage, they might be more flexible, for instance. Despite that, I am motivating my students through my own experience: sports were always in my life in one form or another, but I haven't got involved in them at a professional level. I truly suggest anyone to try pole fitness, it is something every person is capable of doing.
What makes a good instructor?
First and foremost, a good instructor knows what you are capable of, and makes you achieve the goals that were set for you. Believe me when I say, they help you break down those walls that only exist in your head. This is how I was able to do my first split at the age of 30, and do my back flip at 33 with the help of a pole. I admire and look up to my own trainer, Ákos Presinszki. Everything I know I learned from him.
Do you find it hard to maintain an ideal work-private life balance?
Unfortunately, I am a perfectionist, I work hard for maintaining a healthy work-life balance. I don't deny, it is very challenging at times; there are tears and torment behind success. As long as I see my child and my husband happy and know they are proud of me, I know I'm on the right track.