Playing card games has mental benefits, plus multiple other advantages. They don't require power, teach you important life skills, scratch your itch for competition, and offer a relaxing time and a grounding sense of flow.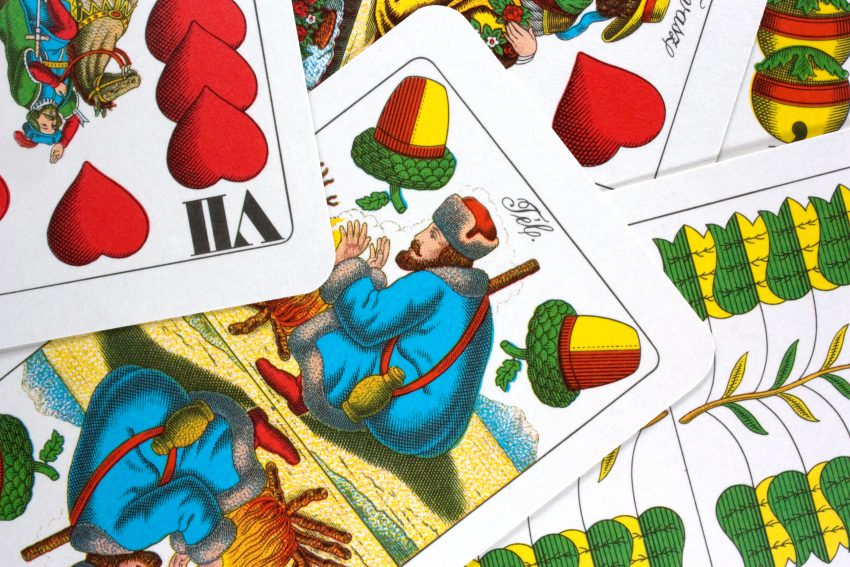 You have probably came across a deck of Hungarian playing cards (the literal translation of "Magyar kártya") at a souvenir shop before, but didn't even think of purchasing it because, duh, you know nothing about Hungarian card games. It is a problem so easy to fix; let us guide you through the basics, and learn a new, fun way to spend your freetime.
Basics
The Hungarian deck, or "pakli", as we call it, consists of 32 cards, and they are divided into 8 ranks in each of four suits: acorns (makk), hearts (piros), leaves (zöld), and bells (tök). Fun fact: under and upper knaves feature the legendary Swiss folk hero, William Tell, and his rival, a Habsburg bailiff called Herman Gessler. You'll also find some numbered cards, and four cards of unknown kings in the deck, as well as 4 aces representing the four seasons.
21
You must be familiar with Black Jack, right? There is a very similar Hungarian card game, "21", where multiple players (maximum 6) can test their fortune. The dealer gives 2 cards (face down) to all players, and one by one, they can decide whether to stand, or ask for another card in an attempt to get closer to a count of 21. In case of a tie, the one with less cards in hand wins.
Makaó
Every player starts with 5 cards, face down. The rest of the cards must be placed in a draw pile face down. You will need space next to the pile for the discard pile where the top card should be placed. The gameplay follows a clockwise direction, players must view their cards and try to match the value or the symbol of those in the discard pile. In case the player has no matches, they have to draw a card from the draw pile, and the game moves on to the next person in turn. It is very similar to UNO, but without colour altering, reverse, and skip cards. Cards with the number VII. equal with the "+2" cards, meaning that the next player has to draw two cards and forfeit their turn, but only if they can't place another card of the same number on it. When players only have one card left in their hand, they must say "Makaó" before the next player makes a move.