Being an unmistakenly Hungarian soup, fisherman's soup is as flavourful as it can be. Hereby we introduce you 11 great restaurants where you can taste this signature meal of ours, but we've got a recipe too, just for you.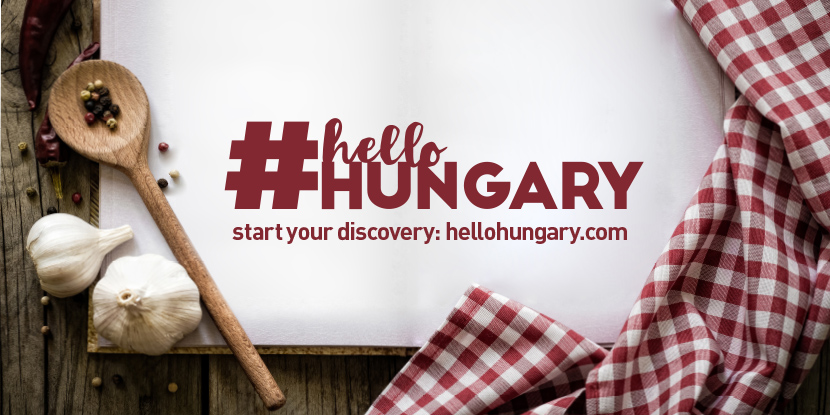 Fisherman's soup is a thick and tasty soup with spicy notes. There are at least two traditional variations, named after the country's most important rivers (Danube and Tisza), and both of them are equally authentic and unmistakably Hungarian. The main difference lies in how you handle the fish meat: you either strain it through a fine sieve or chop it in smaller pieces before adding to the stew-ish liquid. The soup's beautiful, fiery colour and the amazing cavalcade of flavours are truly irresistible, here's the recipe if you'd try making this dish at home.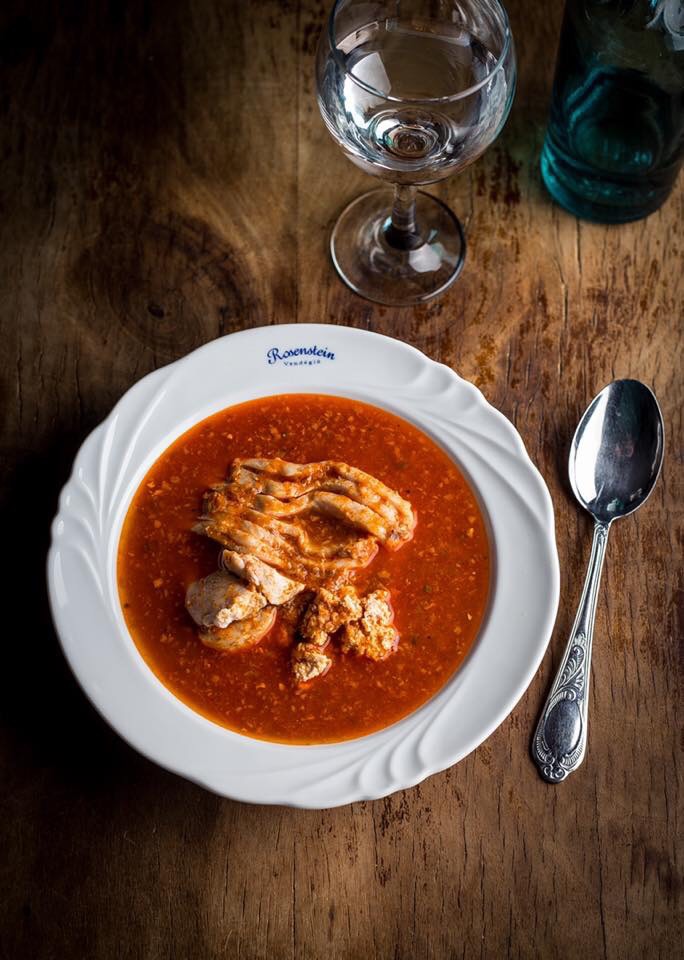 Ingredients
2 kg deboned carp, 200 gr onion, 100 gr green pepper, 100 gr tomato, 30 gr ground paprika, 50 gr sweet red pepper purée, salt, hot red paprika
Directions
Fresh, non-refrigerated fish is key to a successful fisherman's soup. First, clean and gut the fish. Using a sharp knife, fillet it. (If you don't know how to do, find tutorial videos and other visual description online.) Once you are done, place the deboned fish meat skinside down on the chopping board, and cut thin vertical slits carefully to the skin. After that, cut it in 2 inch slices and season with salt.
Pour water into a larger pot, add the bones, the head of the fish, the fins, the onion rings, sliced tomato and pepper. Bring it to a boil, then add salt, sweet red pepper purée, and ground paprika. After cooking it for about an hour, sieve it into another pot using a large hole colander. Place the fish pieces, the spawn, and milt into it, and simmer until ready. In the meantime, season it with salt and hot red paprika. During the cooking process, don't stir but shake the soup. Remove from the heat and serve the soup while hot.
Special thanks to Rosenstein restaurant for sharing their recipe with Funzine!
Wine Advisor:
A light, fresh, and elegant Kadarka from Szekszárd is the perfect choice because its flavours harmonize very well with the character of paprika, the spicier the better.
The Best Fisherman's Soups of the City
When the days are short and the nights are long, we light candles and illuminate our houses and streets with Christmas lights to symbolically profess the supremacy of light over darkness. Similarly, when the weather is at its coldest we Hungarians turn to Fisherman's soup, a hot and spicy broth made of river fish, to bring some warmth into our days. Consequently, the dish is a must-have at Christmas dinners. In case you can't be bothered to prepare it yourself but don't want to miss out on the fishy flavours, then drop by one of the following venues.


The Party District's number one fish bar opened its doors in 2016 to supply pescetarian Budapesters with freshly caught Hungarian freshwater fish. The modestly sized but well-ventilated Gozsdu courtyard venue features dishes made from bream, catfish, pikeperch, and carp on its menu, with every fish coming from the Tisza river. Stég's offering ranges from catfish greaves, fish taco, and fish and chips to a variety of fisherman's soups: regardless if you're going for the carp or the catfish version, the sumptuous, thick, and spicy broth will have you swoon over the delicious cubes of fish-fillet from start to finish. In addition to the finned fares, Stég also serves lángos and waffles, effortlessly evoking the lakeside mood even in the middle of winter!
1074 Budapest, Dob utca 13.
Located just a couple of minutes' walk from the Kálvin tér HQ of Funzine, the downtown eatery of the Bubba's Water Grill chain is one of our favourite seafood spots in the city. Bubba's menu is composed of two parts, one named Surf, featuring a wide array of seafood, and the other Tur", which covers the meaty dishes. Amongst the fish-based choices at Bubba's you can find shrimps, mussels, grilled whole fishes, and squids prepared in a variety of ways. On soup front you can choose between Captain Bubba's seafood soup, a dish made of frutti di mare, fish fillet, tomato, and white wine, the traditional Fisherman's soup (prepared with carp and garnished with chunks of catfish fillet), and Bubba's daily soup.
1056 Budapest, Papnövelde utca 10.
Situated on a small, cobbled street in a World Heritage environment, Buda Castle's Pest-Buda Restaurant has been going strong for more than 50 years, in a building which dates back all the way to 1696. The popular venue offers a spectacular gastronomic experience for those looking for traditional Hungarian cooking, preserving every flavour of its three centuries-long history. As various freshwater fish dishes have been a central element of Hungarian cuisine ever since the ancient Magyars set foot in the well-watered Carpathian basin, you'll find a number of such traditional delicacies at Pest-Buda, including the Baja style Fisherman's soup, catfish stew with cottage cheese pasta, and grilled pike perch fillet with prawns.
1014 Budapest, Fortuna utca 3.
Started off under the ownership of Ferenc Wampetich in 1894, the City Park restaurant was taken over by Károly Gundel in 1910, who transformed the eatery into an internationally renowned venue of Hungarian and French gastronomy. Besides serving a number of classic dishes, the restaurant had also created some of its own (now equally famous) recipes, including Palóc soup, Somló-style sponge cake, and the eponymous Gundel crêpe, inspired by a pancake served to Gundel by the wife of Hungarian writer Sándor Márai, Lola. In addition to the iconic dessert, Gundel Restaurant offers a multitude of mouthwatering fares, including first-rate caviars, foie de gras brulée, crayfish velouté, as well as Fisherman's soup, garnished with homemade noodles. Yummy!
1146 Gundel Károly út 4.
Tastefully balancing on the line between the traditional recipes of Hungarian cuisine and the exciting flavours of Asia, chef Krisztián Huszár's contemporary eatery is one of central Buda's most unique restaurants. The renowned venue awaits guests during lunch hours and at dinnertime with a laid-back bar atmosphere, warm interiors, an excellent wine list, and two distinct fusion menus, composed of creative food pairings such as mackerel, spinach, quail egg and violet potato dumplings, Vietnamese goulash with beef short rib, and sushi made from Tahi trout with yuzu-flavoured horseradish. Fáma's famed Fisherman's soup is prepared with carp, trout roe, and parsley noodles, resulting in a delicate and filling starter.
1013 Budapest, Attila út 10.
What started as a simple buffet in 1996 is now one of the last, as well as one of the most popular family-owned restaurants in Budapest. Rosenstein serves the creme de la creme of traditional Jewish and Hungarian cuisines: a meal at Rosenstein feels more like Sunday supper at your grandma's house, rather than a hearty culinary experience at Budapest's most distinguished Jewish restaurant. Here, at this self-professed "island of tranquility" (the words of the venue's legendary owner, Tibor Rosenstein), you can recharge your spiritual batteries while feasting on their nostalgia-flavoured fish dishes: a third of the dozen fish-based offers featured on the menu are soups, with three of them made of carp, and the fourth one prepared with catfish fillet. For the complete culinary experience order a glass of nice white wine!
1087 Budapest, Mosonyi utca 3.
If you ever wanted to know how a traditional Hungarian dish looks and tastes like in the 21st century, then rejoice: located in the Buda Castle, the kitchen of 21 Hungarian Restaurant focuses on the native cuisine's biggest favorites, maintaining the original taste, all the while making sure that the dishes are prepared in a healthy manner, resulting in lighter meals. To do this, they procure the ingredients from local sources, arrive to the market early in the morning, and use 21st century cooking techniques and technology. The menu is rather short: there's no dancing around here with unnecessary dishes, only the creme of Hungarian gastronomy. Their Hungarian fish soup with homemade pasta is phenomenal, just as their crispy catfish fillet, garnished with lentil pottage and sour cream.
1014 Budapest, Fortuna utca 21.
Stand25 Bisztró is located inside the Downtown Market Hall, Budapest's own take on Lisbon's TimeOut Market. Opened in 2017, the Széll-Szulló dream team presents all the classic dishes of Hungarian cuisine in their full, fatty, flavourful glory, from goulash soup to layered potato casserole and mangalica cheek stew, all made from locally sourced, fresh-to-the-kitchen-table ingredients. As a Christmas gift from Stand25, now you have the chance to enjoy the Michelin star-worthy flavours of the bombastic duo's cooking in the form of their rich Fisherman's soup, made of carp fillet and milk, in the comfort of your home. You can place your order until 18 December by sending an e-mail to info@stand25.hu.
1054 Budapest, Hold utca 13.
Although the name stands for "First Pest Strudel House", suggesting that all they offer is an endless variety of yummy strudels, Első Pesti Rétesház (located not far away from St. Stephen's Basilica) actually has a pretty great menu, focusing mainly on Hungarian classics. The historic building, which was built in 1812, gives home to an enormous selection of strudels, including flavors such as apple, cottage cheese and cabbage, accompanied by hearty Hungarian fares. Besides Hortobágy meat pancakes, veal paprikash and oven-baked pork knuckles, the downtown venue also serves a terrific Fisherman's soup. Strudels and soup? That's a Hungarian Christmas food combination if we've ever seen one!
1051 Budapest, Október 6. utca 22.
Situated in the Buda Hills high above the city, Náncsi Néni Vendéglője is an ideal spot for meeting your caloric intake at before or after a day spent in the spirit of sledding and sleighing in the neighbourhood. Being furnished like your grandmother's house in the countryside and offering a wide range of dishes from the cookbook of Hungary's traditional gastronomy, Náncsi Néni is the perfect place for an uplifting outing – both in the physical and the culinary sense! Their Hungarian catfish soup is always freshly cooked for maximum flavors: the meal is prepared with catfish, bream, carp, crucian, and a dash of hot paprika to balance out the winter weather. If you want to get away from the hustle and bustle of the big city for a couple of hours, then pay Náncsi Néni a visit!
1029 Budapest, Ördögárok út 80.
Half-an-hour's drive from Budapest, this countryside trattoria has been enticing guests north of the quaint little town of Szentendre with open arms and an unbroken success since 1929. Although the annual vintage balls are no longer organized, the restaurant's live gypsy orchestra still sounds as great as ever, providing a pleasant backdrop for your meal. The lavish menu is composed of a colourful variety of classic Hungarian fares, including Hortobágyi pancakes, Jókai style bean soup, pork knuckle, venison stew, and foie gras. Situated right next to the Danube, Szentendrei határcsárda also offers a respectable amount of choices when it comes to fish: from Dorozsma style carp and catfish paprikash to three types of Fisherman's soup (all served in a cauldron), it's impossible not to find something fishy to your liking.
2000 Szentendre, Ady Endre út 43.