It is an understatement that the Hungarian people eat meat a lot: we're indeed a meat-lover nation. If you want to dine where we do, visit any of the above mentioned places to eat and drink a lot.
1052 Budapest, Petőfi tér 3-5.
One of the most exclusive restaurants in Budapest awaits its guest with the Brazilian style BBQ, a.k.a. more than 20 kinds of churrasco grilled meat and the authentic rodízio service. The former includes beef, pork, lamb and poultry on skewers barbecued separately over open fire, whereas rodízio service refers to the special mix of all-you-can-eat and á la carte services originated in Latin-America. In the rodízio restaurants, the guests can get what they want from the buffet table that is fully packed with starters, salads and soups, then the waiters carrying the skewers will slice the meat at the table right onto the guests' plate – just like in Fire Churrascaria Steakhouse.
You can try the Blue Cheese Filet Mignon, the Sweet-Chili Chicken Wings and in the evenings the Pork Shank among other individually flavoured masterpieces. Both garnish, including mashed potatoes with truffle, feta polenta and many others, and dessert are served from the á la carte menu. Head to Petőfi tér to experience the genuine Latino gastronomy!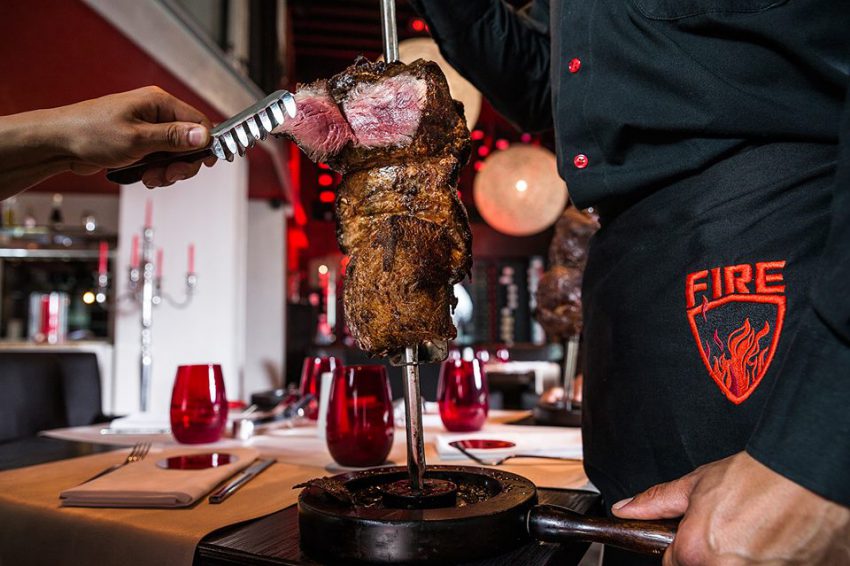 1051 Budapest, Sas utca 18.
Prime Steakhouse, located a few blocks away from the St. Stephen's Basilica in the very heart of the city, is one of Budapest's finest restaurants with its up-to-date kitchen technology, classy á la carte menu, inimitable wine and homemade cocktail selection as well as attentive service. The sophisticated, yet welcoming interior makes the restaurant an ideal venue for any occasion, including business meetings, romantic candle-lit dinners, birthday celebrations or family gatherings. At Prime Steakhouse you will find all the classics from French Onion soup, Caesar salad, King Prawns and the well-known Hungarian dishes like Goulash and Grilled Foie Gras to the Prime cut USDA, Omaha, Creekstone, Wagyu Filet Mignons, Rib-Eye, New York Strip, Tomahawk and Porterhouse – all grilled to perfection and accompanied by fabulous sauces and sides. It is a must-visit place for all the meat-lovers out there.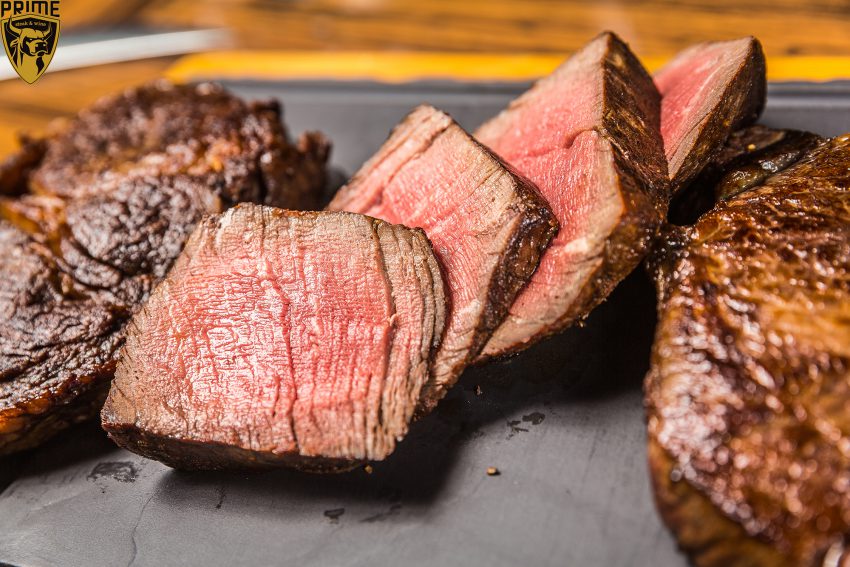 1075 Budapest, Király utca 1.
1053 Budapest, Károlyi Mihály utca 17.
Thanks to the two downtown locations of Belvárosi Disznótoros, you don't have to go all the way to the countryside to have authentic Hungarian sausages, pork knuckle, blood pudding and other grilled meats. Combining together the idea of a butcher's shop and a fast food restaurant, Belvárosi Disznótoros offers hearty and filling meaty treats, accompanied by a variety of salads and side dishes, which you can then consume at one of the standing tables, or order to go. A meat-cravers paradise, the two establishments are popular mostly among local office workers, so be prepared for a "tiny" queue if you decide to drop by in lunchtime. Who knows, you might bump into one of us in Károlyi Mihály utca!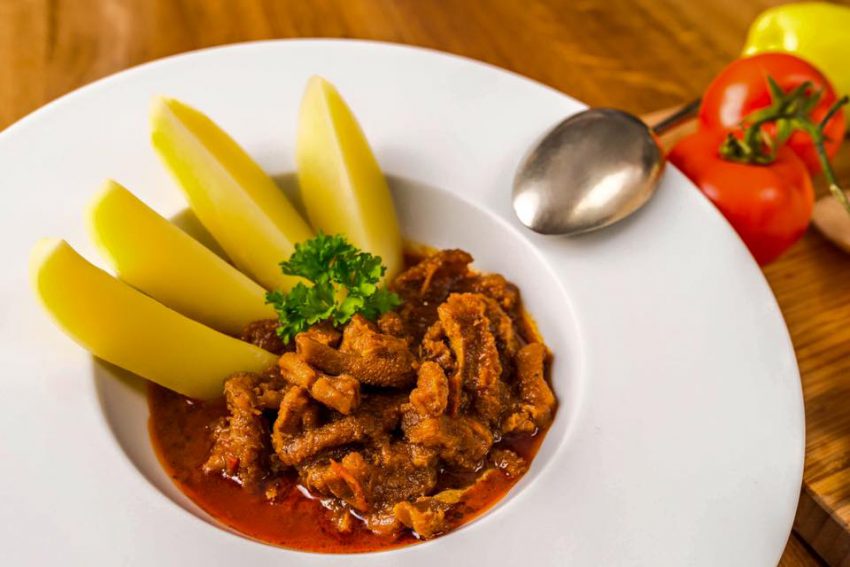 1051 Budapest, Október 6. utca 3.
Situated just a stone's throw away from St. Stephen's Basilica, Lóca has been enriching downtown Budapest's cavalcade of colorful culinary experiences since only a few months, but many restaurant-goers (including us) have already developed an affinity towards its authentic Hungarian cuisine. The reasons for that are manifold: it is one thing that the place itself is a piece of gastronomy heaven. It is another thing entirely that they really mean it when they're defining themselves as the keepers of Hungarian traditions: cultural artefacts and pieces of folk art surround the tables, folk motives are etched and painted onto the antique furniture (thanks to a traditionalist lady), and
even the look of the drink list evokes a warm picture of the Hungarian countryside and its village beauty into one's mind.
Upon taking our seat on a lóca (a kind of long Hungarian wooden furniture), we were greeted by a rich "peasant board", filled with sausages, cheese and vegetables, recommended to us by the restaurant manager, whose self-professed ethos is "good food, good wine, good owner". The Hungarian platter was followed up by a pot of steaming hot potato soup, accompanied by sausage and sour cream. Next, a large T-Bone steak was brought out by our attentive waiter, garnished with roasted potatoes and mixed salad. The juicy beef was done medium well and seasoned perfectly, culminating in delicious flavors in our mouth. Since there's no good Hungarian restaurant without a great fish dish, we decided to put our chef to the test and ordered a catfish filet prepared in Kárpát-style. The touch of dill in the fish's creamy sauce is what earned this dish a gold medal from us.
Our stay at Lóca was made perfect by the exquisite wines served by the waiter, all procured from outstanding Hungarian cellars, accentuating every hidden flavor in our dishes. If you want to have a wonderful meal in an authentic environment dining on hearty foods prepared from top quality ingredients, visit Lóca and spend a couple of hours in the countryside.
1054 Budapest, Bajcsy-Zsilinszky út 40.
Life is a lot like sausage. It's important how the first and last bites are, how long it is, what's it filled with, and there's no greater feeling than sharing it. At least that's what the owners of Vágódeszka believe. Giving classic sausages a mouth-watering modern kick, Vágódeszka will make you fall in love with the flavours of Hungarian cuisine one bite at a time. The wide range of delicious meals (including vegetarian options and the venue's very own beef burger!) will satisfy fast food enthusiasts and fans of traditional tastes alike. Located just a stone's throw away from St. Stephen's Basilica, right next-door to Toldi klub!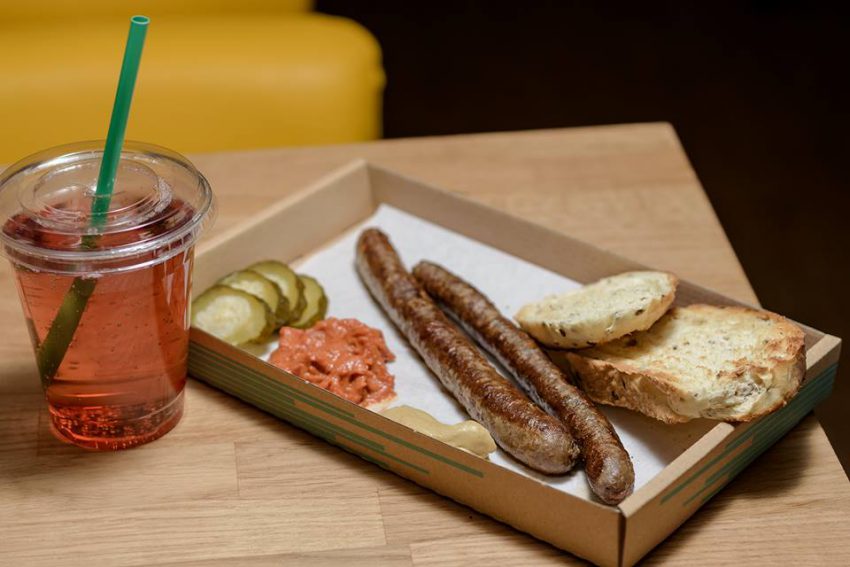 1056 Budapest, Belgrád rakpart 18.
Since 25 October 2016, the always charming Belgrád dockside area has gained in gastronomical richness thanks to the opening of Why Not Bistro, which awaits you with a friendly and welcoming atmosphere, quality food and decent prices. From vegan to traditional Hungarian dishes, here you will find everything your taste buds desire. Paprika chicken, mangalica, goulash soup, beef-stew and pancake are all among the bistro's mouth-watering offers. Take the chance to get to know more about the local cuisine and let Why Not Bistro spice up your day with a delicious meal while you can also enjoy the incredible panorama! Once you try, it will always have your heart.