There is a welcoming family-style restaurant, located in the green belt of Óbuda, away from the often disturbing city noises, which attracts passersby with its homely ambience, rethought traditional Hungarian dishes and wide selection of artisan wines. Stelázsi Café, Restaurant and Wine Bar tends to recall childhood memories with grandmotherly care, doing so in a modern way.
As it was heavily raining on the day we visited Stelázsi – the restaurant was named after the German stellage word which refers to a shelf stand in a pantry – we immediately found comfort in the two-storey building furnished with antique pieces of old time treasures that had soft pillows to sit on. The mellow acoustic tunes that were being played in the background also contributed to this unique intimacy of the place.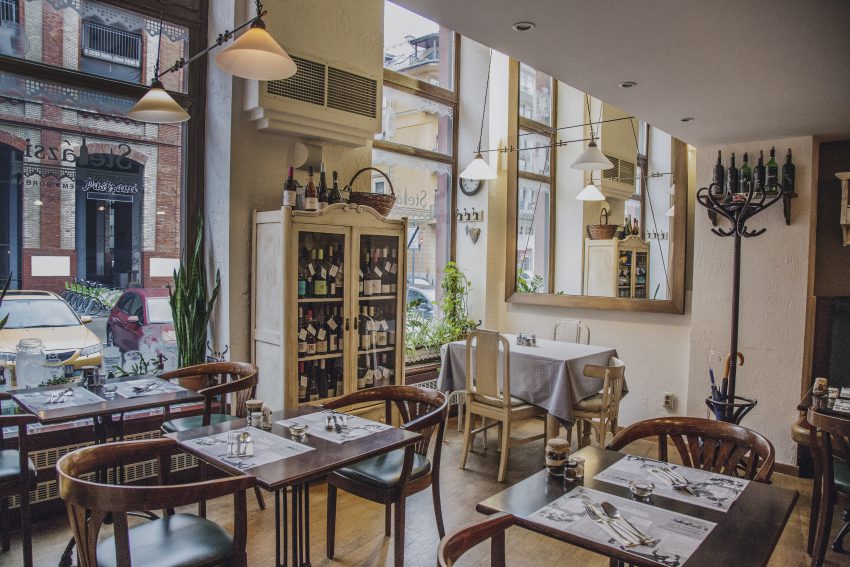 All-time Favourites
Taking the recommendation of Stelázsi's owner and manager, as a first meal I tried a mouth-watering course from the á la carte menu, roasted pepper cream soup with savoury cheese scones. To my surprise, its surface was divided into two parts. Both substances are made of bell pepper, as I later found out, the only difference lies in the colour of the main ingredient: yellow and red bell peppers are used separately. They are baked in the oven, then peeled and separated for the cooking process. Once the two soups are done, to which no additives are used, they are poured into the soup bowl only upon serving. The warming dish is accompanied by homemade cheese scones and herbed cottage cheese spread: the crispness of the latter harmonized flawlessly with the fresh tastes of the pepper soup.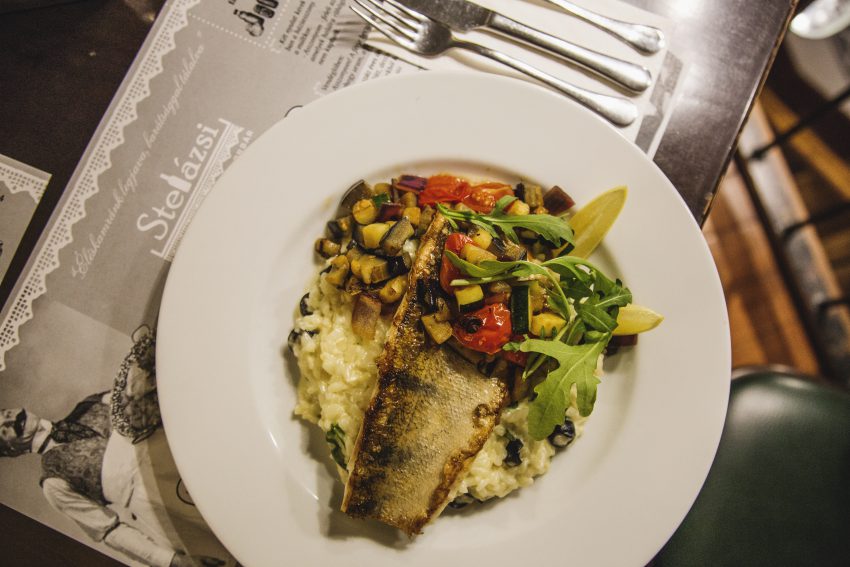 On the fix menu of Stelázsi, there was another dish that caught my attention: the pike perch filet with fresh tomato and white wine ragout, sided with risotto with wild rocket and black olives. I knew right away that I had to try it. I expected a slightly salted pike perch filet which is so tender that it melts in your mouth, and a creamy risotto for the perfect match. The reality not only met but surpassed my expectations, as the white wine ragout brought strikingly exciting flavours to the otherwise plain course.
Occasional Culinary Treasures
Apart from their á la carte menu, Stelázsi also offers weekly menu between 12 pm and 3 pm for only 1,550 HUF in case of a three-course lunch meal. There are five starters, eight main courses and two desserts one can choose from, to which salads and drinks can be further added on a discounted price.
Fortunately, the restaurant doesn't only focus on their all-time dishes that are presented on the á la carte menu but pays equal attention to the weekly menu which is also prepared with special care. From the weekly menu, I picked pork tenderloin with rosemary and tomato ragout, Swiss chard and mashed potatoes. To be honest, I liked it even more than the pike perch filet. It was uncomplicated, yet palatable – a meal one dreams about in the office hours and satisfies the workers' needs during a quick lunch break.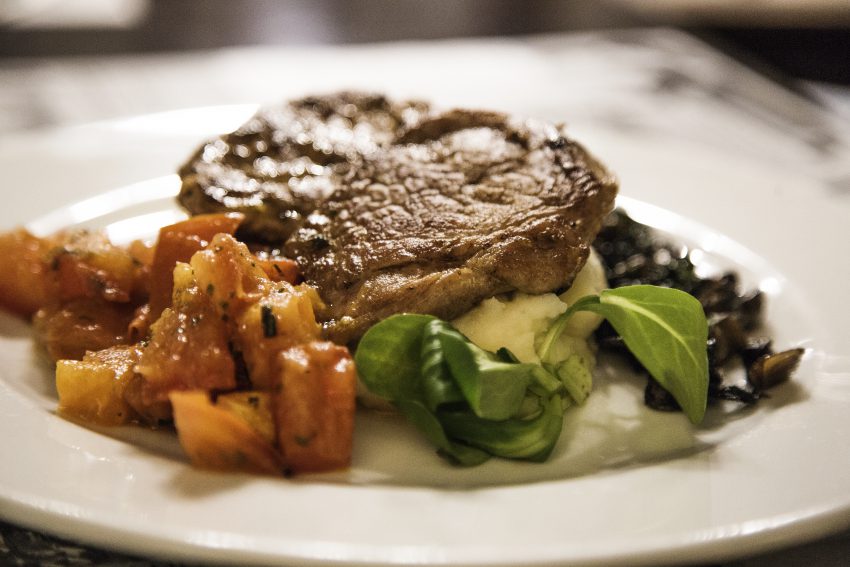 As the last course, I ordered 'Máglyarakás'– a Hungarian dessert made of meringue layered cake – that was also part of the weekly menu offer. Although it is usually made with apple and pear, Stelázsi added a little twist to the original recipe and served the dessert with strawberry. The cute little cake was just the adequate amount to have after the abundant meal, and the mint leaf, which was placed on top, created a perfect blend with the sugary taste.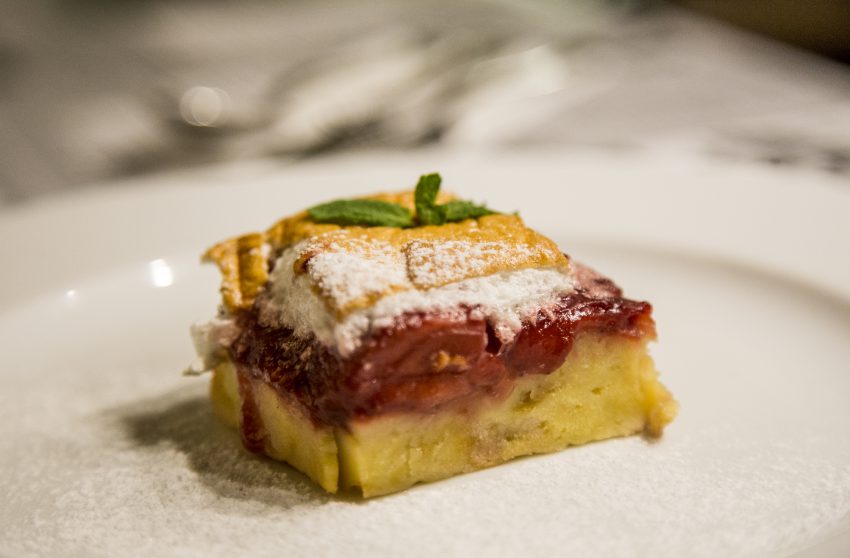 Only when I finished the cake I realized that two hours went by that felt like a quick glance. Stelázsi restaurant creates an informal, relaxed atmosphere which, for me, felt like a home away from home.
Address:
1036 Budapest, Nagyszombat u. 3.