Károly Nyári, the most famous singer-pianist of Hungary makes the holiday unforgettable with his traditional Christmas concert for the 12th time at the biggest concert venue of the city, Budapest Congress Center on 27 December starting at 3PM and 8PM.
Celebrating the most wonderful time of the year the virtuoso jazz pianist offers an unforgettable concert experience by crossing different genres of music, creating a very special sound.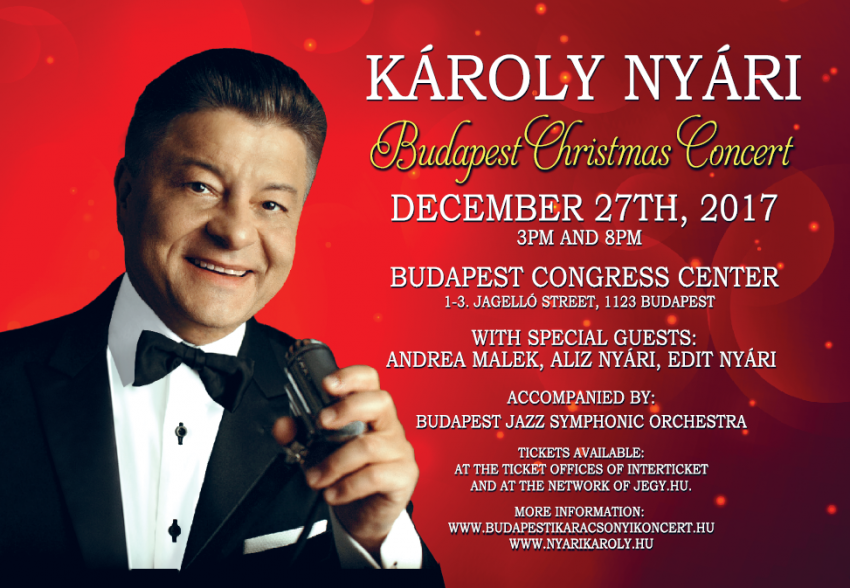 The artist is going to perform his own hits as well as the most celebrated Christmas classics that we all love.
Truly heart-warming duets will be heard with special guests of the concert: Andrea Malek, Aliz Nyári and Edit Nyári accompanied by Budapest Jazz Symphonic Orchestra that is funded by the artist.
The most exclusive concert of the year with its unique sound and monumental scenery is a long-awaited event for the audience preferring quality music.
TICKETS AVAILABLE:
At the ticket offices of Interticket and at the network of jegy.hu.
MORE INFORMATION:
www.budapestikaracsonyikoncert.hu